Award-winning rug designer Luke Irwin and master cabinet makers Little Halstock have come together to design and create "The Seat of Power", pieces designed to start a dialogue and initiate discussion or
commentary on the changing nature of power.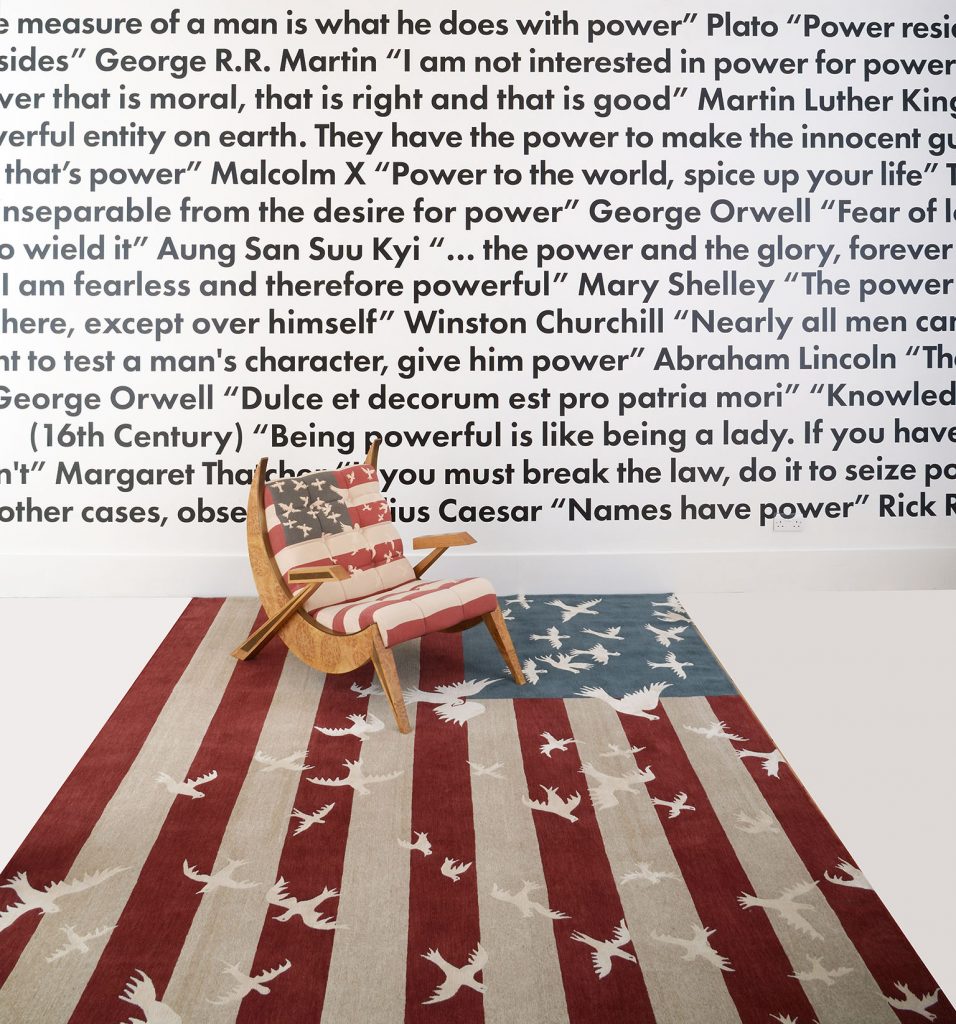 The chairs are Luke Irwin's first foray into furniture design and the very first in a series of collaborations from Little Halstock. Both pieces have English Burr Oak frames, based on the hammer and sickle of the Russian flag. The seats are of Irish linen, printed with designs aimed to
inspire and provoke debate. Each limited-edition piece is handmade by Little Halstock in their Somerset workshops.
The initial design, The Seat of Power Politics, incorporates the Doves and Stripes rug Luke Irwin designed in 2008 and which was given to President Obama on the occasion of his inauguration as a gift from the Irish nation. Here, a mere ten years on, the same design takes on another incarnation as viewed through the lens of the Trump presidency. This first piece sets up a dialogue about political power and it is the beginning of a series of chairs examining different areas of power.
Luke Irwin comments,
"My vision for the Seat of Power is to use it as a crucible for discussion and conversation around our perceptions of power. The conversation piece contains the conversation."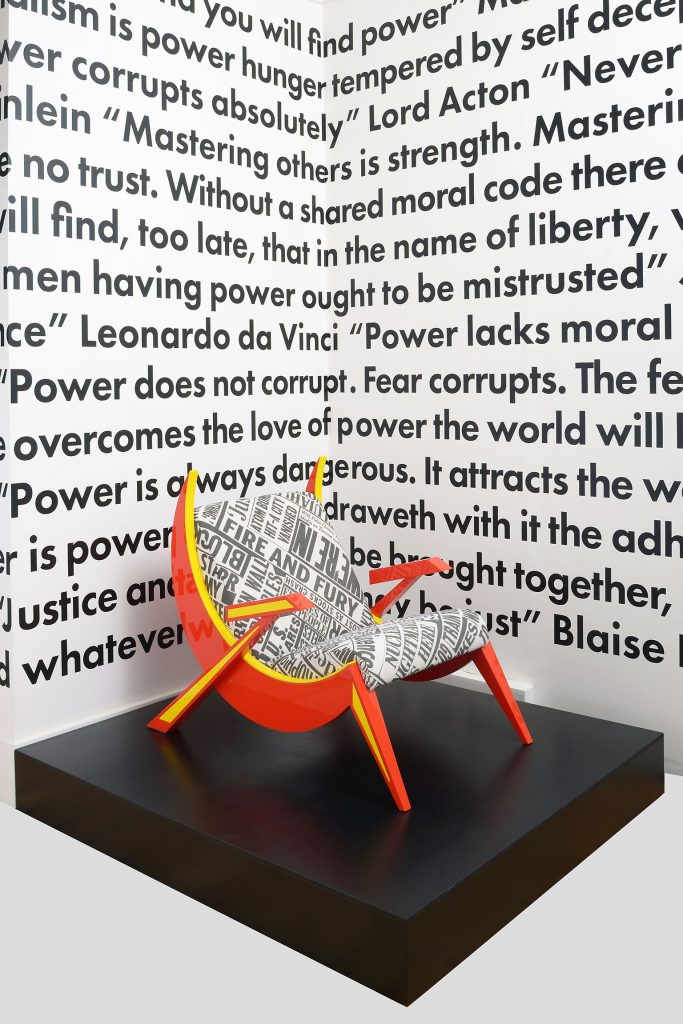 The second chair, The Seat of Power Media, sets up a conversation about the changing power of the press in an era of fake news. Luke Irwin and Little Halstock have other pieces under development, with the aim of prompting discussion around such politically pertinent issues as the #MeToo new female power phenomenon
and the broader subjects of money, religion and gender.
Alex West, Managing Director of Little Halstock comments on the collaboration:
"Our ambition is to create a small collection of exceptional and unexpected items from designers working outside of their usual media. Luke was an obvious choice for the first collaboration, the whole process has been an absolute pleasure and the Seat of Power perfectly embodies the unbridled imagination and skill of one of the UK's leading design talents."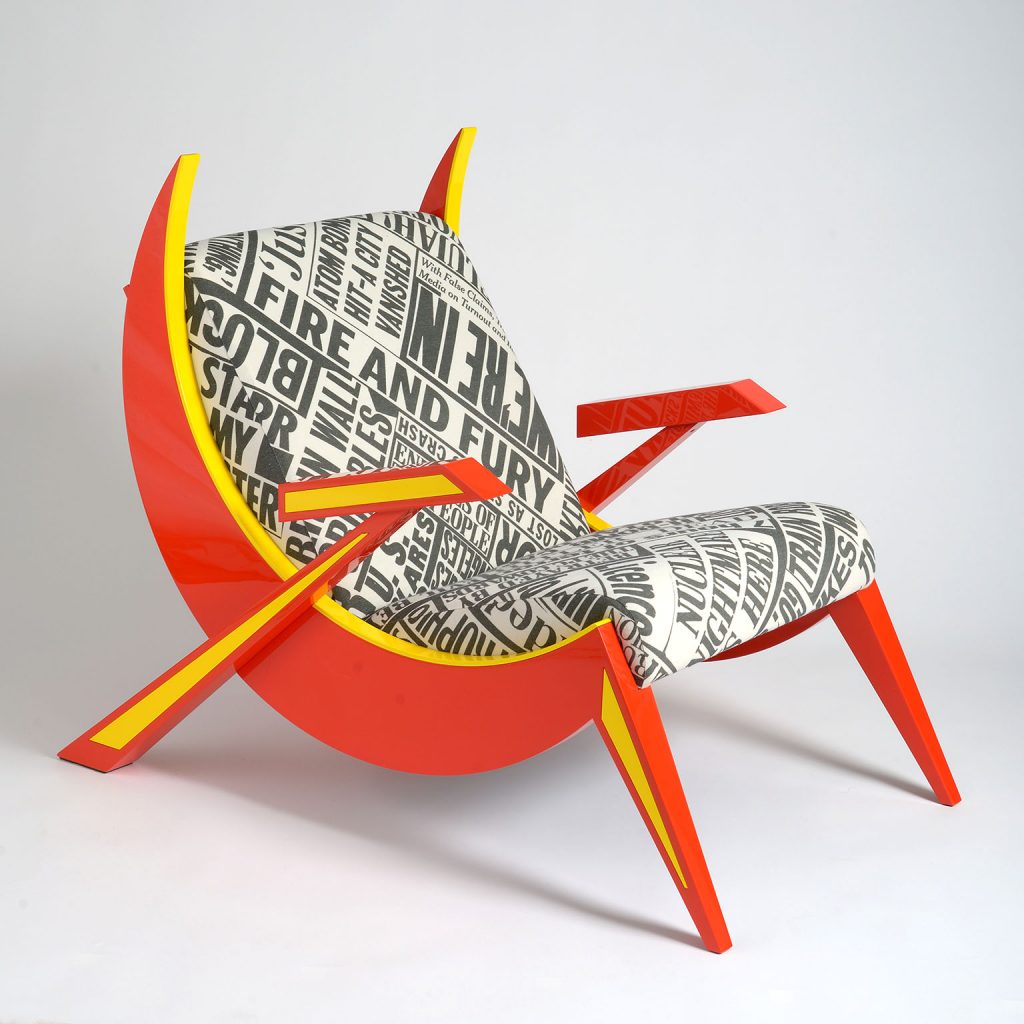 Each chair features a brass plaque on which will be engraved the issue number, date and name of the person who has commissioned it. lukeirwin.com/the-seat-of-power
About Mark Westall