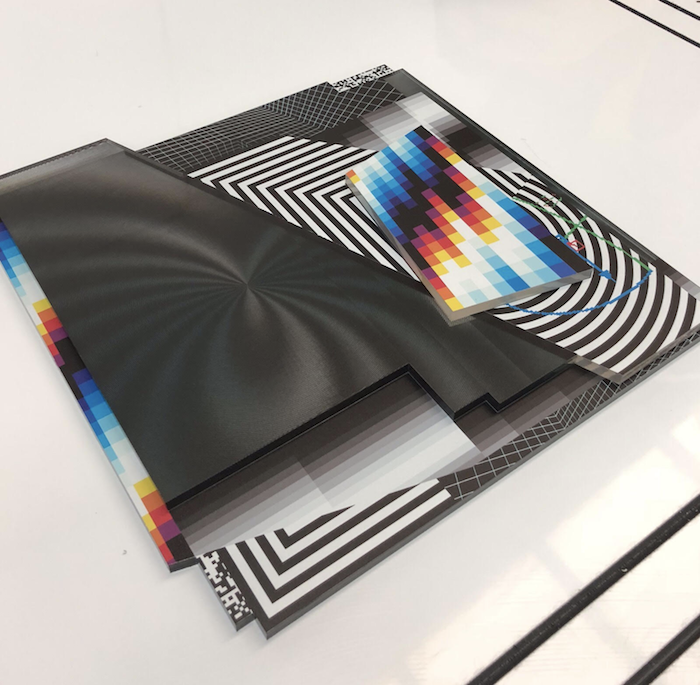 Avant Arte has just announced a new Limited Edition sculpture in collaboration with rising art star Felipe Pantone. Following the phenomenal success of Chromadynamica Variable, created by Pantone in partnership with Avant Arte, which sold out in under two hours, this new edition, W3-Dimensional, is produced as a limited run of 100, and will be the first Limited Edition from Avant Arte to launch offline, set to go on sale at ComplexCon, Long Beach, California, on the 3rd November.
Exploding beyond his roots in the international street art scene, Pantone's paintings and murals now adorn the walls of the world, from the Long Beach Museum of Art (USA) to Palais De Tokyo (Paris) via Mexico City, Lisbon and Osaka. His monumental, shape-shifting frescoes have transformed public spaces from tower blocks and car parks to bridges. Taking inspiration from the early Internet era of the 80s and 90s, fed with new technologies, he imagines his geometric subjects on modeling software, drawing on the aesthetics of 3D creation, before reproducing images in XXL format or on canvases. The works manifest as highly graphic, psychedelic, and sometimes disturbing optical illusions, their futuristic style evocative of Italian Futurism
The ongoing collaboration with Pantone and release of this latest edition builds on Avant Arte's vision to make art available to young people across the world and to inspire the next generation of collectors. It will be released to coincide with ComplexCon, the groundbreaking festival and exhibition that brings together pop culture, music, art, food, style, sports, innovation, activism, and education.
W3-Dimensional  Run of 100 Price: $850 at ComplexCon or $1000 online following the physical launch
Size: 35 x  35cm
About the Artist
Felipe Pantone (also known as Pant1) is an Argentinian-Spanish artist who began working with graffiti at the age of 12. Subsequently, he graduated with a Fine Art degree in Valencia, Spain, where his studio is based. Pantone's work deals with dynamism, transformation, omnipresence, and themes related to the present times. His work has been exhibited throughout Europe, America, Australia, and Asia.
felipepantone.com
Categories
Tags