Lot 5 Collective's fourth exhibition, Face Value, will be staged at the Royal Opera Arcade Gallery, Mayfair from 8-17 November.
Lot 5 Collective is formed by the six artists Lizet Dingemans, SJ Fuerst, Lucas Garcia, Luca Indraccolo, Helen Masacz and Harriet Spratt. They collaboratively seek to 'reconcile contradictions by applying traditional techniques to modern themes, combining classical beauty with contemporary culture, and uniting expression with representation' – using the old to create the new.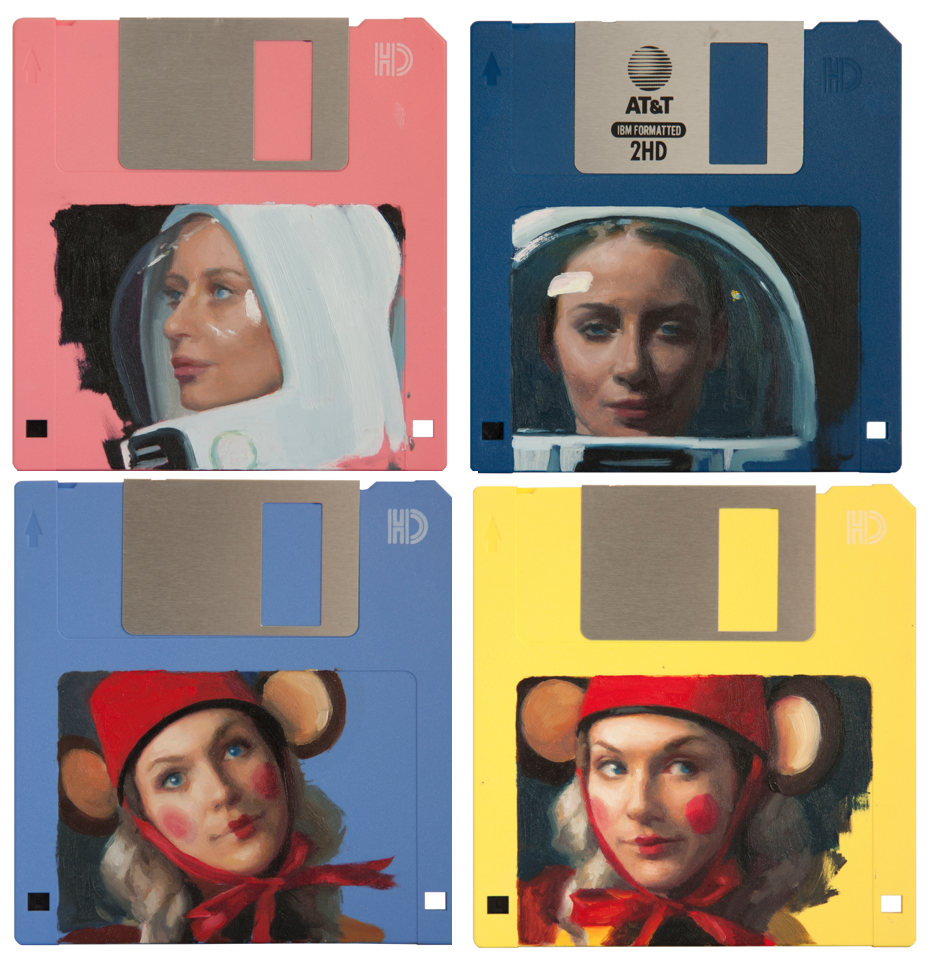 The artist included in this year show will be Felicia Forte, Anastasia Pollard, Arvid Antonsen, Daniel Sequeira, Cornelia Hernes, Emanuela de Musis, Emma Hopkins, Hans van der Leeuw, Ione Hunter Gordon, Jamie Routley, Lewis Hazelwood-Horner, Milo Hartnoll, Nicolas Uribe, Phillip Harris, Simon Davis, Scott Eaton, Sainer Etam, Stella Ishack, Shana Levenson, Sharn Whitehead, Sofia Welch, Stephen Bauman and Travis Seymour.
As the title suggests, the exhibition focuses on a contemporary rendering of the old genre of portraiture. Each artist has its personal take on the genre, creating an eclectic exhibition. It raises a broad spectrum of questions regarding the values hidden behind individuals' faces, and the ability of contemporary art to articulate the complexities of the human condition.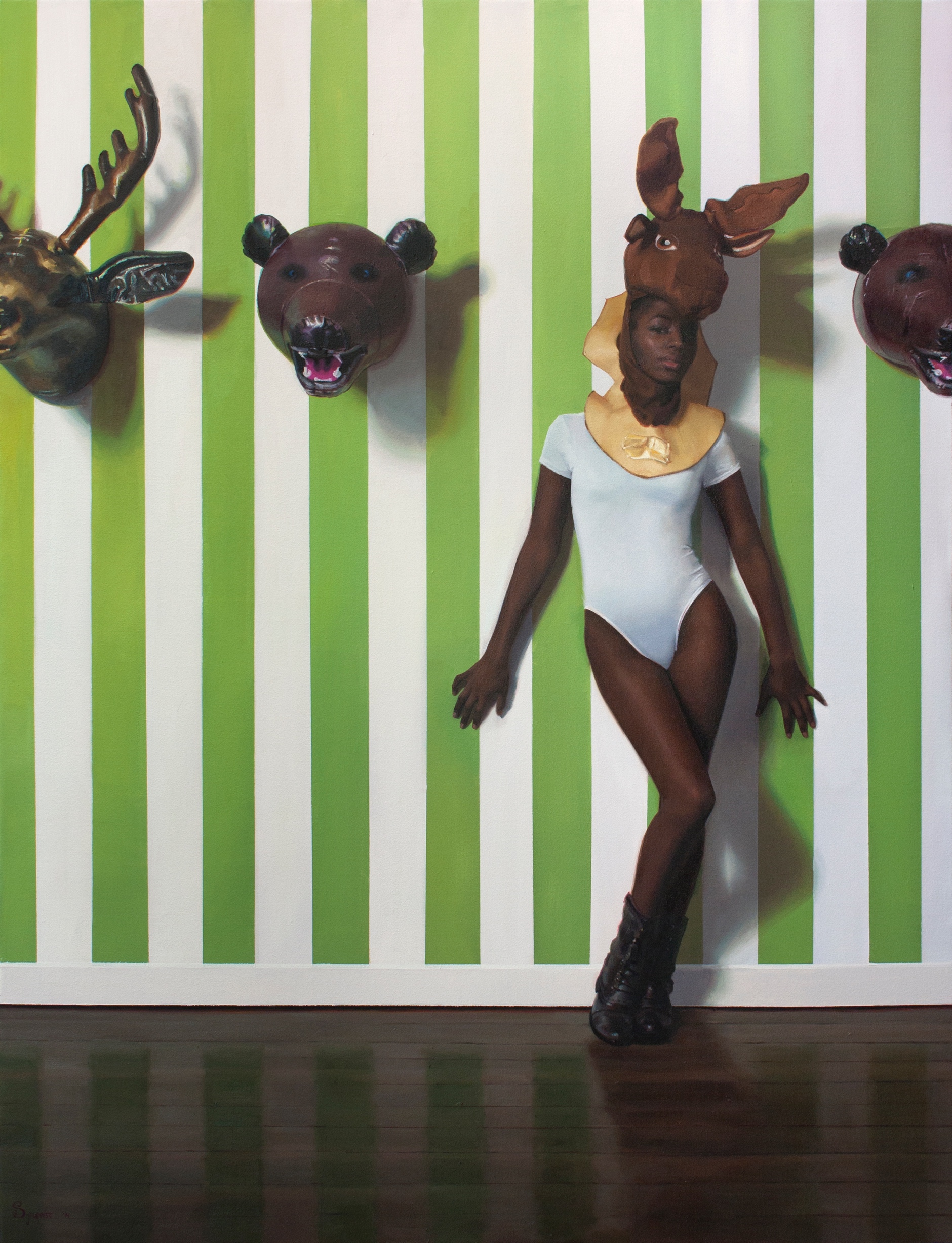 In a work such as Trophy Wall by SJ Fuerst, the combining of old and new in a pop-nostalgic technique acquires a deep political tone. The work consists of a big canvas (96.5cm x 127cm) to which the inflatable heads of brown bears and elks have been attached. The background is lively, composed of bright green and white alternating vertical stripes. On this pop frame, a female model carelessly poses, crowned by the plastic head of a fake bear.
At least, this is how it looks like at a first, maybe not extremely careful, glance. Fuerst's works are, in fact,  completely painted in oil. No matter how much the female subject looks as if she could go away any moment, the animals' heads deflate or burst, they will always stay there. The hyper-real rendering of the artist's brush is just mind-blowing.
The extent of reality these works assume not only create an aesthetic curiosity and appeal. It also encourages a reflection on the idea of simulacrum and the idolatry of images. The painted, but seemingly plastic, animal trophies on the pop wall are a clear reminder of the stuffed animals triumphantly displayed as a symbol of power, conquest and dominance.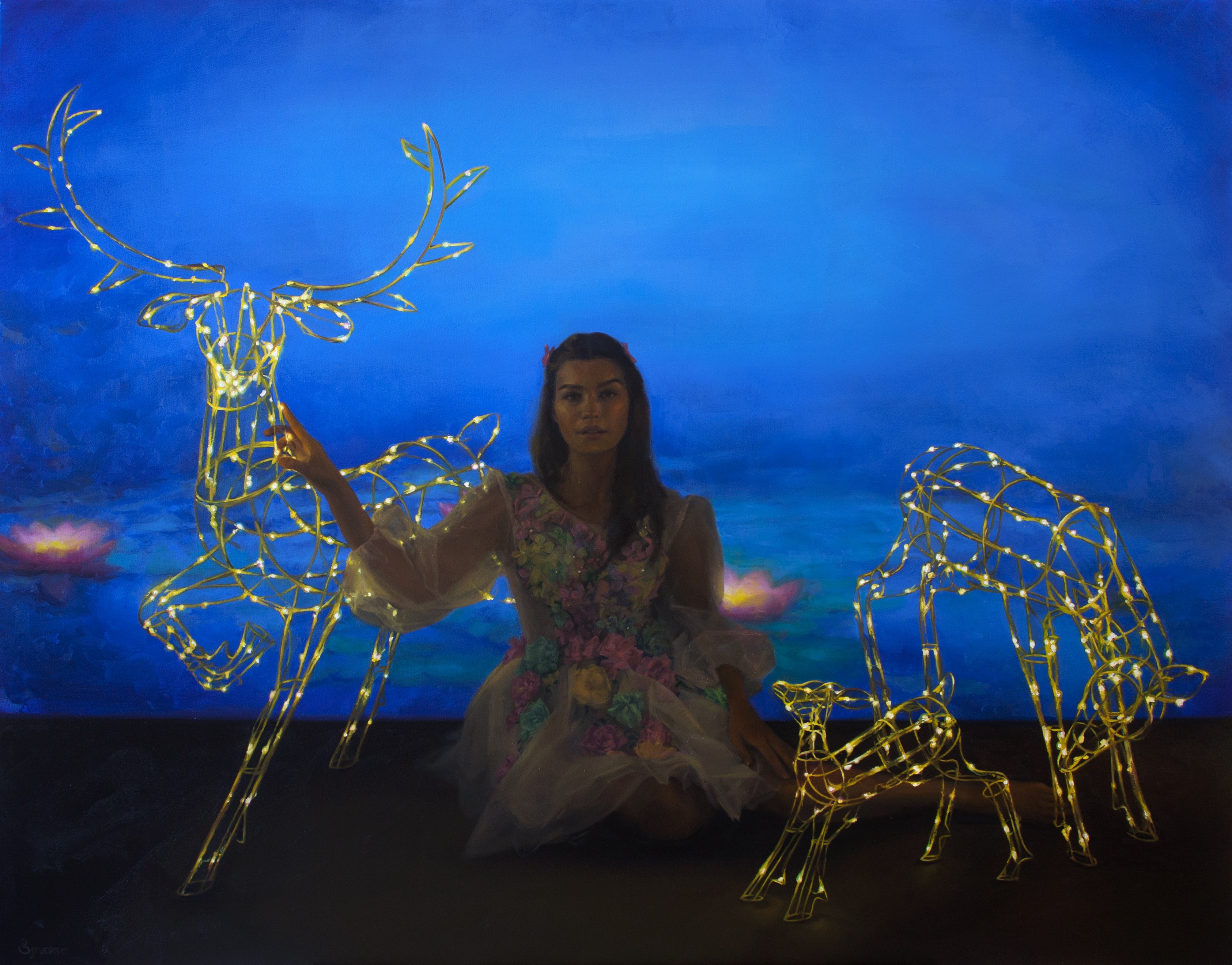 Their close resemblance to plastic points out quite poignantly to the consumerist era as well. Like Oldemburg's soft sculptures, but without the sarcastic play on softness and hardness, on huggability and repellency, the animal trophies comment on the superfluous and superficial excesses of mass culture.
Although the woman has a confident look, and she looks in command of her pose (and therefore of her body, of her being there) we might ask whether she is not just another trophy. The history of women objectified and fetishized is long-standing. In fact, this dismissal of the woman agency comes at no surprise. However, the model here could be also read as an active character in the critique towards colonialism, human brutality and consumerist excesses.
In all her works, SJ Fuerts combines Pop art with classical painting, creating surreal, playful tableaus that reinterpret elements of contemporary culture, each a slightly twisted version of the familiar. Fuerst is inspired by costume, toys, and fashion photography, and often incorporates the compositional strategies of the latter to invoke a sense of fantasy or to propose an alternative world.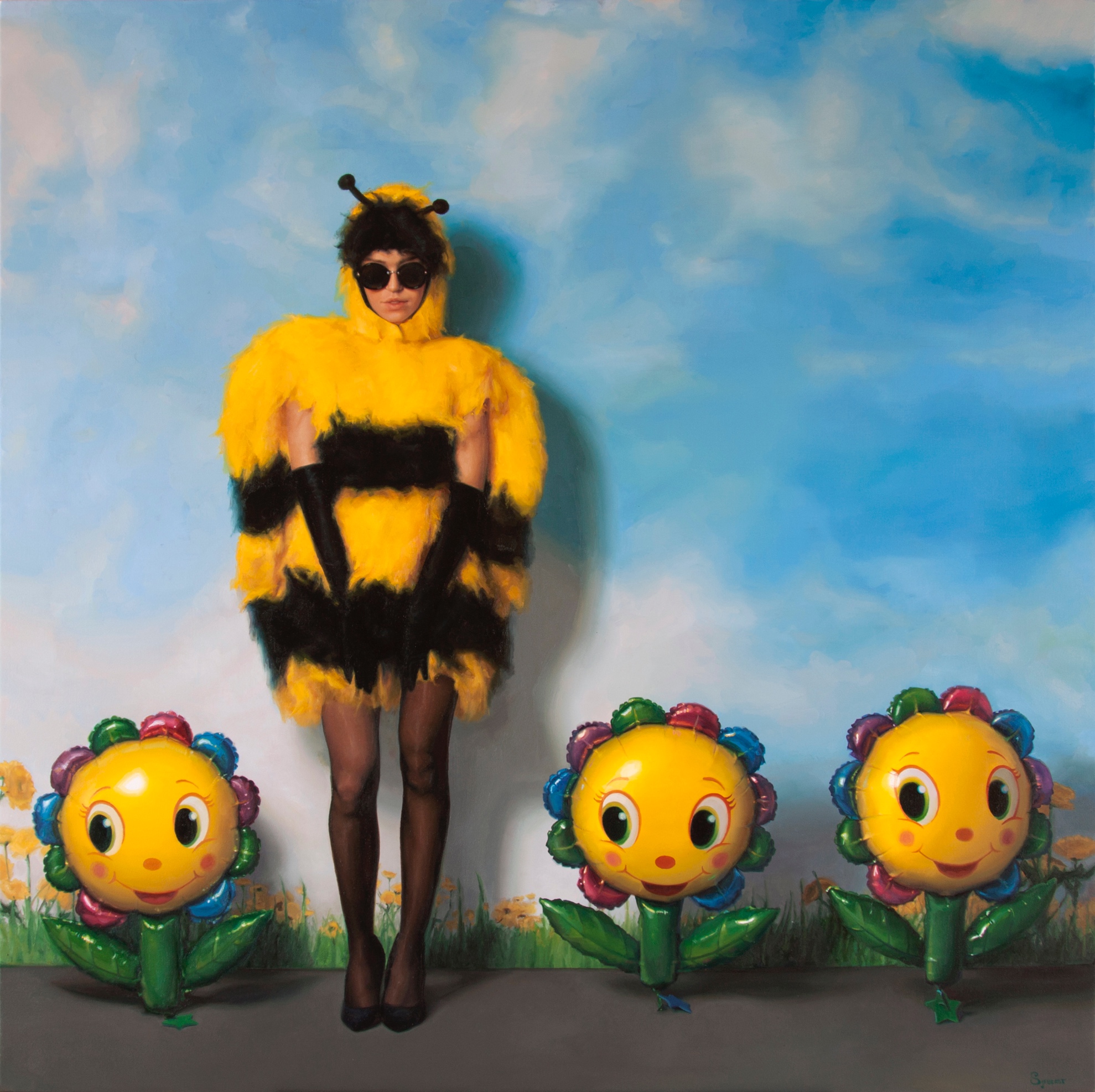 With his latest works, Luca Indraccolo takes inspiration from the fires that devastated the Vesuvius National Park in Italy in the summer of 2017. This disaster becomes the starting point of a broader commentary on the global destruction of the natural environment. Unsurprisingly, the destruction parallels financial gain of a few unscrupulous people. The impressive columns of smoke that rose kilometres into the air are a strong visual device that links all the paintings in this series. Helen Masacz's latest paintings draw on her passion for music; she has been interpreting album titles by well-known musicians. For her, Face Value represents the paradox between the familiar and unfamiliar that underlies contemporary culture. Her painting Technical Ecstasy (2018) is a portrait that reflects the current climate of paranoia and violence and expresses how technology has created the means to destroy us.
Face Value, Lot 5 Collective
For the duration of the exhibition, the Royal Opera Arcade Gallery will be open from 10.30am – 6pm, Monday to Saturday, and closing at 2pm on Saturday 17th November
Categories
Tags