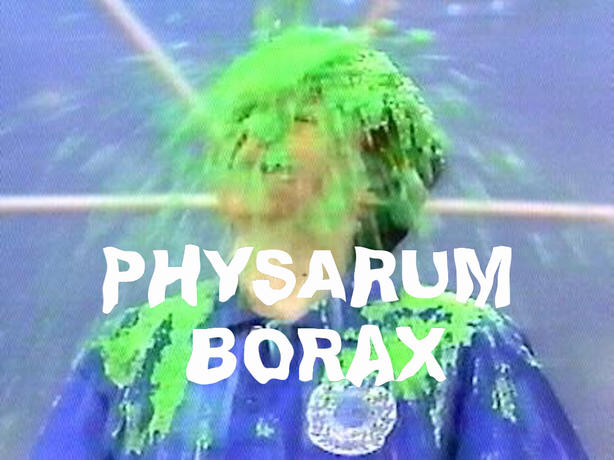 "Why do grown ass adults want to eat Tide pods so much?"
Isaacmemes (Tumblr)
physarum borax is a group exhibition with work by Iain Ball, Lara Joy Evans, Jack Felgate, Louise Gibson, Jesse A. Greenberg & Pinar Marul. Through a range of medium (sculpture, painting, video & installation) physarum borax explores the attraction & satisfaction of a viral materiality, slime.
Exhibition opening Thursday 4 October 7 – 9 pm. The exhibition continues until Saturday 27 October.
Platform Southwark, 1 Joan Street, London SE1 8BS
Curated by Ella Fleck & Bryony James www.platformsouthwark.co.uk
As part of the exhibition, we are hosting a series of free events. Places are limited you need to RSVP to physarumborax@gmail.com if you would like to reserve a place.
Saturday 6 October 2018 7 – 9 pm LOW KEY performance (all ages)
LOW KEY involves The Uncollective and Sara Sassanelli working to unpack judgement within a
performance space through their dancing bodies. LOW KEY wants to lower the stakes of what a
performance space might normally hold.
Tuesday 23 October 10 – 12 pm slime making workshop with India Harvey (ages 6 – 11)
Wednesday 24 October 7 – 9 pm slime writing workshop with Freddie Mason (ages 17+)
1 Physarum: large genus of true slime moulds
2 Borax: also known as sodium borate, sodium tetraborate, or disodium tetraborate, is an important boron
compound, a mineral, and a salt of boric acid. Bonding component in the fabrication of artificial "slime"
Categories
Tags