August has past and galleries are fully open once again, in a frenzy before Frieze. I have had a busy month (partly spent in the company of chamomile tea and Vicks, thanks to a wonderful temperature drop and all my warmer clothes sitting in an airtight storage container) and, as I have not had the chance to write about some of the openings that took place in the last week of August – here I am, protracting the month further.
Two Thursdays ago, Dover Street held a series of openings. Amongst these were Victor Burgin 's Voyage to Italy at Richard Saltoun and Harold Ancart's Freeze at David Zwirner.
Starting at Richard Saltoun, I made my way inside the gallery and was drawn to a red covered book, open at a very specific nineteenth-century photograph by Carlo Fratacci that set the whole exhibition in motion. Fratacci's album of 26 prints, 'Principales Vues de Pompei par Charles Fratacci, Naples 1864' was part of the Canadian Centre for Architecture (CCA) Photographs Collection. The CCA itself commissioned Burgin to create a work inspired by one of Fratacci's works and so he did, moved by the photograph of a woman who appeared to be 'a mid-day ghost'. He then travelled to Pompeii to take two 360-degree panoramas (Basilica I and Basilica II) – one from the point of view of the mid-day ghost, and one from the Fratacci's original position. Burgin effectively seeks to document the landscape of 1864, a jump in the past, Fratacci's, which, in itself is haunted by the stillness of Pompeian history.
Giving colour to the otherwise black and white works, in Burgin's video piece we hear the opening and final sequence of Rossellini's Journey to Italy (1953) as narrated by Burgin himself, who describes the scenes, thereby modulating and filtering the violence they carry. This anachronism, and out-of-context loop drops us into an alien but familiar land, which we can only perceive through incongruent whispers. Whilst I tried hard to hear the voice-over, the opening's buzz and faint sound system proved to be a frustrating combination although visitors were adamant to return during the week, at quieter times (possibly because this is the first time Voyage to Italy has been shown in the UK in full!).
One of the most delightful additions to the show was Catsou Roberts enthusiastically discussing Burgin's significance for British conceptual art – which was recognised at a later stage, after he returned from the US where, amongst other things, he taught History of Consciousness. I left the gallery eagerly researching his essays on art photography and semiotics and started reading these on my journey home. I was upset to find out that the artist will be holding a Q&A at the Italian Cultural Institute in London on 25 September, as I will have left for Italy by then – but would encourage those available to attend (details below – please send any interesting notes my way!).
Prior to my thrilling bus ride back however, I proceeded to walk down to Grafton Street for Ancart's opening at Zwirner. Not only is Zwirner presenting the artist's oil paintings for the first time in the UK, but also a series of prints for its online viewing room.
I was somewhat surprised that Freeze did not in fact open during London's upcoming Frieze week…but perhaps the pun would have been too obnoxious. Concern, not with the fair's word play but rather with New York's glacial winter in January 2018, led Ancart to paint the works on show. Two elements unite all compositions on display – a horizontal line, marking the separation between water and sky – and an iceberg. It was interesting to note that most visitors were pulled towards the larger scale paintings – although I can't say I wasn't pleased, this gave me plenty of time to study the smaller versions which were my preferred ones. I couldn't help but think that Ancart had been inspired by Diebenkorn's landscapes, the geometry of them. Although the artist wanted the icebergs to invite contemplation through their anthropomorphic features, I found myself primarily focusing on the texture of the water, occasionally interrupted by a red streak, or balanced by a black rectangle.
Whilst I thought the larger canvases, particularly those using white and red as predominant hues were less captivating, the smaller teal and ochre work was by far my favourite and I did spend time scanning the different strokes. Ancart, on whom Artnet recently wrote a feature piece (I didn't make the cut in the opening photos they chose), is set for success this season and I am intrigued to see what his future shows will bring to the discourse.
I left not just Mayfair, but London, for St Leonard's the evening of 31 August (this is when my cold started roughly) for the opening of Coastal Currents and – most importantly – Memorial Device at Electro Studios. The group show was curated by Brunno Silva i.e. the very Brunno who curated Henrique Neves's show at Trace Projects in Berlin (read about it here). We arrived (very fashionably) late and were given a tour of the space. Upon entering we found three stereoscopes hanging from the ceiling. Instinctively we tugged and placed them over our eyes, clicking to sequence through the images before us. This was Jae Kyung Kim's 2+2=5 using Germany's censored versions of Google maps (to protect privacy) to create portraits of faceless buildings, one of which was replicated as a larger photograph, Haus der Winsstra?e 58 – although I thought the intimacy offered by the stereoscopes truly brought the work to life. The inclusion of Google Maps in the show is not incidental, in his curatorial statement Brunno discusses the tokenisation of our personal data, its encryption and the recent spike in interest relating to how this data is held and protected. The blurred buildings in Kim's work take ownership of their image in their own right.
We find another outline, albeit in neon, in Colin Booth's Diving Tower – whose silhouette is framed by the studio's arch. Booth also enriches the show with three cedar wood pieces – his Ex Libris series in which he takes a particular book (e.g. Sappho's poems) and gives it weight and form, replicating it to fill a self-encompassing bookshelf. It feels almost instinctive to want to touch the surface, feel the grooves and through it perhaps Sappho's voice (but we resisted in the end).
These were nestled in a quiet corner, near Alice Hall's tryptic – three large renditions of photos taken in Berlin's famous booths – of delicate flowers, with light pink and yellow washes enhancing their fragility. The studio's floor, with its worn texture and traces of paint, added a layer of familiarity to the group show – embracing each of the artists. Henrique Neves's works in the right corner of the space were a natural progression from Hall's flowers. Here Neves took the print of the architectural design he had composed from his grandfather's sketches, and photocopied it to create a first iteration. The first photocopied was then copied once again, creating the second iteration. We follow Neves as we walk around the studio's corner, each iteration becoming both a relic of the first and an image in its own right. Placed in front of Booth's Diving Tower we also find Neves's works from his solo show in Berlin – although this time hanging from invisible threads – providing a playful element, similar to what was offered by their wooden pedestals.  The exhibition will be traveling to Berlin in April 2019 and from there will move to Lisbon and London – effectively capturing the locations where the artists presented are based. For those interested, editions of the works – including ones by Simon Isaac and Ventacorp – are available for purchase.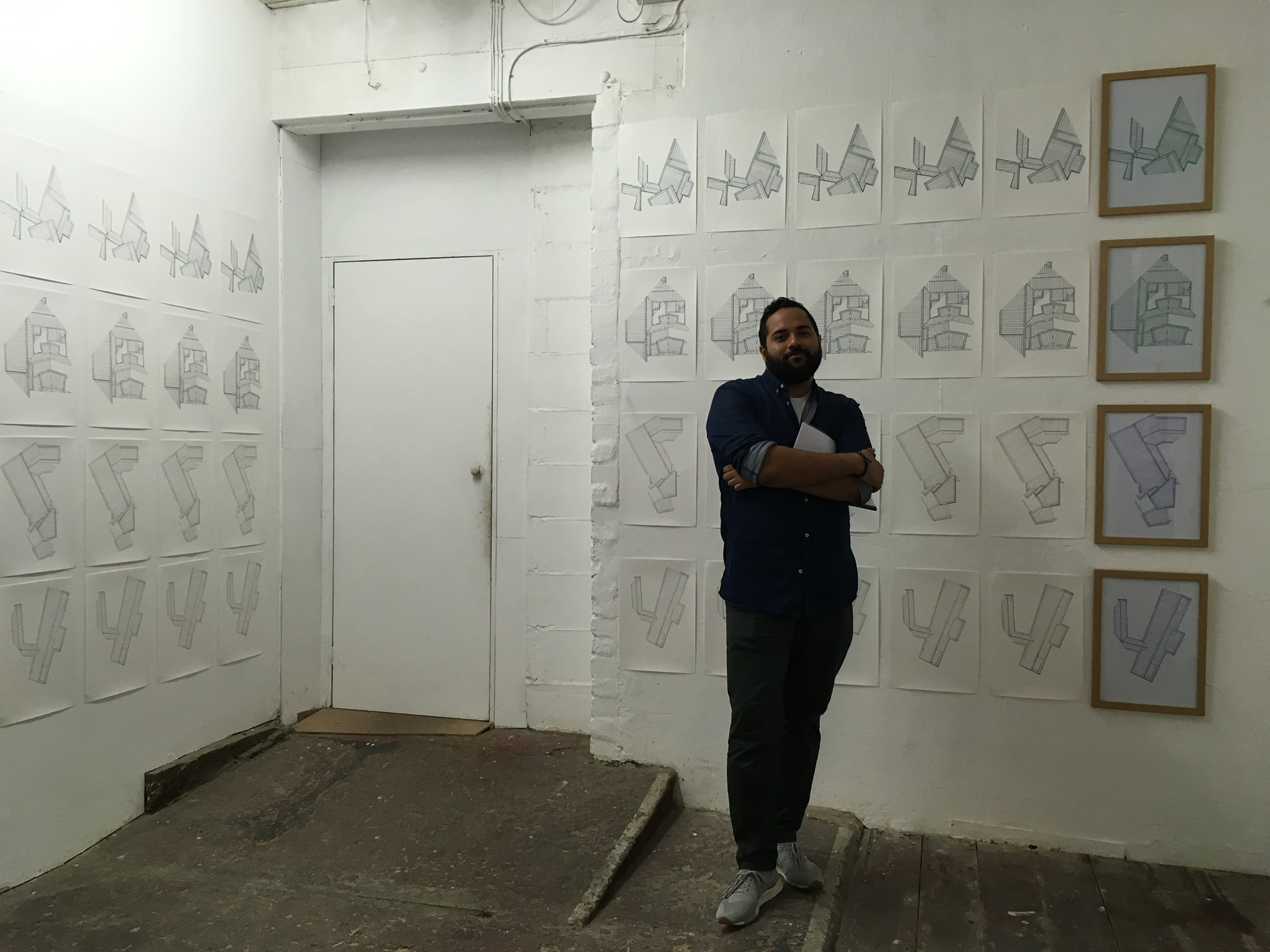 Now that I have fully recovered, despite packing for my six month move, I have been eagerly ticking off exhibitions that were on my list (including Simon Lee's Towards Infinity – which I managed to finally see on its closing day!) so next week I'll be less anachronistic, and the week after that.
Victor Burgin, A Voyage to Italy is on at Richard Saltoun until 29 September 2018. A Q&A with the artist will be held on 25 September at the Italian Cultural Institute (London SW1X 8NX) at 7pm
Harold Ancart's Freeze is on at David Zwirner until 22 September 2018
Memorial Device curated by Brunno Silva was on at Electro Studios, St Leonard's from 31 August – 2 September. The show will travel to Berlin from 26 April – 5 May. Further details here.
Categories
Tags