teamLab at the new Amos Rex a surrealistic and mainly subterranean art complex has just opened in Helsinki, with an immersive multimedia headline show by Japanese digital collective teamLab. But that's not all that is pushing Helsinki onto the international art map. Three other world-class museums within a few hundred metres have major summer shows, and they don't have long to run. So, finish whatever you're doing — it's time to head to the Finnish capital for major art, right now.
Here are the four venues and their must-see shows.
TeamLab – Massless at Amos Rex until 6 January
REX has been shining in neon letters in the centre of Helsinki since 1936, when it opened as a cinema at the Lasipalasti (Glass Palace) designed by a team including Viljo Revell. The downtown Art Deco landmark on Helsinki's main street has been exquisitely restored and incorporated into Amos Rex, an art museum. Architects JKMM have buried galleries and facilities beneath a courtyard that is now a bizarre field of futuristic mounds. Skylights curve upwards around an old landmark chimney. Steps lead down from the now-gleaming historic frontage to the museum lobby, where through a dreamily wavy ceiling, a skylight perfectly frames the outside stairs to the cinema projection room. There's surprisingly generous space for big temporary shows.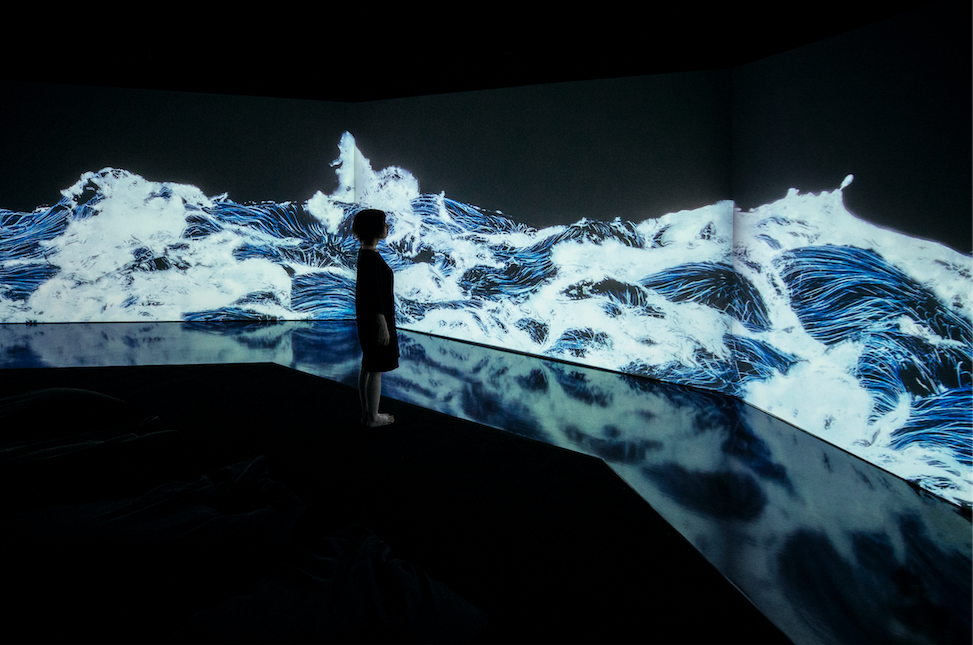 Tokyo-based teamLab have been synthesising digital art since 2001. They create active, immersive and sometimes interactive walk-in spaces. At Amos Rex, banks of processors lurk behind walls constantly generating the alternative realities that each have a room. In Black Waves, you encounter a wide span of crashing black waves, ultimately recalling Hokusei's iconic Edo-period woodprint of The Great Wave, but here with epic-chill piano mood music. Crows are Chased and the Chasing Crows are Destined to be Chased as well Transcending Space has trails zooming around a night sky. Vortex of Light Particles is a new work that takes advantage of the biggest Amos Rex space, a vast dome under the courtyard. It's about a sense of scale and awe. There are other installations, but the really trippy one is another new work — Graffiti Nature Lost, Immersed and Reborn. You enter into an active ecosystem of plants and animals in psychedelic colours that are always growing and eating and vanishing, and reacting to your touch. A soundtrack by Hideaki Takahashi underlines the idyllic mood of this busy, lush world. It's magical and never repeats. 
When asked how such immersive and family-friendly projects such as TeamLab's fit into contemporary art, Amos Rex director said 'artforms will always develop… it's something to embrace'.   
Nathaniel Mellors & Erkka Nissinen – The Aalto Natives at Kiasma until 09 September
Kiasma is a cool curvy metallic 1998 venue by great American architect Steven Holl. Mellor and Nissinen's show takes up a whole floor, expanding on The Aalto Natives film, Finland's contribution at Venice Biennale 2017. 
This deranged 54-minute epic, now with synched animatronics, tells the story of egg-shaped Geb and his box-head son Atum, and a mission to see how Finland's getting on after Geb created it 35 million years ago. There's echoes of Hitchhiker's Guide and 2001, and Englishman Mellors' own head at the heart of a crypto-religious myth. A chain of new animated installations feature some of the film's muppet-like characters.
The whole thing is brilliantly silly, slightly menacing… and mind-blowing.
Timo Sarpaneva at Design Museum until 23rd September
Graffiti at HAM (Helsinki Art Museum) until 9th September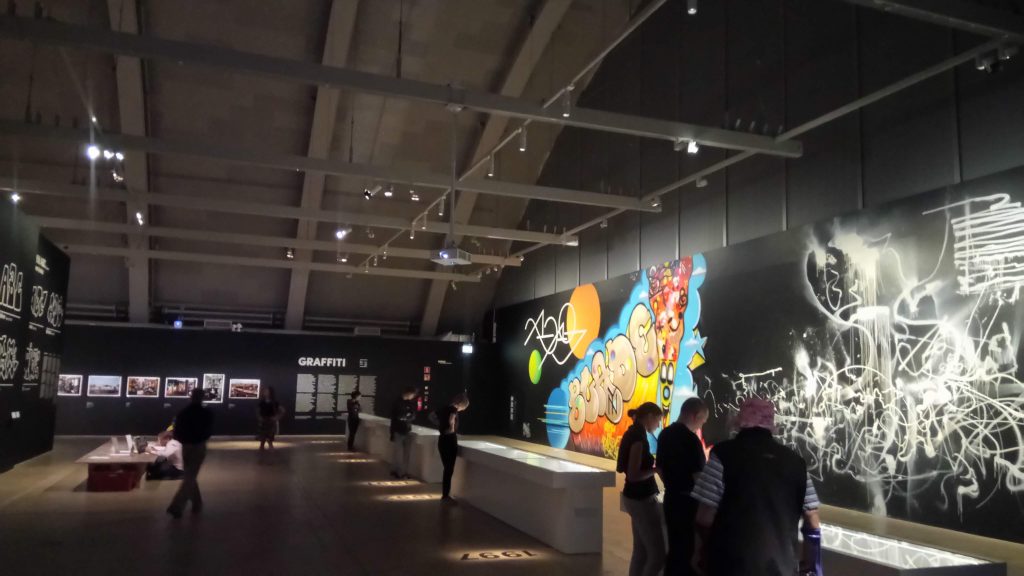 You can't miss this big barrel vault-roofed white 1937 building, designed as an Olympics tennis venue by Helge Ludström — a giant seagull head now looks out from a canopy over the building entrance. HAM is upstairs, with main galleries under its huge arc ceiling. They host the Graffiti show.
From the first tags in the New York subway in 1972, the show follows the out-there visual hip-hop culture as it goes global, and then sees street art diversifying into pop-up, political and situationalist formats. Metro system train carriages are a prevailing canvas. The show includes the psycho aggression of Nug's film Territorial Pissing (2008), where a masked man trashes one in Stockholm and exits through a smashed window. Nug made new work for the show, as did sidewalk appropriator Otto Karvonen and the militant activist Guerrilla Girls. And HAM take it out into the street, too, commissioning Amsterdam's Mick La Rock and New York's Balde, 'King of Graf', to paint a cool wall job under a bridge in the Baana cycle highway, just outside. Even when the show's over, it's sick!
Categories
Tags