This will be Jung sang sub's first UK solo show featuring new works that deal with South Korean society and structure – intricate, mesmeric and delicate, at once political and playful.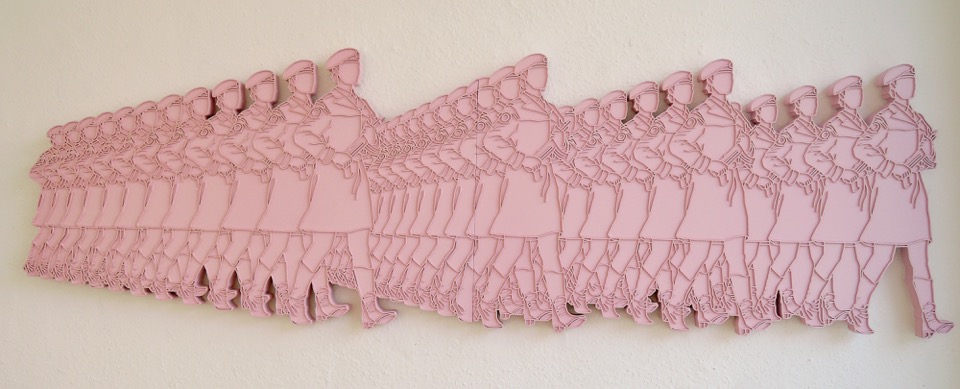 Code-18L, 2017 140cm x 50cm x 3cm Fomax, resin, acrylic painting
The inherent theme for Jung Sang-Sub's artwork for his first London Solo show 'A Repetitive Dilemma' is based on the notion that codification – which is voluntarily made by the members of a society, is hierarchically imposed by external forces – thus hierarchical imposition means that members of a society, since infanthood, are simply given education and environment without exercising their free will.
His work intrinsically looks at how codification reflects the emotions of society, serving as a norm and thereby the binding of life. Delicate, intricate and mesmeric, the 'code' series of works reflect the ways his life has been codified in the Republic of Korea society, of someone who aligns community membership with nationalistic emotions and which is also ideologically confronted with North Korea.
Instinctively, his hierarchical imposition in his art world has led to his works to portray themes of independent collectivism, hierarchy and closeness of the military (that he personally experienced), albeit with such delicacy of touch, beauty and spirit.
The pink ladies twisted line up to make the line – this rigorous piece shows the verticality and closeness of the group as an army the artist experienced in a fragmentary way and of the closed and masculine prejudices of the army. A mandatory 2.2 year military life, born in Korea, is a time when he was forced to be a member of a collective and to his feelings to disappear ones personal character which left a trauma to him.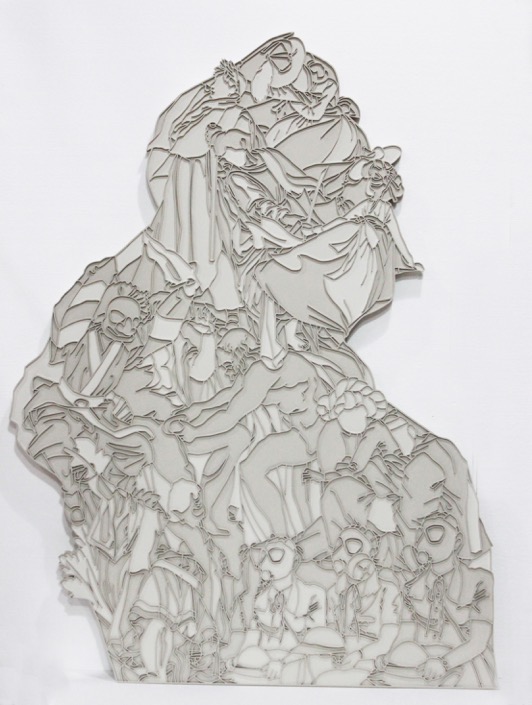 Repetitive dilemma-patriotism 1, 2018 86cm x 117cm x 3cm Fomax, resin, acrylic painting
Saluting the national flag the characters in the work are figures in different places and time (Napoleon, Columbus, Korean folk figures, etc.), they create one large contour, tangled together by the artist to create a silhouette of one man saluting. Jung sang sub borrow's the characters that existed in this particular age and place to make one montage of multiple complexities and meaning – the man saluting is taken from his memory as the teacher who salutes the flag during his time in elementary school. It shows a fragment of the childhood of the author who was forced to patriotism and nationalism by the state. The artist has made and defined this as an external factor to explain his relationship and also objective preconceptions with the state.
'A Repetitive Dilemma' by Jung sang sub 22 August – 1st September, 2018
Preview/Private View: Wednesday 22 August – 6.30 – 10.00pm (Open Preview)
Thursday late night openings – Thursday 23rd / Thursday 30th gallery46.co.uk
Categories
Tags