We caught up with the founder of ARTPIQ Katharina Wenzel-Vollenbroich to talk about her art platform ARTPIQ and also about her up and coming 'SummerHouse'where 6 outstanding emerging artists from around the world who have been invited to live, work and meet collectors for 3 weeks on a Farm near Dusseldorf.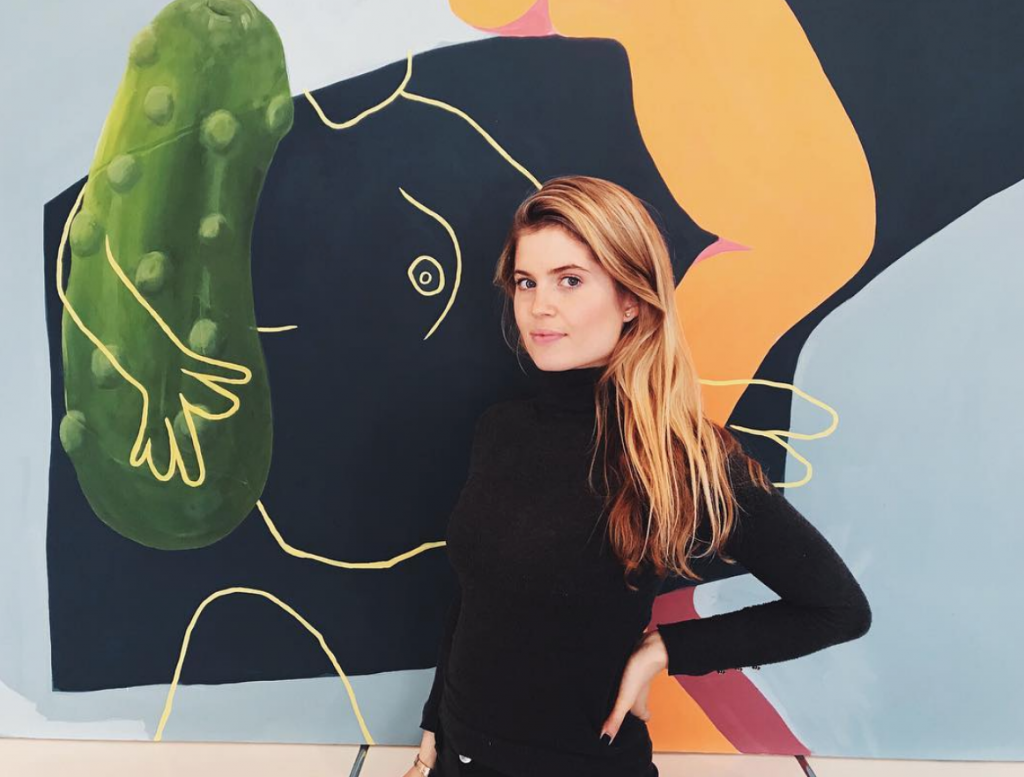 Founder & CEO Katharina Wenzel-Vollenbroich in front of a work by Billy Parker available on ARTPIQ, student at Slade School, London
1. Why do you think ARTPIQ is any different from all the other art commerce platforms that promise to connect investors with the art stars of the future?
It's down to 4 reasons really. Firstly, we put a lot of effort into choosing the artists we list on our platform. We have specific criteria that guide our selection process such as the education of an artist — we only onboard artists who are currently studying or have graduated from renowned art schools. Secondly, we do not just sell artworks. We also support artists long-term, offering the possibility of crowdfunding their projects. It's important to note though that our artists have to sell works first so that we can generate real market data before we help them crowdfund big projects. Because of this, we can properly vet artists so that investors get a good knowledge of the artists' potential. Thirdly, we have simplified the process for collectors by having a transparent database with previous sales data. And finally, the investment process is managed through our platform so that we can offer greater security for investors as we track the progress of our artists.
2. Have you seen AucArt.com? Do you see ARTPIQ as a competitor or compliment to them?
Yes, I know AucArt but no, I don't see us being in competition. In general, I think it's great that there are more and more start-ups in the marketplace supporting emerging artists. I think there is a lot of potential for further development too. In general, however, we have different value propositions for both our artists and our buyers. AucArt is an auction place and has a rather transactional approach — it's about selling the artworks. Our vision and aim with ARTPIQ is different — we are trying to build long-lasting relationships with our artists and actively support them in their personal development. This means we do invest in marketing the artists and not just individual artworks. Moreover, we also guide and support our artists when it comes to pricing their works as we are not just concerned about the next sale but selling at the right price in order to support a healthy value development. This benefits our artists as well as our collectors and investors and is crucial for us to ensure sustainable success.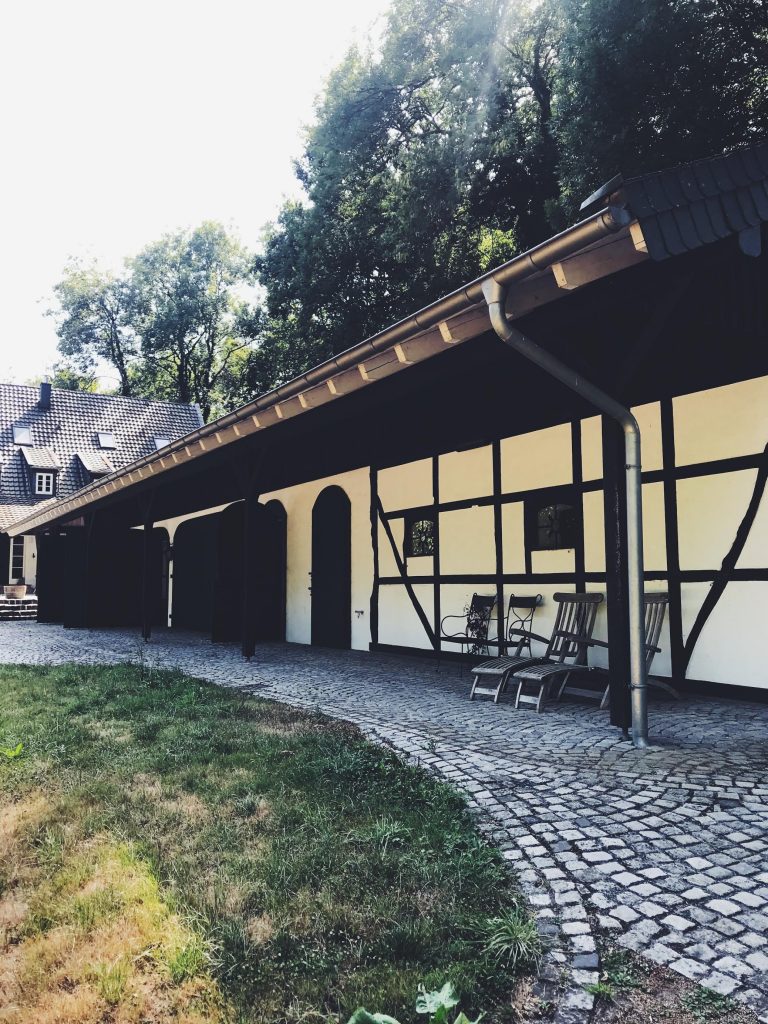 The Farmhouse: ARTPIQ Summerhouse in Düsseldorf, Germany
3. Can you tell us about your Summerhouse project this sounds a great idea
The idea behind the Summerhouse is inspired by history — looking at the get-togethers of the important modernists — they all had the time to meet and speak about their art. We realised that it is difficult for young artists to connect amongst each other in real life. While connecting on social media becomes ever more relevant, we felt that there was an imbalance and we wanted to create a space where artists can actually meet and discuss ideas — become inspired by each other in a new surrounding. Before ARTPIQ was founded we did a lot of research about the success factors of artists. We found that the following are crucial: focus, capital, network and exposure. The Summerhouse is our approach to create the perfect surrounding for artists to focus only on creating art. However, since art is intrinsically linked to social and cultural dynamics, our aim was to not only connect our artists, but also create a bridge to the local context — that's why we created a competition for emerging artists to apply to the Summerhouse with a drawing on the topic of "water" — a theme intrinsically linked to important topical issues such as climate change as well as the location of the residency, Düsseldorf, with its Rhine River.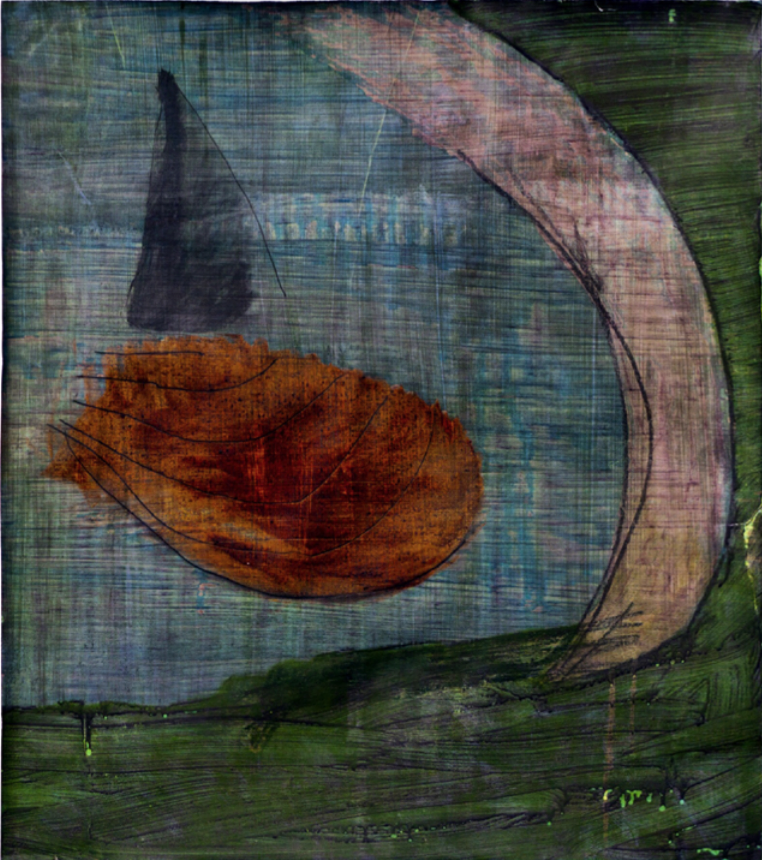 Drawing: Competition Drawing ARTPIQ Summerhouse,"Boat",Goia Mujalli, acrylic, graphite and oil bar on paper, 70 x 50 cm, 2018, available on ARTPIQ
We are very happy to have found many supporters such as Gerstaecker, Kremer, the Millerntor Gallery, a German pharmaceutical company as well as start-ups like Harvest Moon and Little Lunch. This year's Summerhouse is taking place in a farmhouse close to the city of Düsseldorf. 6 artists will stay here and concentrate on developing their practice. They will present the newly created works in our Vernissage on the 1st of September.
We received so many great applications and finally chose Sin Park, Bislacchi, Millie Kelly, Billy Parker, Goia Mujalli and Ellie Walker. Based on the positive feedback we are currently working on the next exhibition with the works from the Summerhouse. We will announce more details on our social media channels soon!
4. Isn't it important just to buy art for enjoyment and if you make some money that's just a bonus?
I don't think the two are mutually exclusive. Art has always been considered as a solid form of investment, with returns of around 5-12%. However, current art investment is quite a closed market — today art investments already make up about 4 percent of the overall portfolio of an average 'high net worth individual'. Generally, the art market separates itself into different price categories: looking at the analytics, prints have become a crucial part of the market and have actually shown an increase in sales — while in the past print auctions were organised once a month, they are now held once a week. Nevertheless, prints don't have great value appreciation as they are released in large editions. It's interesting how this is one of the fastest growing segments of the market.
After this, it jumps up to the secondary market of master's works, where investors can spend anywhere up to millions of dollars. We want to combine these aspects and sell affordable original art by the best emerging artists, whose work offers future value appreciation. At the beginning of an artist's career, artists generally have a higher return in percentage terms. As a collector/investor, you can personally become an active part of the artist's career with a relatively small investment. Seeing an artist flourish, being inspired by their work in your own home every day, together with a possible monetary return is what makes investing in art so exciting. Nevertheless, I strongly believe that you should only buy what you love and what inspires you. It's like choosing a partner, you will see them every day, so you have to choose wisely.
About ARTPIQ
Founded in March 2017, ARTPIQ is an online art funding platform, based in Düsseldorf. It offers artists a way to represent their vision so that they can sell their works, and raise the necessary funds. The company believes that every single artist is unique and has a story to tell. It aims at democratising the art market by connecting collectors and investors with emerging artists. See more at: https://artpiq.net
About the Founder
Katharina Wenzel-Vollenbroich, Founder and CEO of ARTPIQ holds a master's degree in Arts and Cultural Management from the King's College in London and a bachelor's degree in Communication from the Zeppelin University in Friedrichshafen. Prior to her engagement at ARTPIQ, she worked for artnet UK & USA and has gained relevant experiences through internships at artnet news New York, Sotheby's, Museo Capodimonte, Museo Sant'Elmo and Kunstverein Friedrichshafen.
Categories
Tags