The South London Gallery's new annexe in a former Fire Station will open to the public on Saturday 22nd September with an exhibition titled KNOCK KNOCK. Curated by SLG Director Margot Heller in collaboration with artist Ryan Gander, the exhibition explores humour in contemporary art.

Joyce Pensato, Black and White Mickey, 2018 Oil on canvas © Joyce Pensato; Courtesy Lisson Gallery
Across the road from the SLG's main building, the Fire Station has been renovated by 6a architects. It doubles the size of the SLG and includes the creation of new exhibition galleries, an archive, communal kitchen, education space and artist's studio.
To celebrate the opening of the SLG's new space, KNOCK KNOCK will be presented across the main site and the Fire Station. KNOCK KNOCK brings together works by more than thirty artists – from established figures such as Maurizio Cattelan, Sarah Lucas and Ugo Rondinone to younger practitioners such as Danielle Dean, Hardeep Pandhal and Simeon Barclay – in different mediums ranging from painting, drawing and sculpture to collage and film.
From Judith Hopf's flock of concrete sheep through to Yonatan Vinitsky's scaled-up cartoon, the show
provides a surprising encounter with a broad range of humorous strategies, from slap-stick, parody and caricature through to the in-joke, one-liner and visual pun.
Reflecting the SLG's approach to exhibition programming over the past decade, the show includes works by a number of artists whose work has never been shown in a London public sector gallery, such as Jayson Musson, Jamie Isenstein and Joyce Pensato. In keeping with the launch of the SLG's archive, the display also includes several artists who have previously exhibited at the SLG such as Chila Burman, Heman Chong, Barbara Kruger and Tom Friedman, whose aluminium foil guitarist will return to the SLG for the first time since Friedman's solo show in 2004. At a time of much upheaval and unease in the world, KNOCK KNOCK aims to raise a smile at a particularly joyous moment in the history of the SLG, but also to explore what makes us laugh in art and why.
Newly commissioned work will be on view throughout the opening weekend, including three off-site artist projects as part of Open Plan, the SLG's ongoing public art and education programme that invites international and British artists to create artworks with and for the gallery's neighbours on local housing estates. A large-scale text piece by artist Jessie Brennan will be installed on the roof of Heron House on Pelican Estate from August 2018; Basim Magdy will collaborate with local children to transform Art Block, the SLG's free children's space on Sceaux Gardens Estate; and Gabriel Lester's colourful, bollard-like sculptures will populate the paved area below Crane House on Pelican Estate.
Heralding the SLG's new programming strand Evidence of Us, which supports local histories through the lens of contemporary art, is a series of films by artist Rory Pilgrim titled The Resounding Bell. Screened in the Studio on the top floor of the Fire Station, the films explore how we might retell otherwise unheard stories relating to care, community, migration, technology and war.
A celebratory weekend of free events across the SLG's indoor and outdoor spaces include creative activities for families and tours of heritage sites in the local area with further details to be announced online in due course.
KNOCK KNOCK Humour in Contemporary Art 22nd September – 18th November 2018
Main Gallery & Fire Station Galleries 1,2,3,4 southlondongallery.org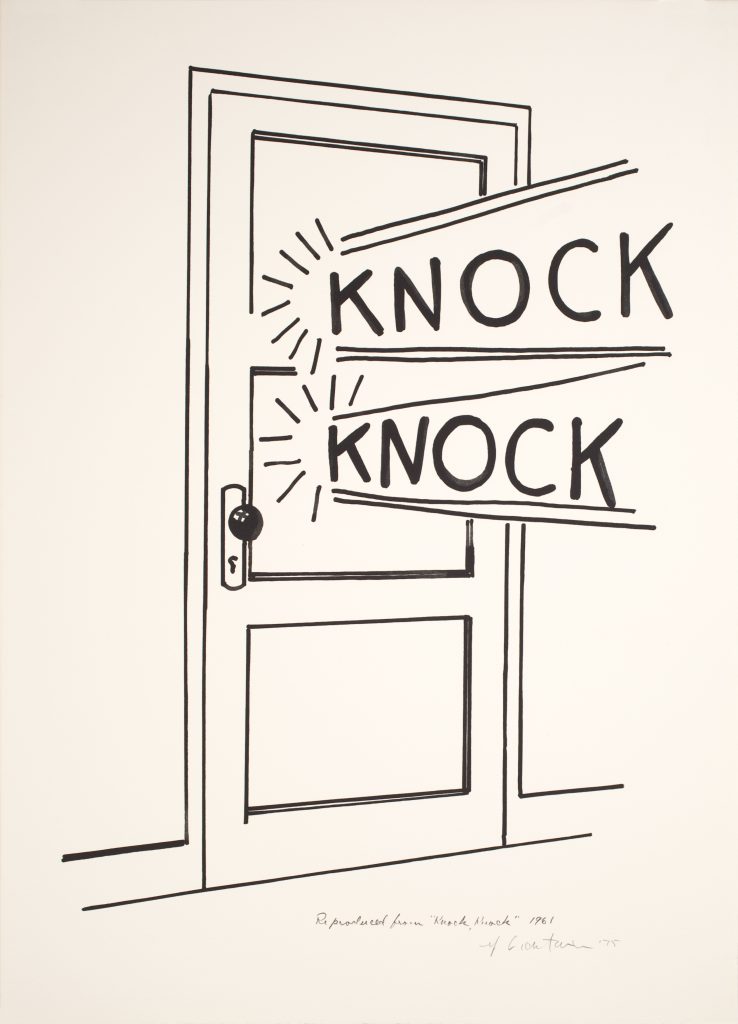 Roy Lichtenstein, Knock, Knock Poster, 1975 Line-cut, in black, on Arches paper, 65.4 x 47.6cm
© Estate of Roy Lichtenstein/DACS/Artimage 2018
Categories
Tags