With Frida Kahlo: Making Her Self Up, the first exhibition outside Mexico featuring previously unseen clothes and belongings alongside paintings and photographs, the V&A has another blockbuster on its hands. Although this particular collection gives a rare insight into the personal archive of artist Frida Kahlo, for it includes outfits, letters, jewellery and personal objects, which were found in Kahlo's house in 2004.

Frida-Kahlo-in-blue-satin-blouse-1939.-Photograph-Nickolas-Muray-©-Nickolas-Muray-Photo-Archives
Frida Kahlo lived with her Mexican Muralist husband Diego Rivera, in the Blue House (Case Azul) in Coyoacán, on the outskirts of Mexico City. Kahlo was born in the Blue House, grew up there, and continued to live there when she married Diego Rivera. Blue House became a magnet for the leading artists, politicians and intellectuals of the era, which included Communist leader Leon Trotsky. During the Mexican Renaissance of the 1920s and 30s, Mexico flourished as a liberal destination, attracting artists, writers, photographers and film-makers from abroad. Some of Edward Weston and Tina Modotti's photos of traditional Mexican architecture, clothing and people of the era are featured in the V&A exhibition.
After Kahlo's death in 1954, Rivera sealed up a room in Blue House which contained paintings, photographs, medical corsets, medicines, clothes, makeup and other personal ephemera belonging to his wife, and instructed that the room should not be opened until 50 years after his own death.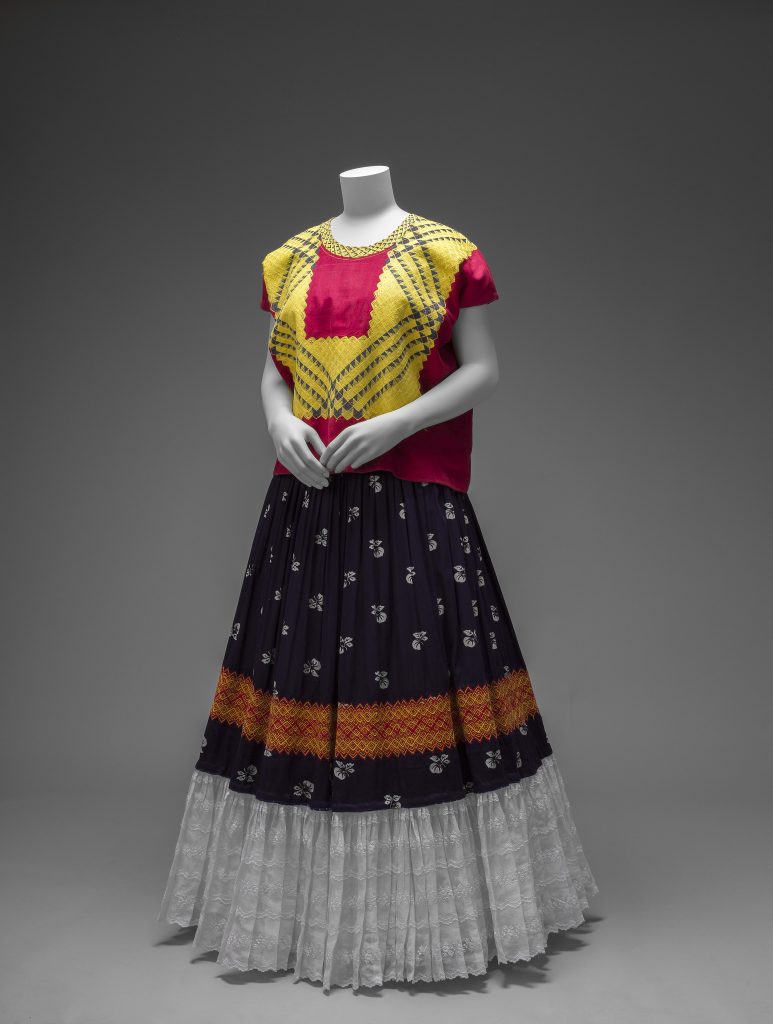 Cotton huipil with machine-embroidered chain stitch; printed cotton skirt with embroidery and hola?n (ruffle) Museo Frida Kahlo
The V&A worked closely with Museo Frida Kahlo on the exhibition, which reimagines the Blue House through a curated collection of more than 200 objects from the rediscovered sealed room. Some of the more personal objects, such as Kahlo's medicines and medical corsets, are displayed in glass cases, like a macabre real-life version of Damien Hirst's medicine cabinets. Medical corsets hand-painted by Kahlo with religious and communist imagery are displayed in an adjacent cabinet, one shows a spine covered with a hammer and sickle, whilst another shows internal organs and a foetus as a metaphor for Kahlo's miscarriages. These hand-painted medical corsets are evidence of the suffering Kahlo went through for most of her life, and how it was inextricably linked with her art.
Following the discovery of objects such as Kahlo's medical corsets and orthopaedic aids in the sealed room of the Blue House, a greater insight was gained into her accident, and the physical pain she suffered as a child which endured for the rest of her life. At the age of 6, Kahlo contracted polio, which left her confined the bed for 9 months. Then tragedy struck again at the age of 18 when she was badly injured in a bus accident, resulting with multiple injuries including a broken spinal column, broken collarbone, ribs and pelvis, and an iron handrail pierced her abdomen and uterus.
During many months in bed recuperating from her extreme injuries, Kahlo began painting self-portraits with an easel and mirror that her Mother attached to the canopy of her four-poster bed. Although she recovered, Kahlo suffered intense pain for the rest of her adult life, with physical trauma and her inability to have children forming the impetus for her art. A wall of small votive paintings from Kahlo and Rivera's collection shows scenes of road traffic accidents. A painting of Frida surrounded by Monkeys reflects her sadness at not becoming a Mother, the animals in this self-portraits were pets that she kept in her garden to keep her company and use as models.
As well as offering an insight into her physicality and how the pain she suffered inspired her art, the V&A exhibition acknowledges the extraordinary contribution Kahlo gave to Mexican culture, in the form of 22 distinctive colourful Mexican Tehuana garments, and pre-Columbian necklaces that Frida strung herself. The exhibition gives an insight into the Mexico of Frida Kahlo, and her sense of cultural pride following the Mexican Revolution (1910-20). Kahlo's interest in the art and traditions of Mexico's indigenous people was reflected in her clothes and costumes, which she also used as a political statement.
Portraits by photographer Nickolas Muray show Kahlo in the traditional Mexican attire, which became her signature. On display from Frida's collection are; rebozos (a traditional Mexican shawl); huipiles (an embroidered square-cut top); enaguas and holanes; and jewellery ranging from pre-Columbian jade beads to modern silverwork. One of the exhibition's highlights is The Resplandor, a lace headdress worn by the women of the matriarchal society from the Isthmus of Tehuantepec region in Southern Mexico, paired with a self-portrait of Kahlo wearing it.
Frida's carefully choreographed style was so visually striking that it endures to this day, and she is as much remembered for her thick monobrow, full skirts and flower-covered hairbands as for her paintings. Kahlo is probably the most iconic woman artist of the 20th Century, and despite marrying the celebrated painter Diego Rivera, a man more than 20 years her senior, she never allowed her own style or talent to be overpowered by his. Her family described the union as that of an Elephant and a Dove, and Rivera's domineering physicality and presence is seen in many of her paintings. However, hers is the name that contemporary art lovers are more familiar with, demonstrating the long-lasting power of her image and talent.
Co-curator of the exhibition Claire Wilcox, Senior Curator of Fashion at the V&A commented:
"A countercultural and feminist symbol, this show offers a powerful insight into how Frida Kahlo constructed her own identity."
This exhibition offers a completely unique look inside the life and mind of one of the 20th Century's most enduring icons, whose personal style is still visible in contemporary fashion and culture.
Kahlo's auto-biographical style continues to resonate with contemporary artists, such as Tracey Emin and the late Louise Bourgeois, whose work is infused with personal experiences of sex, relationships and personal trauma. To celebrate the opening of the Frida Kahlo exhibition, the V&A commissioned Kristjana S Williams to create a print paying homage to the iconic Mexican artist. Kristjana's print features a face modelled on a Mexican skull, which is a recurrent them in her work and that of Kahlo's. The skull is encircled by a mirror frame to reflect how much of Kahlo's work took the form of a self-portrait, and features the wheelchair Kahlo would sit in to study her reflection, and 2 cats representing the duality in Frida's life which still resonates today.
Frida Kahlo: Making Her Self Up Is at the V&A until 4 November 2018
vam.ac.uk/FridaKahlo #InspiredbyFrida

Frida Kahlo with Olmec figurine, 1939. Photograph Nickolas Muray. © Nickolas Muray Photo Archives
Categories
Tags