On the 1st August 2018, Lawrence Lek presents the launch of Farsight Corporation: a new project which imagines the future of 'smart cities'. Set in a future London, where intelligent urban systems monitor and interact with their clients, the project speculates on issues surrounding the interaction of architecture and artificial intelligence.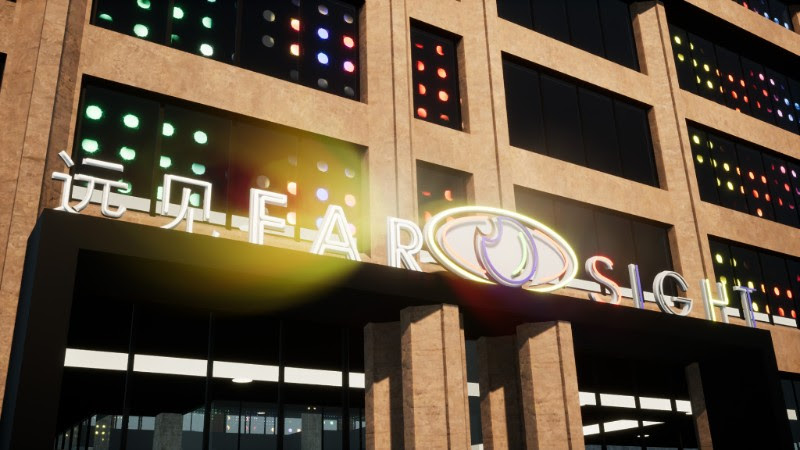 The science-fiction scenario revolves around a Chinese technology company – Farsight – which uses London as a prototype for its range of AI and automation products: drones, smart transportation, AI security bots.
To celebrate the launch of this 2-year project, to be realised for our 2019 programme, Bold Tendencies will host a screening of several of Lek's most prominent works to date, as well as a promotional trailer for the Farsight Corporation itself:
Farsight Corporate Promo (2037) – 5m 05s
Sinofuturism (1839-2046 AD) – 9m 40s (extract)
Geomancer – 48m 15s
A conversation with the ICA – 7m 00s
Farsight Corporate Launch (2018)
Farsight Corporation is a pioneer in fully-automated and luxury urban living. Investing in the future of 'smart cities', Farsight uses a combination of artificial intelligence and architecture to create intelligent urban systems which monitor and interact with its daily users.
Catering for a new brand of global city, Farsight Corporation tailors its urban architecture to the speed and dynamism of its clients, producing unique services that help clients fully integrate with the surrounding codespace of the city.
In line with our slogan, "Farsight – AI for Everyone™", Farsight Corporation seeks to utilise the advances of AI in order to revolutionise three key industries: Finance, Property, and Entertainment. Working with an extensive portfolio of automated services – from VR downtime to smart transportation, private drone security to bespoke neuromarketing – Farsight Corporation creates a unique system of urban engagement tailored to the contemporary global flaneur.
Farsight Corporation will launch on 1st August 2018, developing a wide portfolio of 'smart buildings' that react to the demands of the future. Harnessing the power of Big Data and AI, Farsight will synchronise individuals with their digital-urban interface.
Bold Tendencies Presents LAWRENCE LEK FARSIGHT CORPORATE LAUNCH Wednesday 1 August at 7.30 pm
About The artist
Lawrence Lek (b. 1982, Frankfurt, Germany) creates speculative worlds and site-specific simulations using gaming software, video, installation and performance. Often based on real places and fictional scenarios, his digital environments reflect the impact of the virtual on our perception of reality. Recent exhibitions include: 2065, K11 Art Foundation Hong Kong (2018); Play Station, Art Night London (2017); HyperPavilion, La Biennale di Venezia (2017), Glasgow International, Tramway, Glasgow (2016); SeMA Biennale Mediacity Seoul, ??????? Seoul Museum of Art, Seoul (2016). Lek is shortlisted for the 2018 Film London Jarman Award; he received the Jerwood Film and Video Umbrella Award in 2017, and the Dazed and Confused Magazine Emerging Artist Award in 2015. Lek's and Kode9's work, Nøtel, is currently on view at arebyte through September 1, 2018, and at Stroom Den Haag (The Hague, NL) 1 Septeber – 4 November, 2018.
#BOLD2018
Categories
Tags