New Contemporaries offers an insight into today's creative practices, showcasing some of the most dynamic work being made by emerging artists. As part of this year's Liverpool Biennial, New Contemporaries will launch at Liverpool School of Art & Design, Liverpool John Moores University.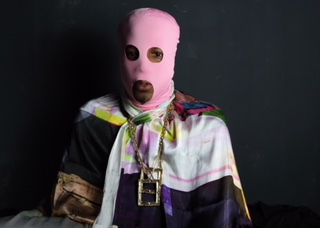 Image caption: Kamile Ofoeme, Afro-Glitch, 2016
57 artists have been chosen for the annual open submission exhibition by a panel of guest selectors comprising Benedict Drew, Katy Moran (New Contemporaries alumnus 2006) and Keith Piper (New Contemporaries alumnus 1986). For the first time New Contemporaries includes artists from non-degree awarding courses with 10 artists from non-accredited courses taking part in this year's exhibition.
Selected artists for Bloomberg New Contemporaries 2018 are: Agil Abdullayev, Kobby Adi, Ayo Akingbade, Annie-Marie Akussah, Chris Alton, Louis Bennett, Jack Burton, Christian Noelle Charles, Kara Chin, Faye Claridge, Jack Fawdry Tatham, Emma Fineman, Rhona Foster, Deme Georghiou, William Glass, Carrie Grainger, Madelynn Mae Green, Habib Hajallie, Camilla Hanney, Rebecca Harper, Sam Henty, Mimi Hope, Richard Ayodeji Ikhide, FC Izaac, Osian Jenaer, Patrick H Jones, Jessica Jordan-Wrench, Marianne Keating, Gareth Kemp, Yushi Li, Shao-Jie Lin, Heidi Maribut, Alexi Marshall, Jocelyn McGregor, Holly McLean, Paula Morison, Yuko Obe, Kamile Ofoeme, Panicattack Duo, Jack Pell, Ralph Pritchard, Anna Reading, Maïa Régis, Bella Riza, Francisco Rodriguez, Janet Sainsbury, Mohammed Sami, Antonia Showering, Shy Bairns, Wal Slzr, Tom Smith, Alcaeus Spyrou, George Stamenov, Viviana Troya, Rosa Johan Uddoh, Tom Waring and Yanghwa.
This year's Bloomberg New Contemporaries brings together traditional techniques and materials including painting alongside live performance. Themes include migration and borders, cultural and gender identity, and the use of technology with the resulting exhibition offering a unique nationwide insight into artists' practice today.
Throughout the exhibition's history a wealth of established artists have participated in New Contemporaries exhibitions including post-war figures Frank Auerbach and Paula Rego; pop artists Patrick Caulfield and David Hockney; YBAs Damien Hirst and Gillian Wearing; alongside contemporary figures such as Tacita Dean, Mark Lecky, Mona Hatoum, Mike Nelson and Chris Ofili; whilst more recent emerging artists including Ed Atkins, Marvin Gaye Chetwynd, Rachel Maclean and Laure Prouvost have also taken part.
Kirsty Ogg, Director, New Contemporaries says, "We are delighted to launch this year's national touring exhibition at Liverpool School of Art & Design, Liverpool John Moores University for the first time. Since 1949 New Contemporaries has played a significant role in giving a visibility to generations of emerging UK-based artists. It is important that we find new ways to support emergent art practice, therefore this year also marks the first time that New Contemporaries includes artists from non-degree awarding courses.
"The resulting exhibition demonstrates the continuing strength of work emerging across the UK with Liverpool Biennial providing an international platform for New Contemporaries artists to be seen
alongside cutting-edge contemporary art from around the world."
Following New Contemporaries' successful partnership with Bluecoat as part of Liverpool Biennial 2016, New Contemporaries is also delighted to present a number of artist projects at the gallery. On 14 July 2018, 1-4pm, Artists' collective and Bloomberg New Contemporaries 2018 participant Shy Bairns invites audiences to contribute to a collaborative zine-making workshop at Bluecoat. On 21 September 2018, 6-8pm, Bluecoat will host an evening of performances by Bloomberg New Contemporaries 2018 artists Tom Smith and Rosa Johan Uddoh. For full details, visit www.newcontemporaries.org.uk or www.thebluecoat.org.uk
About Mark Westall