This week I gave my undivided attention to Art Night, because who wouldn't?
On Thursday afternoon I was kindly invited to an influencer preview tour which allowed me to firstly familiarise myself with the walk from Nine Elms to Battersea (although I still didn't quite remember it on the night) and, most importantly, to see some of the projects. The tour started at the New Covent Garden Flower Market. I found myself in the car park and was told initially that the market wouldn't open until 4am – but eventually, with further directions, I found the Art Night team.
The New Covent Garden Flower Market
Ali gave us an introduction to the market and the space and then proceeded to guide us through it. Given the scorching heat the cool breeze was extremely welcome. We browsed one of the stands and walked through the corridor where Tamara Henderson's performance was due to take place on the Saturday (more on that later).
Anna Skladmann with Ghost in the Machine
We were then guided to the side of the market where Anna Skladmann talked us through her mural – Ghost in the Machine. She was particularly interested in bringing to life a sense of touch with her ultra-artificial scanner – one that is not sensitive to natural light. Pollen grains, petals creasing – these are all visible in high definition, suspended in a dark backdrop. As we left Anna, we continued our walk towards the Battersea Power Station (this is the walk I should have remembered…anyway).
Susan Treister, SURVIVOR (F) + Interplanetary Dresses for Space Travel
After gazing at the floating cranes we made our way towards Circus West Village and, in so doing, found Susan Treister's mural SURVIVOR (F) + Interplanetary Dresses for Space Travel. Her watercolours fuse futuristic images with psychedelic colours and outlines of the power station to be.
We then boarded the Thames Clipper and made our way to the British Interplanetary Society (BIS) for Halil Altindere's show: Space Refugee. Now BIS itself, with its brick structure and 'Occupy Mars' plaque looked perfect for the part. Upon entering we were greeted by a blue light, emanating from the neon hanging in the hall. Altindere based his installation on Muhammed Ahmed Faris, the first Syrian astronaut to travel in 1987. Altindere traces Faris's journey to and in space, by showing original archival footage as well as painting canvases illustrating him as a popular hero, opposing Assad's regime and now as a refugee in Turkey. Following interviews with NASA scientists, architects and the like, Altindere imagines a colony on Mars where all refugees can live, freely and with dignity, and invites us to visit using VR.
Halil Altindere, Space Refugee
On the night itself I had carefully circled all the projects I wanted to attend, downloaded the Visit London app and scribbled a schedule – then forgot the booklet at home. It all worked out in the end though.
The first, and probably my favourite event, was the collaboration between London's own Oliver Coates and New York's Peter Burr – brought together by the Zabludowicz Collection.
Still from Peter Burr's visuals
Set in Leake Street Tunnel's Aures (which, in itself was worth a visit), the live AV concert fused Burr's beautifully intricate visuals with Coates's moving cello performance. I have since been completely consumed with finding one of the songs (someone help, please). Coates combined more classical ambient sounds with stronger electronic beats which matched the imagery before us – an optical hand constructing itself and emitting thread. A man falling through a pixelated sky. A surreal landscape, whose red blades of grass appear crystallised until a figure manipulates them into a new fluid dimension. Whilst the performance was intended to be a singular experience, I hope Burr and Coates will collaborate again in the near future (and that the song I'm after will be released, this is serious).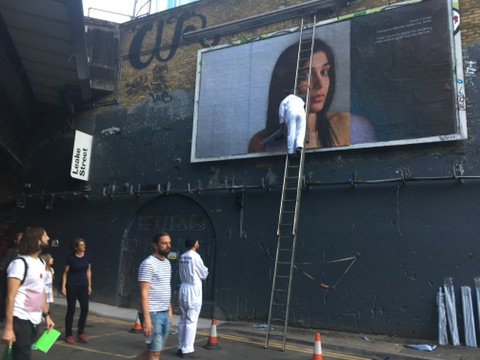 Uta Kogelsberger, Uncertain Subjects Part II
As we left Aures we found ourselves looking up at Uta Kogelsberger's Uncertain Subjects Part II. The performance, involving a billboard being constantly covered with photographs of 'uncertain subjects' i.e. people who believe their future is uncertain following Brexit. Truly fitting given what happened at Chequers and the most recent resignations…
We were then invited to create our own soundscape, or Urban Howl, courtesy of ShadowMemory. Launched during Art Night, but available to download and use 24/7, the app is designed to take us around 30-40 minute tours of London, each focusing on an element, a sound, an imaginary landscape. Whilst I did not complete the tours during the night I will most definitely do so in the next few weeks and report back.
Rare evidence of me DJ-ing for ShadowMemory, be sure to book me for your next event
On our way to the Oxo Tower we contributed to the dismantling of Bosco Sodi's installation, Muro, just outside the National Theatre. Art Night goers were invited to pick up one of the 1600 clay bricks made in Mexico and signed by the artist himself. The bricks came with a certificate of authenticity and were definitely heavier and larger than expected so credits to those who successfully carried them throughout the night! Much like Uncertain Subjects and Space Refugees, Muro was explicitly drawing our attention to the current political climate and granting us agency to fight against artificial political boundaries.
Sebastian Kite, We will meet in the place where there is no darkness
We eventually made it to the Bargehouse for Sebastian Kite's Orwellian performance piece 'We will meet in the place where there is no darkness'. In darkness, we walked to the pavilion constructed out of transparent and semi-transparent panels, which added to our sense of disorientation. A mirror warped the space further as a powerful strobe flashed away, its clicking sound harsh and abrupt. Susie Browning then began performing a sequence of initially soothing, flowing moves which gradually became more aggressive and powerful as the strobe became more rapid and fired orange, green and yellow flashes, segmenting the room further, adding to our sense of alertness. We left the Bargehouse as the heat was increasing as steadily as the strobe and cooled off before continuing our route.
My (less than) organised map took us to the Pervilion, a newly constructed barn within London's city farm. Supported by The Store x The Vinyl Factory (is there a loyalty membership for attending all The Store x VF events?) the installation included a sensual fountain by Clementine Keith-Roach, with delicate water streaming from clay hands, breasts and limbs, stacks of hay surrounding it.
From Lambeth we took the 344 to Battersea for a club night hosted by Lisson Gallery. Hans Berg and Haroon Mirza provided a techno fuelled soundtrack as we danced away. It was quite hard to leave and get back on our installation path but we finally pushed ourselves and walked towards the New Flower Market where I wanted to see Tamara Henderson's performance. We arrived around 2am or so but whilst we did catch Henderson operating the Bolex camera, we seemed to miss her characters and their procession through the dark corridors.
As we left the car park and headed towards Vauxhall we took a quick detour to observe Lara Favaretto's 'I poveri sono matti', a red and blue caravan hanging from a crane, at an incline.
The very final stop of the night was Body A, a video installation by Colette Sander and Mikko Gaestel in St Peter's Church, Vauxhall. Now finding the church proved harder than expected and we roamed around Kennington Road for a while before turning the right corner. As we walked in, we found a monolithic object standing in the middle of the nave (it was hard not to think of 2001: A Space Odyssey). The monolith, glowing, unfolded digital recreations of the human body, cut, pieced together, rotating – a toneless voice occasionally speaking at us. With no one else around us (or maybe a few shadows) the setting was fittingly eerie and was one of the best examples of Art Night's ability to integrate experimental contemporary art in more traditional locations.
Many, many, many kilometres later we concluded our night (day?).
For those interested in seeing some of the projects, do check on the Art Night website as many will be available to view during Summer.
I cannot wait to see what Art Night has in store for 2019.
Categories
Tags