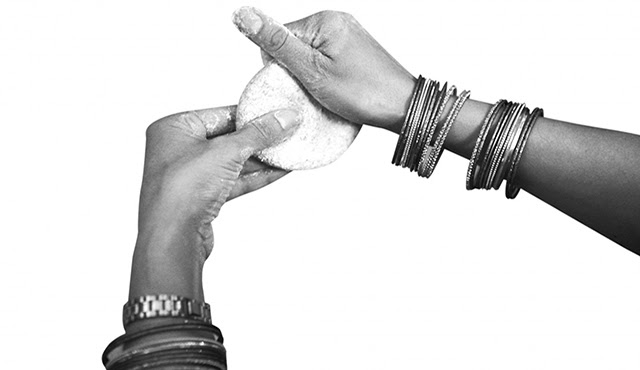 Image: Jasleen Kaur, From the Tala Curry Measure Booklet, 2014. Photos by Rachel Louise Brown
Formafantasma and Ghetto Gastro among groups leading weekly talks around themes of food, empire and ecology
Building on the Radical Kitchen: Recipes for Building Community and Creating Change programme launched in 2017, the Serpentine is excited to announce a second season of its lunchtime gatherings in the Serpentine Pavilion, this year designed by the award-winning architect Frida Escobedo. Radical Kitchen 2018 is a collaboration with Nicoletta Fiorucci, Founder of Fiorucci Art Trust, and is supported by Aesop.
On selected Thursdays over the summer, artists, activists and researchers will gather with the public to consider different global foodstuffs and elements – their stories, their movements and their relationship to time, empire and landscape. Visitors will share food and reflect on empire, geological time, exchange and decolonisation, themes inspired by Escobedo's design, which draws on the domestic architecture of her native Mexico and British materials and context, specifically the Prime Meridian line at the Royal Observatory.
Radical Kitchen 2018 brings together questions generated through two major research strands undertaken by Serpentine Projects. The ongoing Rights to the City programme addresses housing rights, racial discrimination, privatisation of public space and the politics of care. Launching in 2018, General Ecology marks the Serpentine Galleries' commitment to addressing questions around ecology, complexity, organisation and climate change.
Each lunchtime session will focus on a different element or food item, tracing how ingredients such as sugar, grains and chili have shaped the globalised world, and how consumption, exchange, politics and economics determine – and are determined by – these elements. The talks will be led by international guest artists and groups including Formafantasma and Ghetto Gastro, as well as individual artists with a long-standing involvement in Serpentine Projects, including Jasleen Kaur, Zinzi Miniott and Daniella Valz Gen.
Mazí Mas, co-hosts of the inaugural Radical Kitchen in 2017, have inspired the Serpentine's ongoing collaboration with social enterprises that work with food and migrant communities across London. Several of these organisations will provide bread and snacks at this year's picnic talks, while Mazí Mas will return on 13 September for the launch of the Radical Kitchen Cookbook.
RADICAL KITCHEN PROGRAMME Selected Thursdays at 1pm NOW till 27 September 2018 Serpentine Pavilion
serpentinegalleries.org
Thursday 12 July, 1pm
Gold: Formafantasma, in conversation with Alice Rawsthorn
Thursday 19 July, 1pm
Chili: Fozia Ismail
Thursday 26 July, 1pm
Sugar: Zinzi Minott
Thursday 9 August, 1pm
Mercury: Angus Cameron
Thursday 23 August, 1pm
Potato: Daniella Valz Gen
Thursday 30 August, 1pm
Clay: Arabeschi di Latte (Francesca Sarti)
Thursday 6 September, 1pm
Fossils: Territorial Agency
Thursday 13 September, 1pm
Rice: Mazí Mas
Thursday 20 September, 1pm
Yams: Ghetto Gastro
Thursday 27 September, 1pm
Shell-fish: Cooking Sections
Serpentine Pavilion 2018
Award-winning architect Frida Escobedo, celebrated for dynamic projects that reactivate urban space, has designed the Serpentine Pavilion 2018. Harnessing a subtle interplay of light, water and geometry, her atmospheric courtyard-based design draws on both the domestic architecture of Mexico and British materials and history, specifically the Prime Meridian line at London's Royal Observatory in Greenwich. Escobedo (b. 1979, Mexico City) is the 18th and youngest architect yet to accept the invitation to design a temporary Pavilion on the Serpentine Gallery lawn in Kensington Gardens.
About Serpentine Projects
Serpentine Projects builds dynamic relationships between art, artists and people. Projects and events vary in scale, duration and location, and challenge expectations of where art can be encountered and by whom.
Building on over a decade of work in and around the Edgware Road, London, the programme connects artists with migrant rights organisations, recent migrants to the UK, older people living with dementia, care workers, social justice movements and housing activists. Over the past 10 years, it has developed a practice in co-creating and co-researching with adults and community organisations across London. The research strand Rights to the City explores housing rights, racial discrimination, privatisation of public space and the politics of care.
About General Ecology
Launching in 2018, General Ecology is the Serpentine Galleries' multi-year, multidisciplinary commitment to addressing fundamental questions around ecology, complexity, organisation and climate change through live events, exhibitions, publications, partnerships and commissions.
Categories
Tags