Flight – a major new commission by London-based street artist Remi Rough – to celebrate Wembley Park's summer cultural programme, Summer of Play.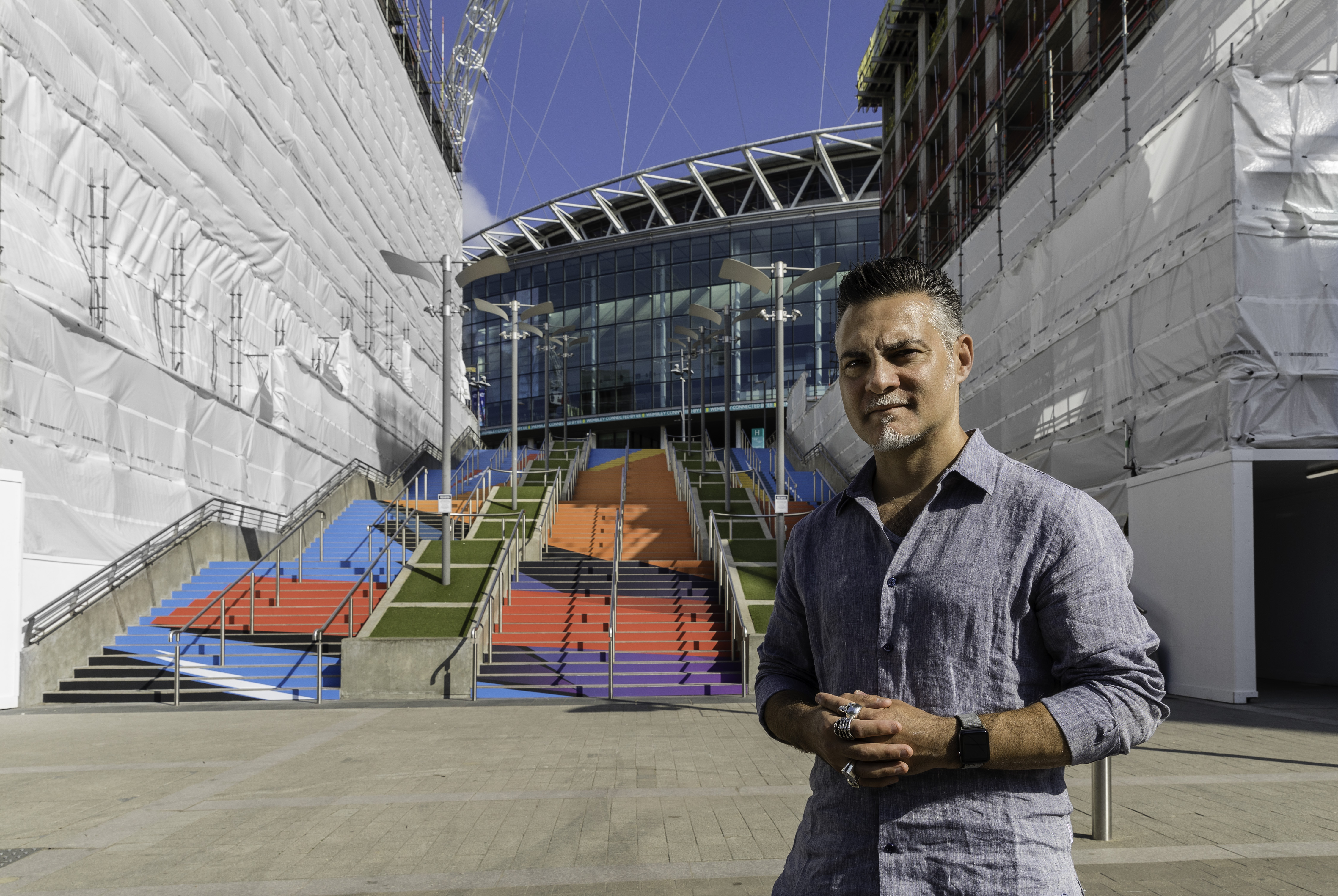 Artist Remi at his design installation at Wembley Park, London. Photo credit : Chris Winter / Wembley Park
Known for his dramatic and colourful abstract compositions that have transformed buildings and locations around the world, Rough was inspired by the Wembley Park site's flow of people in devising the concept for Flight. With the iconic arch of Wembley Stadium in the background, the design is viewed as distinct elements until the viewer stands directly in front, at which point the image dramatically locks into place.
Flight's arrival officially kicks off Summer of Play – a curated season of cultural activities that invite visitors and residents to enjoy the transformed Wembley Park over the summer months. The programme adds to the headline music and sporting events for which the area is internationally known, and forms part of an ambitious multi-year cultural strategy for the area as it rapidly evolves into one of London's newest cultural neighbourhoods and destinations.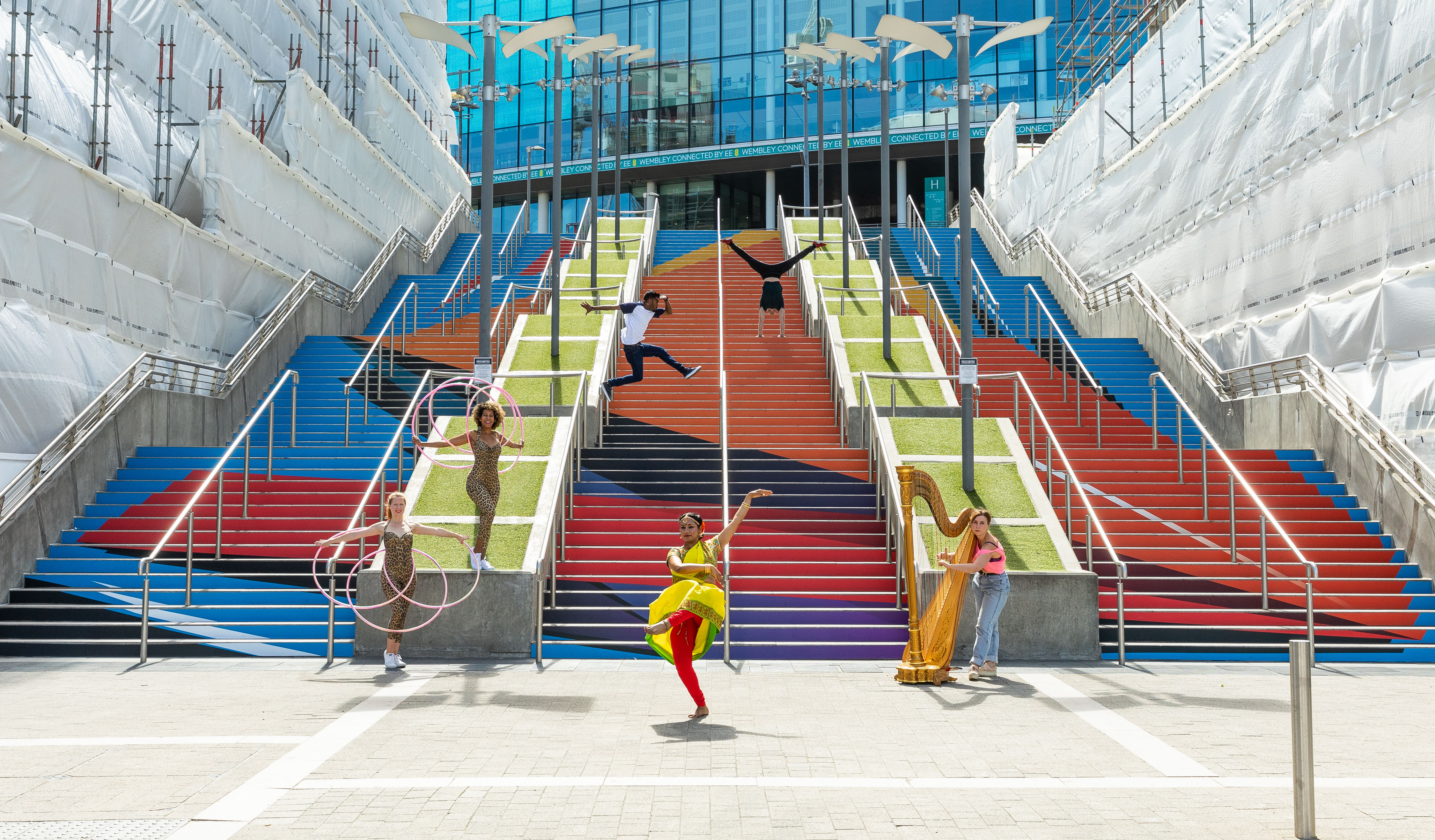 Summer of Play Performers from Wembley Park's first summer cultural programme, featuring over 300 hours of free events from June to September 2018. Chris Winter / Wembley Park
James Saunders, Chief Operating Officer at Quintain says:
'It's a great pleasure to see Flight installed, officially opening Wembley Park's first cultural season. With over 300 hours of free events across the summer, it shows how the area is coming alive with creativity and that everyone is welcome.'
Summer of Play adds to the major events taking place at Wembley Stadium and SSE Arena, Wembley, as well as a burgeoning retail and food offer at the London Designer Outlet, which is visited by over 7m visitors each year. Wembley Park is fast establishing its credentials as a new creative hub for the capital, with the recent opening of 26 affordable artist studios and the announcement of London's largest Boxpark to date, Boxpark Wembley, set to open in the autumn, and a public art strategy due to be announced later this year Troubadour Wembley Park Theatre was also recently announced, opening its doors in November. Delivered by the award-winning team behind King's Cross Theatre, it will offer a flexible 1,000-2,000 seat capacity space being created inside the former Fountain Studios best known as the venue of live televised shows
Other projects in the pipeline for Wembley Park – one of Europe's largest regeneration schemes – include the opening of 6,100 new homes in addition to the 1,400 already built, a school and major investment in public parks, which will bring the total area of open spaces to over 42 acres. At the heart of Wembley Park, The Yellow Pavilion Community Centre has been created to build a vibrant and happy neighbourhood by bringing together existing and new residents, workers and local groups through an extensive weekly programme of community activities, ranging from urban gardening to Indian classical dance.
Remi Rough, artist and creator of Flight says:
'Wembley Park is an exciting place undergoing huge transformation. You quickly get a sense of it being a very dynamic and creative place, and I wanted this work to reflect and enhance this. I wanted Flight to be a containment of movement so that people can enjoy the experience simply by being within the installation, but not feel the need to only look at it in its entirety. The installation is essentially there to move around, upon and within; even in its static state it's constantly moving. It seems a very appropriate way to begin a summer of activity at Wembley Park!'
About Remi Rough
Remi Rough (b. London, 1971) deals with visual semantics, distilling fragments of the world around him into powerful abstract compositions. Unlike 'pure' abstract painters such as Malevich and Mondrian, Remi's pseudo sculptural paintings and large-scale murals are instilled with a 'street-wise' energy and tension born from early experiences as a young graffiti writer, painting walls and trains across the world. Those familiar with the almost impossibly intricate interplay between geometry, line and colour seen in late-80's 'wildstyle' graffiti will undoubtedly discover deconstructed visual clues to the artists schooling.
Both colour and music have played important formative roles in the development of abstract art – Kandinsky is widely believed to have had synesthesia – and both Plato and Baudelaire wrote of the visual arts using auditory terms.The instinctive use of colour and geometric form in Remi's work can often result in what might be described as graphic notation for some unseen urban symphony, such as in the visual scores of Hans-Christoph Steiner. It may come as no surprise, then, to learn that Remi is also an accomplished music producer. The effect is perhaps best experienced when witnessing one of his vast murals, where geography, geometry and architecture align to immerse you fully in the multi-dimensional mind of the artist.
With site specific projects such as the Ghost Village in Scotland, numerous publications and a gallery career spanning over 25 years and as many international cities such as Madrid and Hong Kong, Remi Rough is building a legacy that – as with all great innovators – may only be truly appreciated with the passage of time.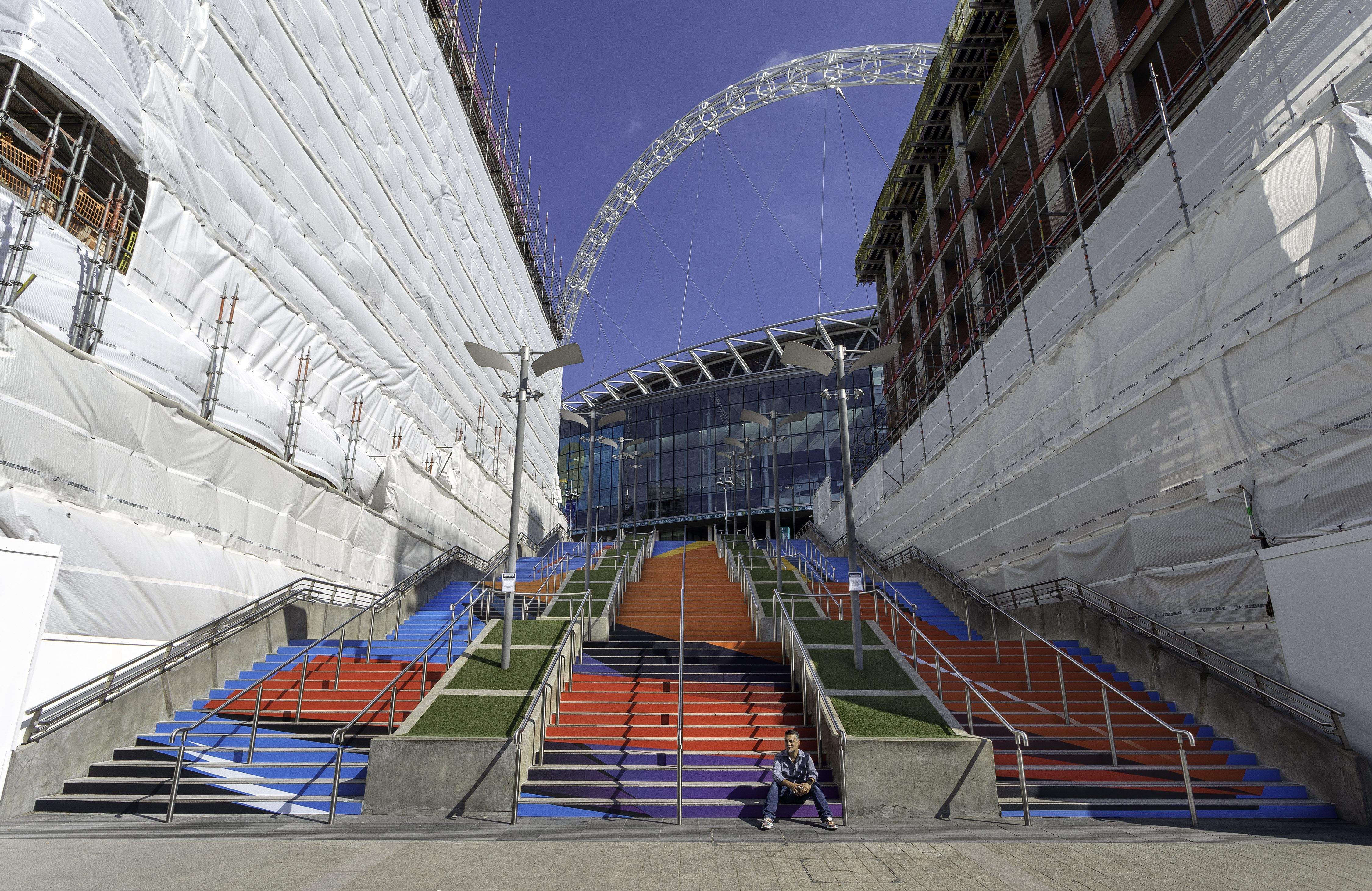 Artist Remi at his design installation at Wembley Park, London. Photo credit : Chris Winter / Wembley Park
Categories
Tags