Gagosian are showing recent works by Jeff Koons from his Gazing Ball series. Making use of conceptual constructs including the ancient, the everyday, and the sublime, Koons creates luxurious icons and elaborate tableaux, which, beneath their captivating exteriors, engage the viewer in a metaphysical dialogue with cultural history.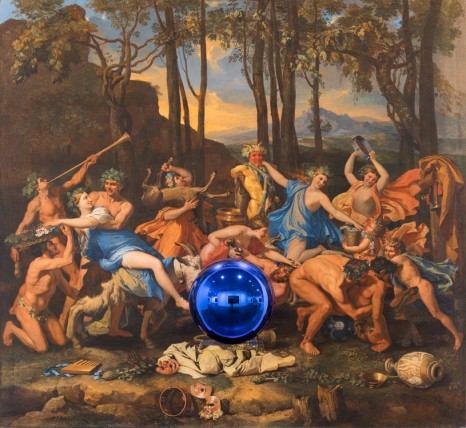 Jeff Koons, Gazing Ball (Poussin The Triumph of Pan), 2015–16, oil on canvas, glass, and aluminum, 63 1/2 × 68 1/4 × 14 3/4 inches (161.3 × 173.4 × 37.5 cm) © Jeff Koons
With the Gazing Ball series, Koons draws attention to the continuity of images as they pass through
time. In each work, a blue mirrored, hand-blown glass gazing ball—a convention from eighteenthcentury
garden design—is affixed to a replica of a famous painting or sculpture, adding a layer of sensory experience to familiar masterpieces. Installed within these art historical milestones, the gazing ball reflects its surroundings, uniting painting, sculpture, and architecture.
Included in this exhibition are seven Gazing Ball paintings, ranging from mythical and pastoral scenes by Jacques-Louis David, Hendrick Goltzius, Nicolas Poussin, and Tintoretto to a self-portrait by Rembrandt and a stark depiction of a dead fox in the snow by Gustave Courbet. Koons captures the artists' variations in style, technique, and subject matter, offering a glimpse into the past, while the gleaming orbs locate the viewer in the immediate present. In the only Gazing Ball sculpture in the show, the blue sphere is placed atop a copy of Marcel Duchamp's Bottle Rack (), raising questions about the definition of the readymade, as well as its relevance within Koons's larger oeuvre.
www.gagosian.com
www.jeffkoons.com
Categories
Tags