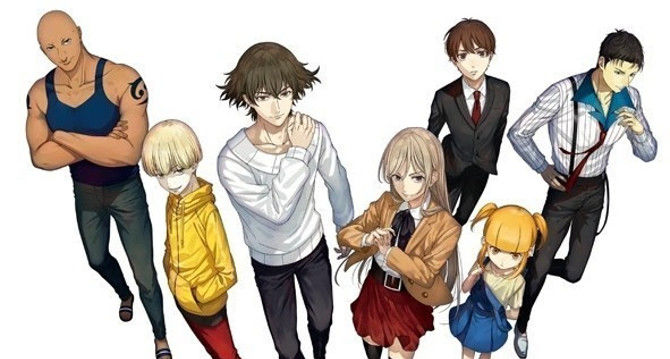 Tonkotsu Ramen: a Japanese dish made from pork bone broth, served with noodles and sliced pork belly. Originally from Hakata, a ward in the city of Fukuoka on the Isle of Kyushu Japan, it is also known as Hakata Ramen.
What do ramen, cross-dressing and organised crime have to do with one another?
For one thing, they make up the plot for Hakata Tonkotsu Ramens, an ongoing light novel series (pretty much a novel with illustrations) by Chisaki Kisaki turned manga in 2016 and now finally adapted into a 12 episode first season anime from Satelight Inc. animation studio.
Now add a dash of friendship and a sprinkle of baseball into the mix and you're ready to tuck into this bizarre yet exciting dish that is Hakata Tonkotsu Ramens.
If you're thinking that the anime is all about food, you would be greatly mistaken. Out of the three words given to us by the title (Hakata, Tonkotsu, Ramens), only one hints at what the story could be about.
Vibrant and dynamic port town Hakata, central to the city of Fukuoka, is known for its grandiose train station, quaint food stalls but also for its ominous criminal underbelly where organised crime thrives and flourishes as a business and having a 'special talent' typically makes you skilled either in the art of killing, torturing and/or thieving. Rumoured to have more than 3% of its population working as professional hitmen, Hakata makes for an interesting place to host a character driven story with wholesome themes such as friendship, family and loyalty all the while murder is made casual in a crime riddled environment.
In a world where contract killing puts food on the table, it's easy to forget what's considered normal as we learn not to question some of the oddities that come into play in the anime's storyline. By the time pro assassin and cross-dressing hobbyist Xianming Lin decides to team up with carefree private investigator Zenji Banba, the tone of the story is pretty much set so that when introduced to a whole gaggle of shady characters such as friendly torturers or paternal avengers, we're already attuned to the dark humour that comes with the series. Delving deeper into Hakata's underworld of normalised crime, seedy job titles become ordinary and it's the individual stories that animate each character that takes the wheel. With dark backstories and life threatening adventures, the anime becomes more about trust and creating new bonds rather than just blood and guts (though rest assured that if the whole 'friends become family' theme seems dull, the casual murders keep it interesting).
While daily assassinations in Hakata become yesterday's news and petty wars between murder organisations are nothing more than office politics, it takes an urban legend such as the one about the 'hitman killer' (a hitman hitman) to shake up the town's criminal routine.
Fast paced, action filled and definitely bloody, Hakata Tonkotsu Ramens keeps it visually casual with its mostly muted colours, complimentary to the bright and vivid lights of Hakata metropolis 'nightlife with accurate depictions of the city's layouts and surroundings, bringing us along for a stroll through the streets from a safe distance, away from the chokings and beheadings. Once accustomed to the gore, taking some time to admire the research behind each scene is a must do to fully appreciate one of the key themes of the series: the city of Fukuoka.
Also having a hand in keeping things upbeat is the anime's soundtrack with a laid back jazz theme straight out of a 70's cop show. More appealing than the average cartoon action track, the jazzy vibes keeps the ambiance chilled and mysterious but more than that, it helps keep the tone of the story from sinking to depths too dark for its own genre by emphasising the comedy however black the humour may be.
From daytime killing to days off playing baseball against other professional criminals, Hakata Tonkotsu Ramens balances the right amount of lightness to cushion the underlying darkness of the series so that, in the end, in a world where everyone is bad, evil cancels itself out and it all comes back full circle. An anime about casual murder can also be about people and their relationship with one another; a troubled hitman can find comfort in cross-dressing as a woman the same way an enigmatic P.I finds peace in eating questionable amounts of Pollack roe.
Homicidal humour aside, the anime could also be creative way to discover the not-so-deadly-after-all city of Fukuoka which has been so carefully and accurately depicted throughout the series.
Categories
Tags