Château La Coste has just announced a programme dedicated to the French artist Sophie Calle. To mark the inauguration of a permanent work by Calle on the property, Château La Coste will present a two-part exhibition and a performance event by the artist, this summer called DEAD END.

Portrait of Sophie Calle © Photo Jean-Baptiste Mondino
Sophie Calle has created a grave that is both an installation and a site for performance in the Provençal woods. This piece entitled Dead End continues themes the artist has explored in her previous works she created for the cemeteries of Geneva and Brooklyn. Death, loss and love are questions broached in Sophie Calle's work and most particularly how we handle these emotions, both in public and in private. Similar subjects are addressed in the two exhibitions which accompany this permanent installation.
Série Noire
46 framed books of Série Noire (Black Series) question, How do you deal with your dead? In an electronic address book, do you delete an acquaintance's name but do you keep your mother's ? What do you feel when you hit the button: Delete contact? that Sophie Calle has associated with the individual titles, such as The Big Sleep, The Dead Don't Care, Farewell My Lovely, Finish me Off.
In the Old Wine Storehouse, this new project is presented alongside Les Tombes (The Graves), black and white images of tombstones installed on the floor. This series assembles photographs taken in a Californian cemetery during a trip made at the beginning of the artist's career. Additionally, works from the series Ma mère, mon chat, mon père, dans cet ordre (My mother, my cat, my father, in that order) will also be
exhibited, some of which have been made for the occasion of this exhibition.
Douleur Exquise
In the Renzo Piano Pavilion, Calle will install her landmark piece Douleur Exquise (Exquisite Pain) shown for the first time in France since its conception in 2004 for the Centre Pompidou. This work is divided into two parts: Avant la douleur (Before pain) and Après la douleur (After pain). In 1984, the artist obtained a bursary to study in Japan. She left France on 25 October without knowing that this was the beginning of a 92-day countdown to a banal break, experienced as the most painful moment in her life.
On her return to France, she chose by conjuration to recount her suffering rather than her journey, and in exchange she asked those who listened, friends or acquaintances the question: When have you suffered the most? The artist decided that this exchange would cease when she had exhausted her own story through telling it so many times, or release her pain in the company of others.
Dead End 2 July – 15 August 2018 750 Route De La Cride, 13610 Le Puy-Sainte-Réparade, France
chateau-la-coste.com

Sophie Calle, My mother, my cat, my father, 2017 (c) Sophie Calle / ADAGP Paris 2018, Photo: Claire
Dorn, Courtesy Perrotin
My mother, my cat, my father, in that order
My parents each took three months to die. Three
months: time for the last gestures of love, time to
become an orphan. But not the endless, grinding time
of agony and despair, of seeing my flamboyant mother
and my impeccable father fall from their heights. A week
before she died, my mother refused to see an
unwelcome visitor: "Tell him I'm dead!" On the Tuesday
before he died, my father complained: "I'd like to go to
that new place. We're losing time. Let's set a date, we
keep delaying, delaying!"
They died just in time, both of them: alive to the end.
About Sophie Calle
Born in 1953 in Paris, Sophie Calle is a French artist who has exhibited extensively throughout the world since the late 1970s. She has been described as a conceptual artist, a photographer a movie director or even detective; but she has developed a practice that is instantly recognisable for a distinct narrative and the frequent combination of images with text. Each of these projects can be seen as another chapter in a vast overall system of references and echoes where Calle often blurs the boundaries between the intimate and the public, reality and fiction, art and life.

Renzo Piano Pavilion. Courtesy Chateau La Coste
About Chateau La Coste
Situated in the midst of Provence between the historical city of Aix-En-Provence and the Luberon National Park, Château La Coste is a vineyard where Wine, Art & Architecture live in harmony. Since it opened to the public in 2011, the domain allows you to discover 30 major works of contemporary art installed permanently in the open air and 3 gallery spaces, offering you a unique experience at the heart of its 500-acre, biodynamic vineyard. Artists and architects were invited to visit the domain and discover the beauty of Provence. In turn, they were encouraged to choose a place in the landscape that spoke directly to them and were given the freedom to create a work that would live there. Château La Coste will continue to evolve as new projects and installations are developed.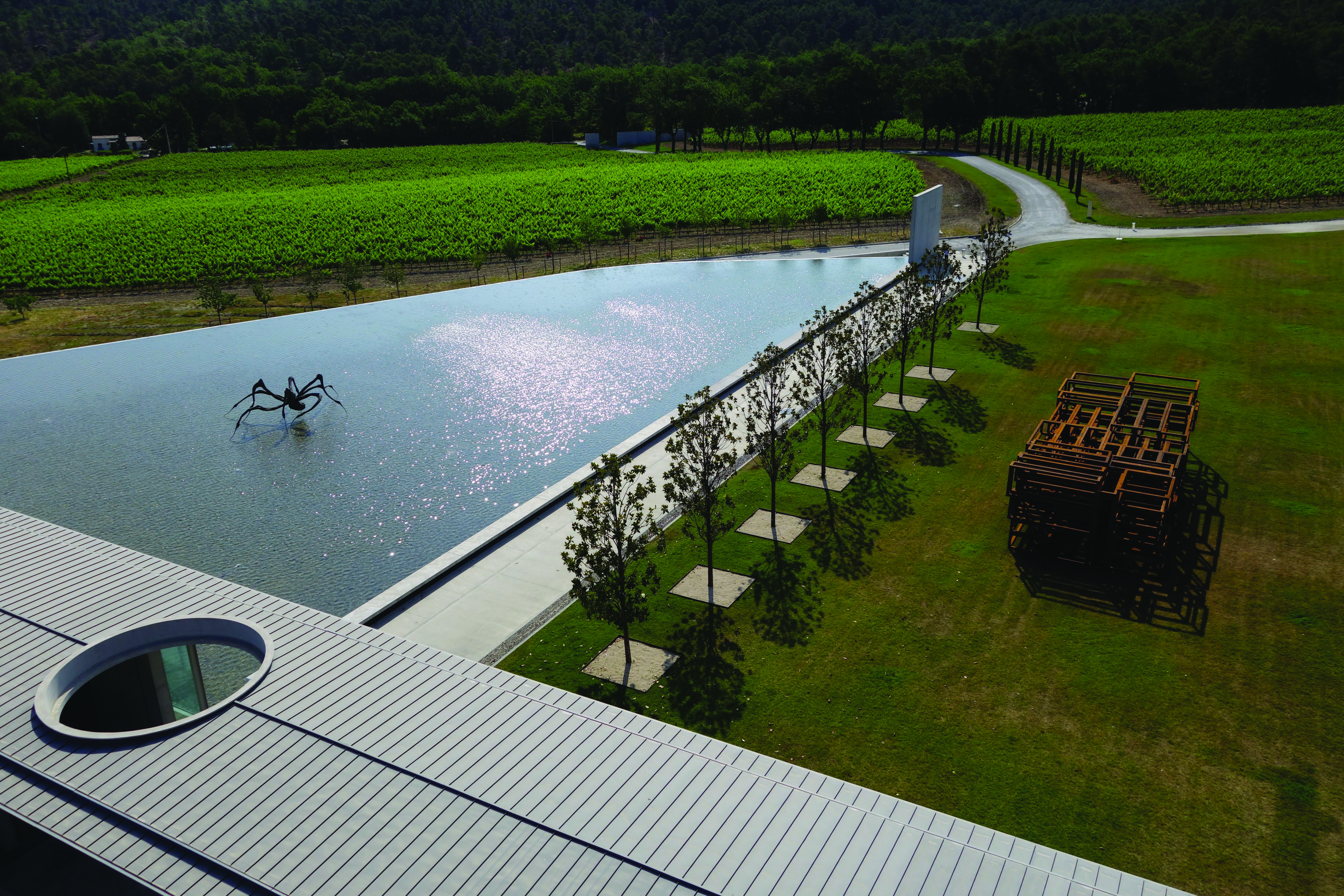 CMYK Sean Scully, Boxes Full of Air, 2015, Louise Bourgeois Crouching Spider, 2003 (c) Château la Coste, Sean Scully, The Easton Foundation, ADAGP Paris 2016. Photograph (c) Dronimage, 2016
About Mark Westall