The I.C.A are going to open: NEO ULTRA PUNK featuring artists and filmmakers Shu Lea Cheang, Elizabeth Mputu, Ayesha Tan Jones, Shadow Sistxrs Fight Club, Zach Blas, Natasha Lall, Hannah Quinlan and Rosie Hastings, musician Lady Vendredi, producer Giulia Casalini and writers Mijke van der Drift and Matthew Fuller.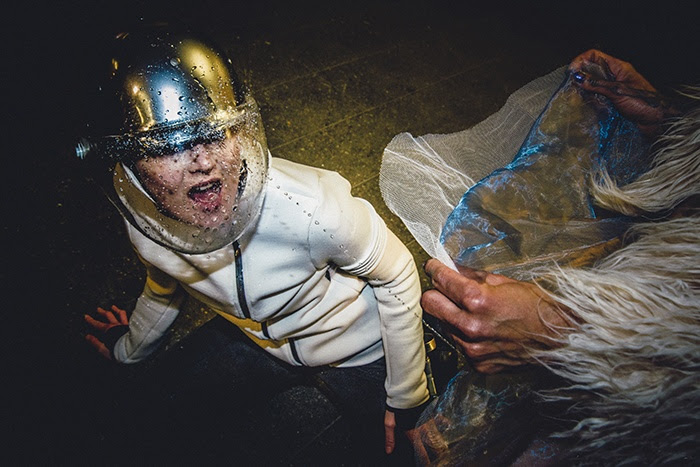 Shu Lea Cheang, Fluidø, 2017. Photo by J. Jackie Baier
This three-day programme features new and recent works by artist and filmmaker Shu Lea Cheang, alongside presentations by performers, filmmakers and thinkers reflecting on Cheang's concept 'NEO ULTRA PUNK' – the attitude of 'a nouveau queer generation that includes refugees, migrants, functional diversity, transfeminism, open families, subversive motherhoods, forms of sustainable living and the rise of self-defence practices for self-empowerment.'
'I situated myself in trans communities respectively in San Francisco, Amsterdam and London in the late 90s, a time when the binary gender notion dictated the body modification proposed by sexual reassignment: one "transitioned" to either FTM (female to male) or MTF (male to female). Nearly 20 years later, WONDERS WANDER [web series] brings up a new generation of nonbinary creatures who swim freestyle in gender fluidity. HE/SHE/IT merge into a "THEY" as a singular noun.'
– Shu Lea Cheang, describing production of web series Brandon
NEO ULTRA PUNK 18–20 May 2018 MORE: ica.art/neo-ultra-punk
NEO ULTRA PUNK is presented in collaboration with Res. and runs parallel to their exhibition Alembic III: Shu Lea Cheang + Annabelle Craven-Jones, including a recreation of Cheang's coin-operated, gender fluid porno booth installation Those Fluttering Objects of Desire (1992).
About the artist
Shu Lea Cheang (Taiwan/US/France) is an artist and filmmaker working with net-based installation, social interface and independent film production. Recent projects include Wonders Wander (2017), a mobi-web-series produced for Madrid Pride and the feature length, cypherpunk sci-fi film Fluidø (2017). Her seminal cyberfeminist web project BRANDON (1998-1999), concerning the rape and murder of a young transgender man in Nebraska, was recently restored as part of the Guggenheim's permanent collection.
Res. is a mutable project based in a gallery and workspace in Deptford, South East London. Alembic is curated by Res. curators Helen Kaplinsky, Sarah Jury and Lucy A. Sames.
Categories
Tags