Gagosian is to present Prototypes of Imagination, Katharina Grosse's first major gallery exhibition in London, following her acclaimed installation This Drove My Mother Up the Wall at South London Gallery.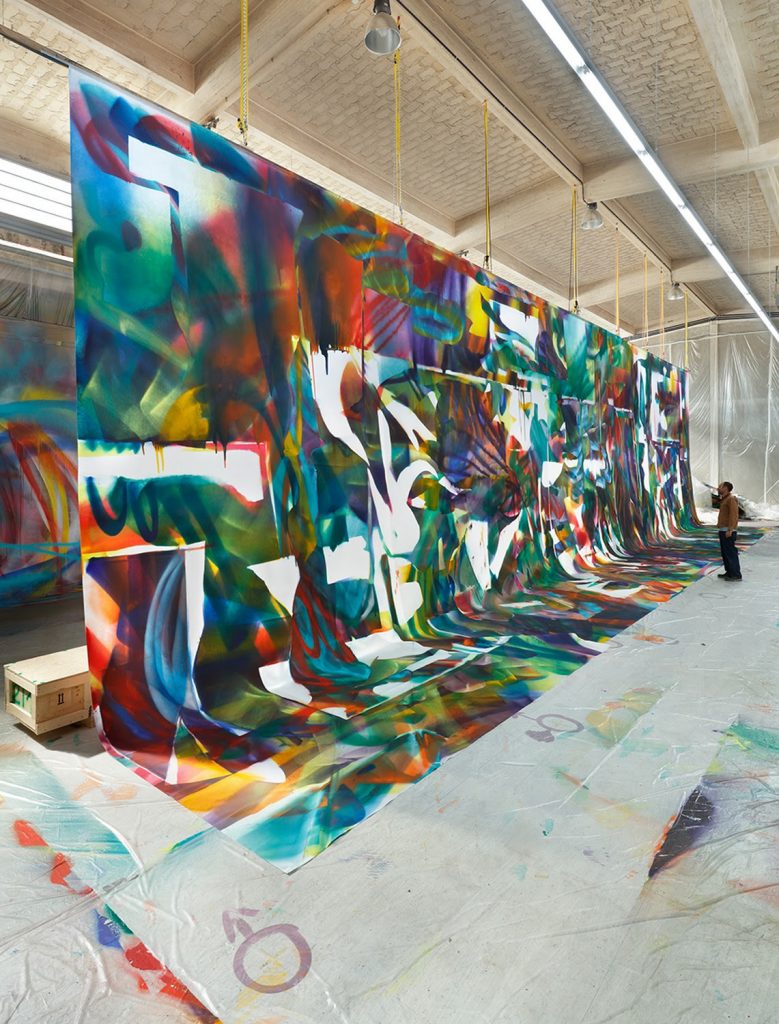 Studio of Katharina Grosse, Berlin, 2018 © Katharina Grosse and VG Bild-Kunst Bonn, 2018. Photo by Jens Ziehe
Widely known for her spectacular in situ paintings, in which explosive colour is rendered directly onto architecture, interiors, and landscapes, Grosse embraces the events and incidents that arise as she works, opening up surfaces and spaces to the countless perceptual possibilities of the medium. Approaching painting as an experience in immersive subjectivity, she uses a spray gun, distancing the artistic act from the hand, and stylizing gesture as a propulsive mark.
In Prototypes of Imagination, Grosse reveals the ways in which painting catalyzes the unfolding of multiple dimensions on a single surface. Following Wunderbild, the imposing processional installation currently on view at the National Gallery in Prague, at the center of the exhibition are two paintings of oceanic scale on loose cloth, conceived in direct response to the Britannia Street gallery. Installed in the central space, they hang out from the upper edge of facing walls and spill toward each other across the floor, creating an open path between them for the viewer. In these abstract phantasmagorias with their aqueous layers of vibrant, pulsating color, Grosse's painterly gestures and the inverted chromatic zones that arise from her use of stencils of vaguely biomorphic form assert entirely new spatial and temporal transformations.
Grosse continues this approach in works on stretched canvas, many of which contain rectangular fields that slide and tessellate like the windows and tabs of a browser. These windows also dissolve into each other, and ghostly organic shapes appear within them, forming bright white silhouettes—both visual apertures and obstructions. Spatial tensions rise through shifts in chromatic temperature, and with stencils, folds, and other tools she allows for new patterns to emerge, forming visual records of her decisions, thoughts, and actions. In using stencils to either filter or completely block out areas of negative space, opaque fields are created to be interrupted by solid geometries and ambiguous transparencies. The result recalls photograms wherein individual objects are placed on photosensitive paper to produce images using light alone. Here, paint replaces light, as Grosse saturates the exposed fabric with blazing, spectral mists. Each composition bears intimate traces of its creation, such as the smudges of paint where a stencil has been removed, or showers of drips suddenly severed in their resistance to gravitational pull. Surpassing the limits of pictorial logic, Grosse's paintings are paradigms of vision; just as forms seem to materialize, their edges effervesce, pulling the viewer into their kaleidoscopic force field.
Opening reception: Tuesday, May 15, 6–8pm May 16–July 27, 2018 Gagosian 6–24 Britannia Street, London
www.gagosian.com
About The Artist
Katharina Grosse was born in 1961 in Freiburg im Breisgau, Germany, and currently lives and works in Berlin. Collections include Centre Georges Pompidou, Paris; Staatliche Museen zu Berlin; Kunstmuseum Bonn, Germany; Lenbachhaus, Munich; Kunsthaus Zürich; Museum of Fine Arts Bern, Switzerland; ARKEN Museum for Moderne Kunst, Copenhagen; Istanbul Modern; Museum of Modern Art, New York; Albright-Knox Art Gallery, Buffalo, NY; Pérez Art Museum Miami; QAGOMA, Brisbane, Australia; as well as commissions for public and private buildings in the US and Europe. Recent institutional exhibitions and in situ paintings include Atoms Outside Eggs, Serralves, Porto, Portugal (2007); Hello Little Butterfly I Love You What's Your Name, ARKEN Museum for Moderne Kunst, Copenhagen (2009); One Floor Up More Highly, MASS MoCA, North Adams, MA (2010); Third Man Begins Digging Through Her Pockets, Museum of Contemporary Art Cleveland, OH (2012); Two younger women come in and pull out a table, De Pont Museum of Contemporary Art, Tilburg, The Netherlands (2013); WUNDERBLOCK, Nasher Sculpture Center, Dallas, TX (2013); Inside the Speaker, Museum Kunstpalast, Düsseldorf (2014); psychylustro, Philadelphia Mural Arts Program (2014); yes no why later, Garage Museum of Contemporary Art, Moscow (2015); Seven Hours, Eight Rooms, Three Trees, Museum Wiesbaden, Germany (2015); Untitled Trumpet, 56th Biennale di Venezia (2015); Museum Frieder Burda, Baden-Baden, Germany (2016); Rockaway!, MoMA PS1 Rockaway!, Fort Tilden, New York (2016); Asphalt Air and Hair, ARoS Triennial, Arhus, Denmark (2017); This Drove My Mother Up the Wall, South London Gallery (2017); and The Horse Trotted Another Couple of Metres, Then It Stopped, Carriageworks, Sydney (2018).
Wunderbild opened at the Trade Fair Palace of the National Gallery in Prague on February 16 and remains on view until January 6, 2019.
Categories
Tags