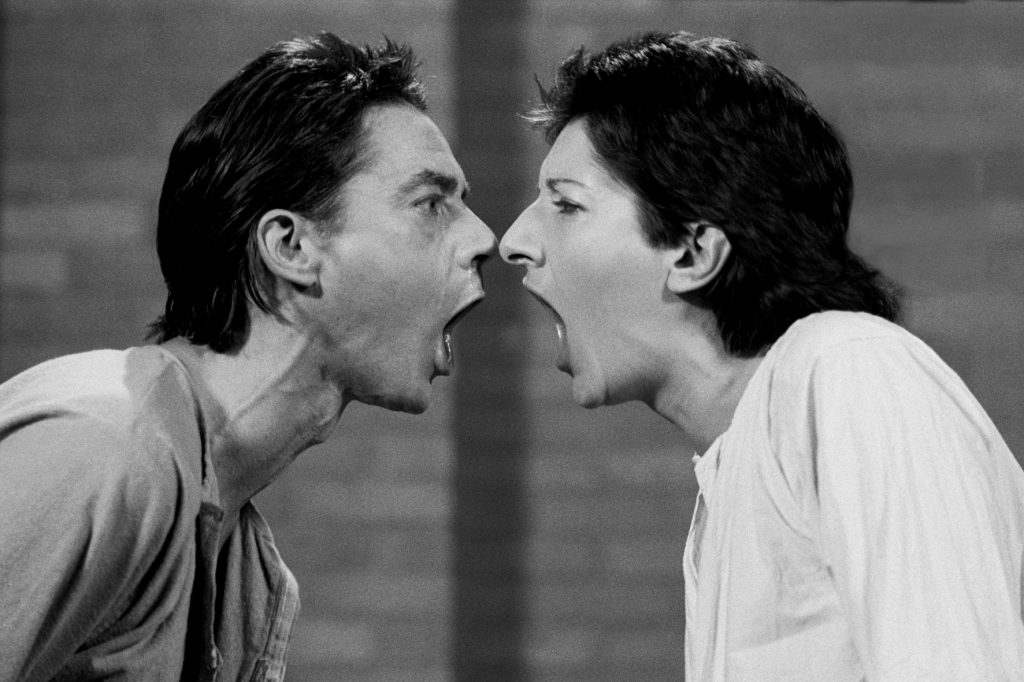 Ulay/Marina Abramovic AAA-AAA Performed for television, 15 minutes, RTB television studio, Liège, Belgium, February, 1978 © Ulay/Marina Abramovic Courtesy of the Marina Abramovic Archives VG Bild-Kunst, Bonn 2018
Marina Abramovic, born in Belgrade in 1946, is one of the most controversial and most-discussed artists, especially in respect of her performances, in which, time and again, she explores and transgresses her own physical and mental boundaries.

Marina Abramovic The Cleaner Black and white photograph © Marina Abramovic Photo: © Marco Anelli 2010 Courtesy of the Marina Abramovic Archives VG Bild-Kunst, Bonn 2018
Rein Wolfs, director of the Bundeskunsthalle, says:
"Marina Abramovic is such an immensely important artist that a major retrospective in Europe was long overdue. Thanks to the presentation of a number of reperformances throughout the run of the show, The Cleaner is more than just a simple exhibition, it is an immersive, all-embracing experience of great art historical significance."
The large European retrospective of Abramovic's work presents 50 years of work and is offering a comprehensive insight into all the facets of her oeuvre – from her early work, when she worked alone, via her twelve-year relationship and artistic collaboration with the German artist, Ulay (Frank Uwe Laysiepen, *1943) until today. Films, photographs, paintings, drawings, sculpture, installations and
selected archival material are testament to the range of the themes addressed, and media employed, by the artist. Above all, however, Abramovic's RePerformances afford the greatest authentic experience of her work, offering direct, emotional and unfiltered access to Abramovic's artistic project.
The artist's work with immaterial art forms – sound and performance – dovetails with the general development of the experimental art scenes in the 1960s and 1970s and her work is coloured by the many different cultures, spiritual traditions and political tensions in which she has moved – starting in then communist Yugoslavia, where she grew up in the area of tension between her parents' ardent political engagement and her grandmother's equally fervent religion.
Abramovic's work is centred on personal experience and responsibility, which she investigates in-depth via memory, pain, loss, endurance and trust. Further aspects of her work – (the experience of) time, and the way in which she deals with her own body – are equally impressive. For more than 50 years, she has
been reacting in her work to the world around her, employing her own body and personal energy as artistic means of expression. She has carved out a place for herself in the annals of art history, with her highly physically and mentally challenging performances, which span a broad spectrum from violent and risky
actions to silent encounters with the public.
The Abramovic Method, which consists of concentration and a mobilisation of her own strength and energy, in order to achieve the greatest possible tolerance and openness in dialogue with her audience, is practiced in workshops worldwide.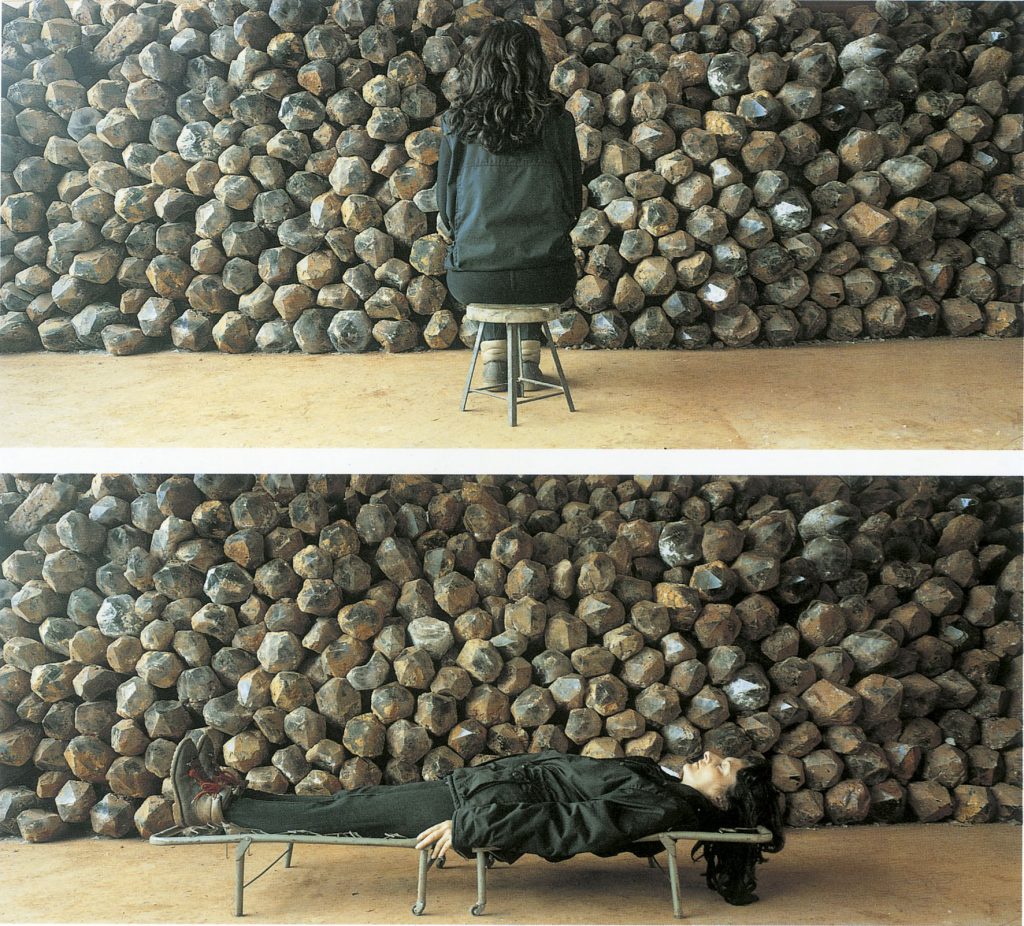 Marina Abramovic Waiting for an Idea 1991 Color C-print © Marina Abramovic Courtesy of Collection S.M.A.K. / photography Dirk Pauwels/SMAK VG Bild-Kunst, Bonn 2018
The artist addresses fundamental issues of existence in her work, and seeks to provoke and move the viewer in a direct manner. In line with her conviction that 'A powerful performance will transform everyone in the room', she questions hierarchies and focuses her work on individual and collective experiences. Ever recurring themes in Abramovi?'s works include purification and cleansing – physically and symbolically – by means of fire, screaming, soap and water, minerals, time and silence; catharsis and transformation are key concepts in her oeuvre. In their portrayal of states, feelings, relationships, tensions, power relations and energies, the artist's works open themselves to existential and (gender-)political interpretations.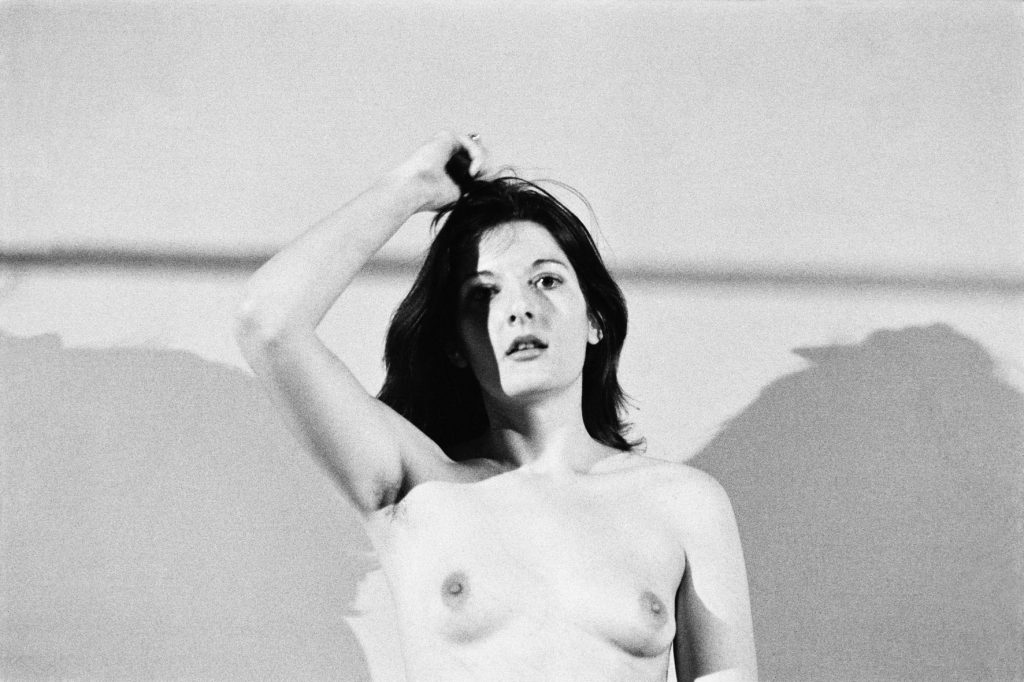 Marina Abramovic Art Must Be Beautiful, Artist Must Be Beautiful 1975 © Marina Abramovi? Courtesy of the Marina Abramovic Archives VG Bild-Kunst, Bonn 2018
An exhibition of Bundeskunsthalle in cooperation with Moderna Museet, Stockholm, and Louisiana Museum of Modern Art, Humlebæk.
Curators: Moderna Museet: Lena Essling Louisiana Museum of Modern Art: Tine Colstrup Bundeskunsthalle: Susanne Kleine. The exhibition will travel to Palazzo Strozzi, Florence.
MARINA ABRAMOVIC The Cleaner 20 April to 12 August 2018 www.bundeskunsthalle.de
Re-performances and Participatory Works
Live re-performances of legendary performances as well as two performances that invite visitor participation will punctuate the entire run of the exhibition. Legendary performances will be live on show in the exhibition as well as two participatory performances that invite visitors to experience the Abramovic Method firsthand.
Imponderabilia, 1977
"Imponderable. Such imponderable human factors as one's aesthetic sensitivity. The overriding importance of imponderables in determining human conduct." Marina Abramovic/Ulay, in: The Cleaner, 2017
At the Galleria Communale d'Arte Moderna in Bologna, Marina Abramovi? and her then partner Ulay spent ninety minutes standing facing each other motionless and naked in a narrow entrance passage, forcing visitors wishing to enter the museum to squeeze between them.
In the re-performance – as in the original – two performers will stand naked in a narrow passage so that visitors can only get past them sideways.
Tuesday and Wednesday, 12 p.m./noon – 8 p.m.
Thursday to Sunday, 11 a.m. – 7 p.m.
Art Must Be Beautiful, Artist Must Be Beautiful, 1975
In the original version, first performed at the Charlottenborg Art Festival in Copenhagen, the artist sat on a chair for roughly one hour with a brush in one hand and a comb in the other, aggressively brushing and combing her hair while constantly repeating the phrase "Art must be beautiful, artist must be beautiful.'"
Every Sunday, 12 p.m./noon – 3.30 p.m.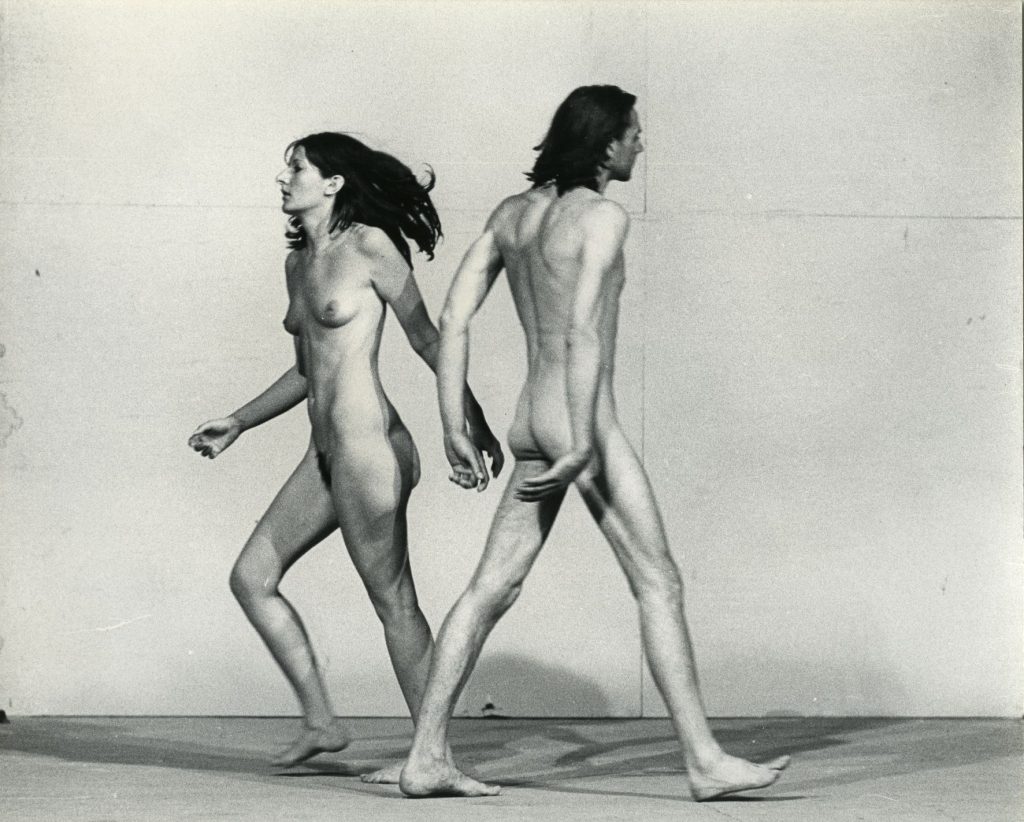 Ulay/Marina Abramovic Relation in Space Performance, 58 minutes, XXXVIII Biennale, Giudecca, Venice, July, 1976 © Ulay/Marina Abramovi? VG Bild-Kunst, Bonn 2017
Luminosity, 1997
This glaringly lit video work shows the artist perched on a bicycle seat, naked and trying to keep her balance for sixty minutes with her feet off the ground. A re-performance of the work can be seen in the exhibition. Opening weekend (19–22 April 2018)
Similar Illusion, 1981
At the Melbourne Sculpture Triennial, Marina Abramovi? and Ulay held a tango pose for ninety-six minutes in the midst of a rectangular arrangement of tables for the audience. Abramovi? wore a red dress, Ulay a black suit. The performance was accompanied by extremely loud Argentinean tango music. The work will be
re-performed in the exhibition on the opening weekend.
Opening weekend (19–22 April 2018)
Work Relation, 1978
"We are doing heavy physical work; Transporting stones back and forth in metal buckets. There is no result." Marina Abramovic/Ulay, in: Relation Work and Detour, 1980
Marina Abramovic and Ulay first performed this work during the Arnhem Festival at the Theater aan Rijn. They carried buckets filled with heavy stones from one end of the room to the other. The initial performance lasted two hours. It was gradually extended and eventually went on for eight hours.
The re-performance will be shown during the run of the exhibition, and visitors are invited to participate.
House with the Ocean View, 2012
"This performance came from my desire to see if it is possible to use daily discipline, rules and restriction to purify myself." Marina Abramovic in: The Biography of Biographies, 2004
At the Sean Kelly Gallery in New York, the artist inhabited three interconnected, wall-mounted living units for twelve days and nights. During her ritualized daily routine, which included neither speaking nor eating, visitors could watch her sleep, take a shower or use the toilet. Three ladders, their rungs made of carving knives with the sharp side of the blade facing up, separated the artist from the
audience. The work will be presented as a re-performance at the Bundeskunsthalle in Bonn from 12–24 June 2018.
The Method
The two works/exercises come from the workshop series Cleaning the House (1979 ff.), which is primarily intended to instruct performers in the Marina Abramovic method. Here, for once, the visitor can share that experience. The two works/exercises are an integral part of the exhibition and can be used by visitors
every day during the opening hours.
Mutual Gaze, 2017/2018
An exercise with audience participation from the workshop series Cleaning the House. The work is part of a series of participatory exercises following the Abramovic method. Visitors are invited to sit facing each other in twos and to look into each other's eyes. The exercise is designed to make visitors arrive in the present moment and to feel a connection with their own inner selves and that of the other person.
Counting the Rice, 2015
"We are living in a difficult period where time is worth more and more because we have less
and less of it. (…) I hope that participants will connect with themselves and with the
present—the elusive moment of the here and now."
Marina Abramovic, in: The Cleaner, 2017
Counting the Rice is an exercise for visitors who are invited to take a seat at a long table and to count or sort grains of rice and lentils. The exercise is designed to instill a sense of calm, concentration and attentiveness.

Marina Abramovic The Artist is Present Performance, 3 months, The Museum of Modern Art, New York, NY, 2010 © Marina Abramovic Photo: © Marco Anelli Courtesy of the Marina Abramovic Archives VG Bild-Kunst, Bonn 2018
Categories
Tags