Helen Cammock is the seventh winner of the prestigious Max Mara Art Prize for Women. The Prize produced in collaboration with Whitechapel gallery has been awarded in alternate years since 2005, supports UK-based female artists who have not previously had a solo survey exhibition, making it the only visual art prize of its kind the UK.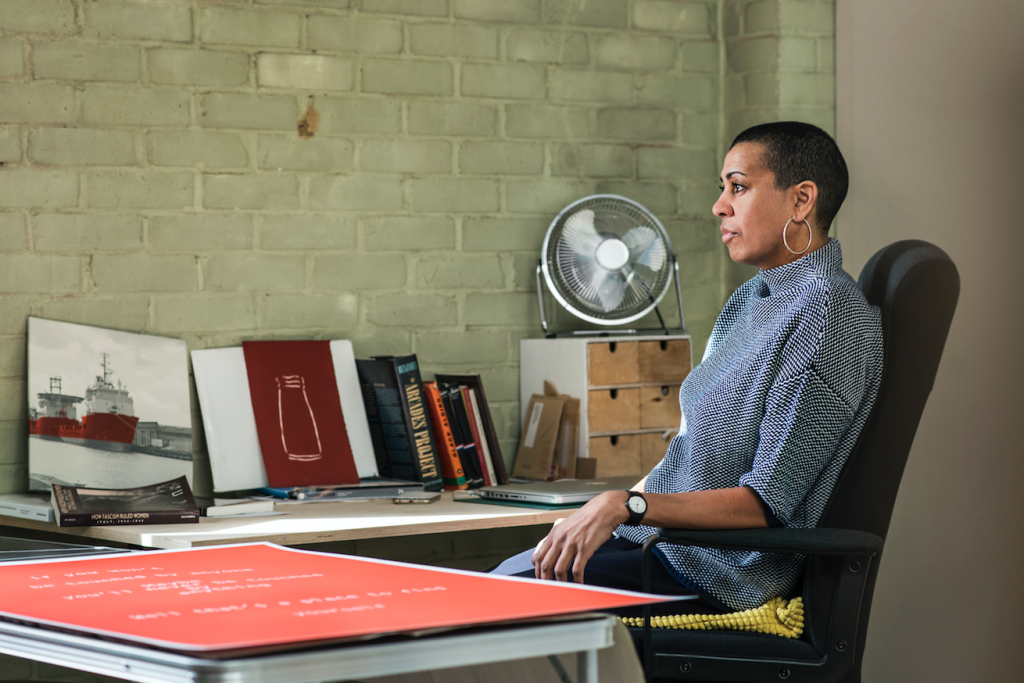 Helen Cammock, portrait Ph. Thierry Bal
Iwona Blazwick, OBE, Director of the Whitechapel Gallery, said:
Helen Cammock is a pioneer in her cross disciplinary practice which brings together art and music. Her prize winning proposal for the Max Mara residency will trace a confluence between jazz, Italian Baroque opera and Reggio Emilia's pioneering educational techniques to create prints, film and music that give voice to the marginalised.
London based artist Helen Cammock (b. 1970) was chosen by a panel of expert judges from a shortlist including Céline Condorelli, Eloise Hawser, Athena Papadopoulos and Mandy El-Sayegh, all of whom presented proposals for an artist residency in Italy. As the winner, Cammock will now spend six months in Italy during 2018 on a residency tailored to her interests, creating a new body of work that will be shown in a major solo exhibition at the Whitechapel Gallery in 2019 before touring to Collezione Maramotti in Reggio Emilia, Italy.
Helen Cammock works across moving image, photography, writing, poetry, spoken word, song, performance, printmaking and installation. She is interested in histories, storytelling and the excavation, re-interpretation and re-presentation of lost, unheard and buried voices. Cammock uses her own writing, literature, poetry, philosophical and other found texts, often mapping them onto social and political situations. Her work has drawn on material from Nina Simone, Philip Larkin, James Baldwin, Maya Angelou and Walter Benjamin. These texts often direct her choice of medium, such as her evocative moving image work which oscillates between the private and collective.
Her winning proposal for the Max Mara Art Prize for Women focuses on the expression of lament. Reflecting a central aspect of her work, the role of the voice and the feeling of mourning or loss, resilience and survival, in the political and historical, individual and collective, Cammock wants to focus on how emotion is expressed in Italian culture and society, with a particular focus on opera, classical and folk music, art, poetry, writing and dance. She will explore hidden female voices across Italian histories, aiming to create through collage, layering and juxtaposition a collective lament reflective for our own time.
Cammock's bespoke residency, organised by Max Mara and the Whitechapel Gallery, starts on 2 May 2018. It is divided between six Italian cities Bologna, Florence, Venice, Rome, Palermo, and Reggio Emilia. A key focus is meeting with experts, scholars, associations, institutions and communities in areas of interest to Cammock, overseen by a local tutor for each city.
Helen Cammock said:
It's incredible to have been awarded such a supportive and artist focussed prize. I have never before experienced a structured opportunity that encompasses travel, research, making and then showing over a sustained period. Over the six month residency I'll find myself in a culture that is new to me, meet practitioners who work in different ways to me and consider how my practice can move into dialogue with new histories. It is an opportunity for space and time to focus on being an artist – this is perhaps the most significant aspect of this prize. I'm used to working (as many artists are) balancing projects, commissions, teaching and other paid jobs; sustained and uninterrupted time to sit with ideas and process has been a rare luxury – until now.
About
The Max Mara Art Prize for Women in collaboration with the Whitechapel Gallery is a biannual award established in 2005. It is the only visual art prize for women in the UK and aims to promote and nurture female artists, enabling them to develop their potential with the gift of time and space. The winner is awarded a six month Italian residency tailored to fit the artist and their winning proposal for the Prize. During the residency which is organised by Max Mara and the Whitechapel Gallery, the artist has the opportunity to realise an ambitious new project which is presented in major solo exhibitions at the Whitechapel Gallery in London and Collezione Maramotti in Reggio Emilia, Italy. The prize is open to women artists living and working in the United Kingdom who have not previously had a major solo survey exhibition.
The partners of the prize are Max Mara, Whitechapel Gallery and Collezione Maramotti who collaborate on each phase of the prize. Each year a jury chaired by Whitechapel Gallery Director Iwona Blazwick and including a gallerist, critic, artist and collector agree a shortlist of five artists before the winner is decided based on a winning proposal. The Max Mara Art Prize for Women was awarded the British Council Arts & Business International Award in 2007 and has enabled winning artists to take major steps in their careers.
Categories
Tags