Art critic Tabish Khan brings you 'The Top 7 Art Exhibitions to see in London' this week. Each one comes with a concise review to help you decide whether it's for you: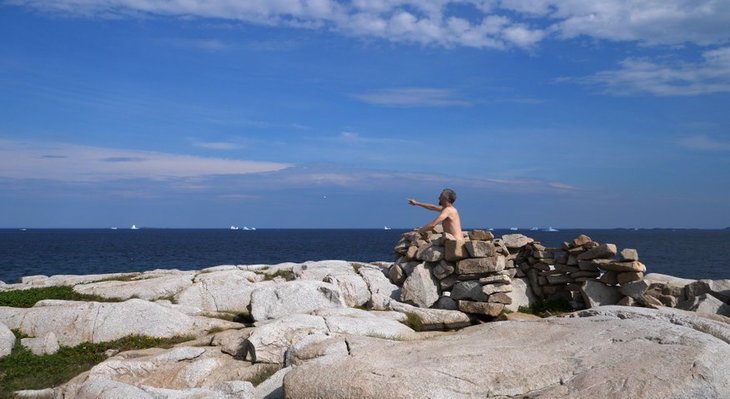 Marcus Coates @ Workplace
Artist Marcus Coates shouts out human achievements from the ballpoint pen to the United Nations. However, he's shouting them at the ocean which clearly doesn't care and makes our achievements seem trivial when faced with the scale of the natural world. He also crafts an apology to be read out by the mayor of an island to apologise for the hunting to extinction of the great auk. It's a quirky and fun take on environmentalist art. Until 14 April.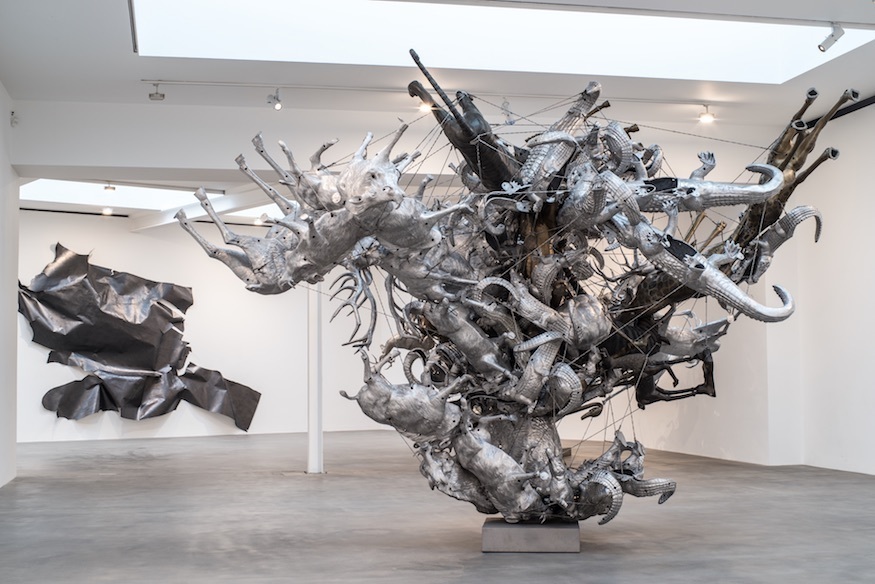 Nancy Rubins: Diversifolia @ Gagosian, Brittania street
A deer, a zebra and a crocodile are entwined together using steel wire — they point out in all directions as if being ejected out by an explosion. It's all based on garden ornaments and it looks spectacular as the natural world descends into chaos. Until 14 Apr.
Living with Gods @ The British Museum
This is a fantastic whirlwind tour of the world's faiths as we see how a simple theme like water is treated very differently between Islam and Native American religions. The show is filled with beautiful objects and I learned so much about religions I wasn't aware of. An enlightening exhibition in more ways than one. Until 8 April.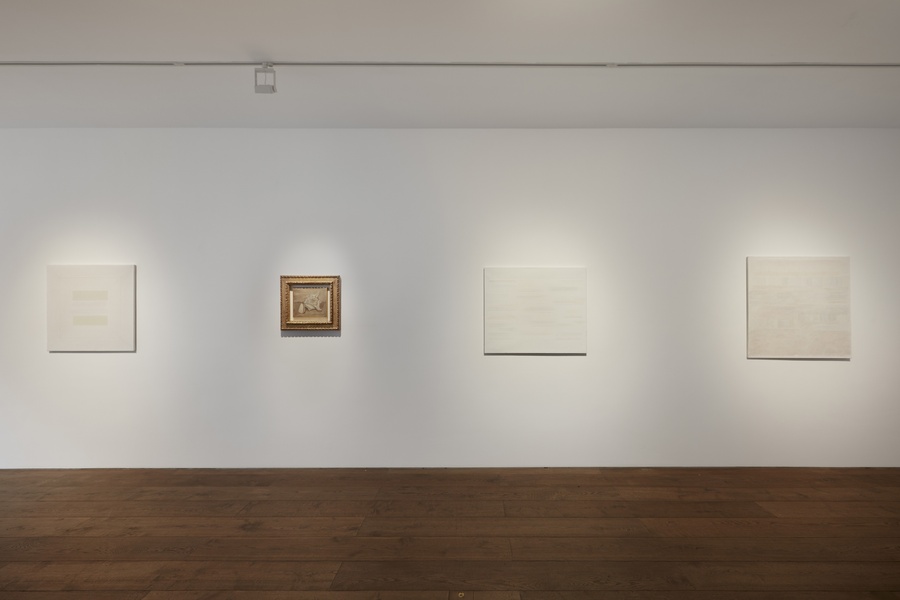 Slowing time @ Rosenfeld Porcini
In our fast paced world it's sometimes nice to slow down and engage with works you have to spend time with to reap the rewards. That's definitely the case in this exhibition where the subtle mark marking and gradations of colour would be missed in a quick glance, and it's unlikely that phone cameras can catch it. Don't Instagram it, just stare intently and let the work reach out to you. Until 7 April. 
Ayurvedic Man: Encounters with Indian medicine @ Wellcome Collection
Ayurveda is a branch of traditional Indian medicine and this show looks at it through beautiful anatomical drawings of the chakras and shows how this branch of medicine evolved as it interacted with foreign visitors and the knowledge they brought. Clean living was a big part of Ayurveda and this gives it a lot of relevance given the tie into well-being practised today. I love how Wellcome Collection always gives us thought provoking exhibitions and this is another great example. Until 8 April.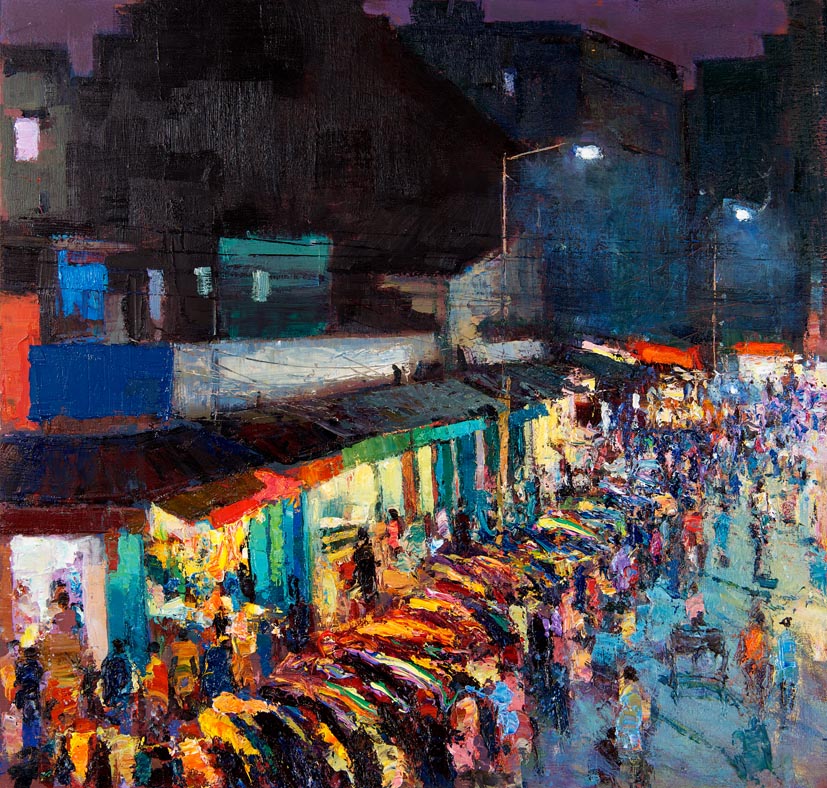 Andrew Gifford @ John Martin
Painter Andrew Gifford beautifully captures the colour, bustle and energy of India in his solo show. The day and night views of Paharganj bazaar are magnificent, teeming with hundreds of people blurring into dynamic splashes of colour. Until 7 April.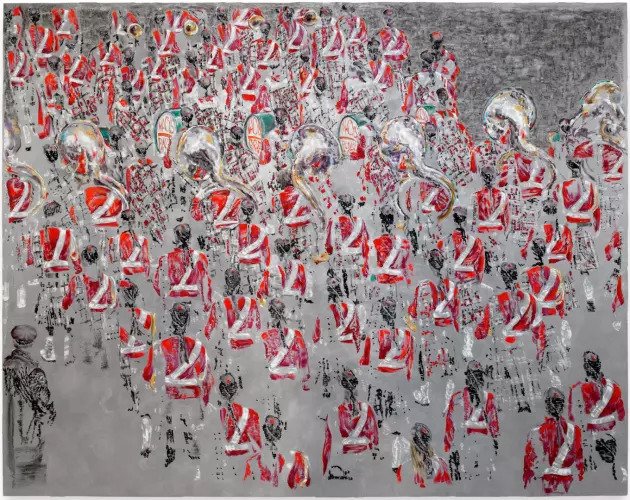 Ena Swansea @ Ben Brown
These large scale paintings have fantastic depth to them, whether we're looking through trees or at marching soldiers. The use of graphite and its reflective properties enhances the perpsective and it's a fantastic effect. Until 12 April. 
All images copyright the artists and courtesy the gallery. Nancy Rubins – Photo: Joel Searles, Living with Gods image copyright trustees of The British Museum.
Categories
Tags