Cerith Wyn Evans Forms in Space by Light (in Time) 2017
The Hepworth Wakefield announced today the five shortlisted artists for The Hepworth Prize for Sculpture 2018. The £30,000 biennial award recognises a British or UK-based artist of any age, at any stage in their career, who has made a significant contribution to the development of contemporary sculpture.
The five shortlisted artists are:
Michael Dean, Mona Hatoum, Phillip Lai, Magali Reusand Cerith Wyn Evans
The shortlist was selected by a panel of nominators comprising Sarah Brown (Senior Curator, Leeds Art Gallery), Martin Clark (Director, Camden Arts Centre), Margot Heller (Director, South London Gallery) and Helen Legg (Director, Spike Island and recently announced as Director of Tate Liverpool) together with Andrew Bonacina, Chief Curator at The Hepworth Wakefield and chaired by the gallery's Director Simon Wallis.
The finalists will present their work in an exhibition at The Hepworth Wakefield that will run from the 26 October 2018 until 20 January 2019. The winner of the second Hepworth Prize for Sculpture will be announced at an awards dinner in November 2018.
Simon Wallis, Director of The Hepworth Wakefield, said:
"We successfully established The Hepworth Prize for Sculpture to encourage debate about what sculpture is by exploring it in its broadest definition. I'm delighted that this shortlist continues the strengths of the inaugural Hepworth Prize for Sculpture in representing artists at different yet pivotal stages in their careers. The artists selected this year will again present a broad spectrum of experiences and concerns in their work. It will be a highly engaging and memorable exhibition by some of the key sculptors now working in the UK."

Michael Dean Portrait Courtesy the artist
Michael Dean:
"I can't even start to speak of what Hepworth means to me as an artist but I'm properly chuffed to have the chance to contribute to the f***king amazing work The Hepworth Wakefield is doing."
The Hepworth Prize for Sculpture hepworthwakefield.org
About the artists

Michael Dean Rogge
Michael Dean (b. 1977, Newcastle Upon Tyne) lives and works in London.
In 2016, Dean was nominated for the Turner Prize and in 2017 he exhibited as part of the fifth edition of Skulptur Projekte, Mu?nster. In 2018, Dean will have solo shows at BALTIC Centre for Contemporary Art, Gateshead, and ShanghART Gallery, Shanghai. In 2019, he will have a solo exhibition at the Museo Tamayo, Mexico City.
Recent solo exhibitions include: Teaxths and Angeruage, Portikus, Frankfurt (2017); Lost True Leaves, Nasher Sculpture Center, Dallas (2016); Sic Glyphs, South London Gallery, London (2016); Stamen Papers, Fondazione Giuliani, Rome (2016); Qualities of Violence, De Appel Arts Centre, Amsterdam (2015); Jumping Bones, Extra City Kunstal, Antwerp (2015); HA HA HA HA HA HA, Kunst Forum Ludwig, Aachen (2014); The Introduction of the Muscle, Arnolfini, Bristol (2013); Thoughts, Cubitt, London (2012); Government, Henry Moore Institute, Leeds (2012); State of being apart in space, Kunstverein Freiburg, Freiburg (2011); Acts of Grass, Serpentine Gallery Pavilion, London (2011) and Our Daily Permanence Nomas Foundation, Rome (2010).

Mona Hatoum Map (clear) 2015 (Photo Florian Kleinefenn)
Mona Hatoum was born into a Palestinian family in Beirut, Lebanon in 1952 and has lived in London since 1975. Hatoum first became widely known in the mid 1980s for a series of performance and video works that focused on the body. In the 1990s her work moved increasingly towards large-scale installations and sculptures.
She has participated in numerous important group exhibitions including Turner Prize (1995), Venice Biennale (1995 and 2005), Documenta, Kassel (2002 and 2017), Biennale of Sydney (2006), the Istanbul Biennial (1995 and 2011) and The Fifth Moscow Biennale of Contemporary Art (2013).
Solo exhibitions include Museum of Contemporary Art, Chicago (1997), which toured to New Museum of Contemporary Art, New York (1997), Modern Art Oxford, (1998) and the Scottish National Gallery of Modern Art, Edinburgh (1998); Castello di Rivoli, Turin (1999); Tate Britain, London (2000); Hamburger Kunsthalle, which toured to Kunstmuseum Bonn and Magasin III, Stockholm (2004); Museum of Contemporary Art Australia, Sydney (2005); Fondazione Querini Stampalia, Venice (2009); Beirut Art Center (2010); Kunstmuseum St Gallen (2013) and Mathaf: Arab Museum of Modern Art, Doha (2014). A major touring exhibition with over a hundred works from the late 1970s to the present were on display at the Centre Pompidou, Paris (2015), Tate Modern, London and KIASMA, Helsinki (2016). In January this year Hatoum received the Whitechapel Art Icon Award.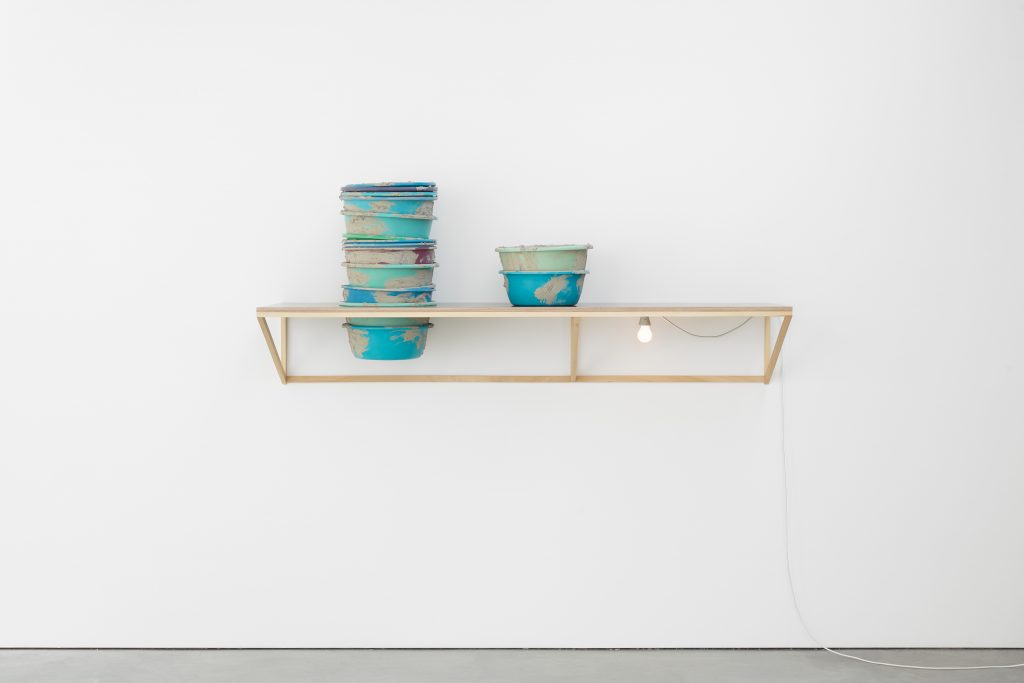 Phillip Lai wasBorn in Kuala Lumpur, (b. 1969, Malaysia) lives and works in London.
Education: 1993-94 MA Fine Art, Chelsea College of Art & Design, London
1990-93 BA Fine Art, sculpture, Chelsea College of Art & Design, London
1988-89 Foundation Course, Middlesex Polytechnic, London
Recent solo exhibitions include: Edouard Malingue, Hong Kong, (2018) (forthcoming), Stuart Shave/Modern Art, London (2016), Besides, Camden Arts Centre, London (2014), Galleria Franco Noero, Turin, Italy (2012), Stuart Shave/Modern Art, London (2012), Stuart Shave/Modern Art, London (2009) Transmission Gallery, Glasgow (2009), Open Container, Galerie Giti Nourbakhsch, Berlin, Germany (2008), Galleria Franco Noero, Turin, Italy (2007) Free to Meet For Coffee Sometime Soon, Stuart Shave/Modern Art, London (2007), His Divine Grace, Stuart Shave/Modern Art, London (2000), Phillip Lai, The Showroom, London commissioned by The Showroom in collaboration with inIVA (1997).

Magali Reus Arbroath Smokie
Magali Reus was born in Den Haag, The Netherlands in 1981, and currently lives and works in London. Forthcoming solo exhibitions include South London Gallery (opening March 2018), Galerie Presenhuber, New York (2019), and Nasher Sculpture Center, Dallas (2020).
Recent solo exhibitions include Hot Cottons, Bergen Kunsthall (2017); Night Plants, Kunstmuseum St. Gallen, St. Gallen (2017); Mustard, The Stedelijk Museum, Amsterdam (2016); Quarters, Fondazione Sandretto Re Rebaudengo, Turin (2016); Spring for a Ground, SculptureCenter, New York; Particle of Inch, The Hepworth Wakefield, UK; Halted Paves, Westfälischer Kunstverein, Münster (all 2015).
Reus was awarded the Prix de Rome 2015. Her work is included in international collections including Tate Collection, UK; Stedelijk Museum Amsterdam; Hessel Collection of Contemporary Art, New York; Kunstmuseum St. Gallen; Rubell Family Collection, Miami; David Roberts Art Foundation, London; Zabludowicz Collection, London, Sarvisalo, New York; Arts Council Collection, UK.
Cerith Wyn Evans (b. 24th March 1958 Llanelli) lives and works in London.
Recent solo exhibitions include the Museo Tamayo (2018), Tate Britain Commission (2017), White Cube Bermondsey, London and the Museion Bolzano (both 2015); Serpentine Sackler Gallery, London (2014); TBA-21 Augarten, Vienna (2013); De La Warr Pavillion, East Sussex (2012); Kunsthall Bergen (2011); Tramway, Glasgow (2009); Inverleith House, Edinburgh (2009); MUSAC, Leon (2008); Musée d'art moderne de la ville de Paris (2006) and Kunsthaus Graz (2005). He has also participated in the Venice Biennial (2017, 2010, 2003), 'Skulptur Projekte Mu?nster (2017), 'Moscow Biennial' (2011); 'Aichi Triennale' (2010); 'Yokohama Triennale' (2008); 'Istanbul Biennial' (2005).
Categories
Tags