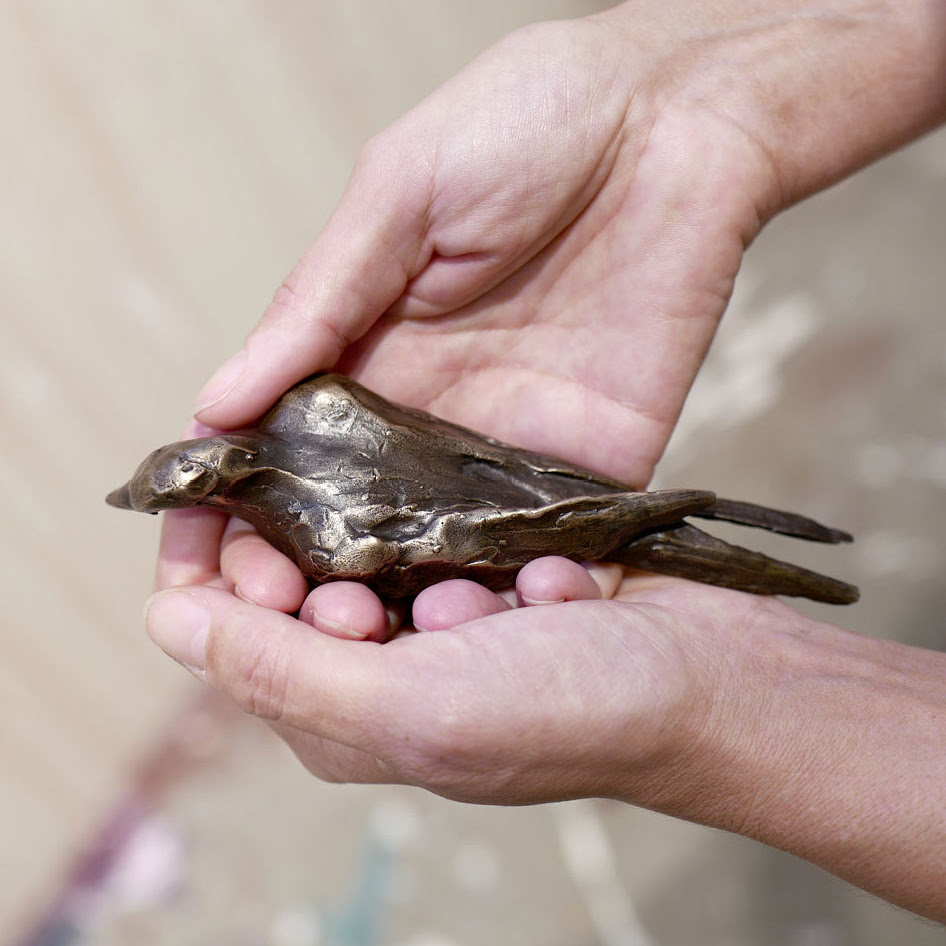 The Distance of Your Heart, 2018 (detail)
Tracey Emin will lift the curtain on her first permanent artwork for the city of Sydney on Wednesday 21 March. At the city's northern end on Bridge and Grosvenor streets and through the refurbished Kent Street underpass, The Distance of Your Heart includes up to 60 delicate handmade bronze bird sculptures.The bird sculptures perch on poles, above doorways and on awnings, enticing walkers along the thoroughfare.
Emin describes her work for Sydney as,
'simple, straightforward and accessible to everybody'.
The work is handmade by Emin with each bird life size, the opposite of monumental and overpowering.
In conceiving of a work for Sydney, Emin wanted to address Australia's distance from the rest of the world. The question she asked herself was, 'How does one express the feeling of loneliness without words?' Her answer was, in the form of a bird – lonely, modest in scale in the way birds are, and thoughtful-looking.
The words "The distance of your heart" are inscribed on a large stone bird bath in Macquarie Place Park. Emin sees this as a place to be photographed, to let the people you love know you are missing them. She believes in today's age of technology it is easy to send an image of where you are and what you are doing but it is very hard to send a message of how you are actually feeling.
Emin chose Macquarie Place because this is the site of the Obelisk of Distances designed by Francis Greenway from which the distance to various locations in New South Wales are measured, along the earliest roads developed in the colony. She saw this as "…the perfect site to measure the distance of my heart"
Like a treasure hunt comprised of scattered elements associated with the thrill of discovery, Emin's work of art is one both adults and children will love.
Tracey Emin The Distance of Your Heart Wednesday, 21 March 2018
A permanent public sculpture Sydney, Australia www.cityartsydney.com.au/the-distance-of-your-heart/
City of Sydney // Tracey Emin 'The Distance Of Your Heart' from VERSUS on Vimeo.
About
Tracey Emin was born in Croydon, United Kingdom and lives and works in London. Her art is one of disclosure, using her life events as inspiration for works ranging from painting, drawing, video and installation, to photography, needlework and sculpture. Emin reveals her hopes, humiliations, failures and successes in candid and, at times, excoriating work that is frequently both tragic and humorous.
In 2007 Emin represented Britain at the 52nd Venice Biennale, becoming the second woman artist to ever do so. That same year, Emin was made a Royal Academician and was awarded an Honorary Doctorate from the Royal College of Art, a Doctor of Letters from the University of Kent and a Doctor of Philosophy from London Metropolitan University.
In 2011 she became the Royal Academy's Professor of Drawing and in 2012, Queen Elizabeth II appointed her Commander of the Most Excellent Order of the British Empire for her contributions to the visual arts.
Categories
Tags