Marlborough Fine Arts Gallery in London just dedicated its rooms to the explosive canvases of the British artist Hughie O'Donoghue in its new exhibition Scorched Earth. O'Donoghue spent his childhood in County Mayo, situated in the North West of Ireland. He then moved to London to study at the Goldsmith's College of art. His native lands, "the wildest part of Ireland, as he described them, never abandoned his memory. Especially in this new exhibition we see how they became a constant of his production.
For instance, in the painting that opens the show at Marlborough, O'Donoghue takes one of the most talked about canvases in the history of Van Gogh's production, The Painter on the Road to Tarascon, and reconfigures it into his own language, stressing his personal origins and experiences. "History is always partial," the artist declared, "it just depends what angle you come at it from where you place the emphasis. That depends on your allegiances, so it's always a partial version of the truth."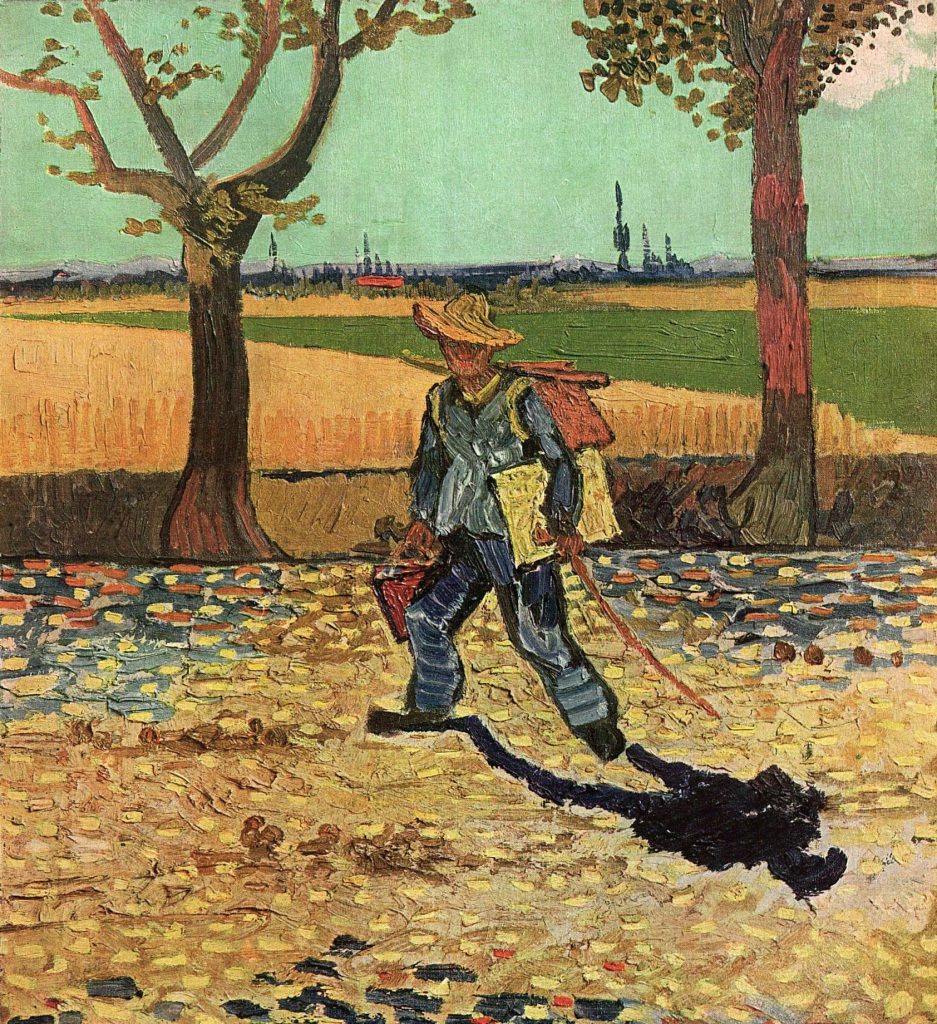 Van Gogh, On the Road to Tarascon (July 1888). Oil on canvas
The original work, that Van Gogh completed in 1888, has now been lost. Nevertheless, we do know it represented the painter with the tools of his trade at hand, lost in the rural streets of Arlem looking for inspiration. From one of the many letters he sent to his brother Theo we also perceive that the Dutchman despised this work. It comes at no surprise, really, knowing the symptomatic depression and low self-esteem that accompanied the artist throughout his life. Van Gogh had affirmed in the letter, in fact, to be "desperately dissatisfied".
In any case, this depiction never stopped haunting artists throughout the centuries. Bacon, for example, proposed his own version of Van Gogh's lost masterpiece in 1957. His research ended up in a highly charged series of works, very much in line with the grotesque, dramatic style that made him famous.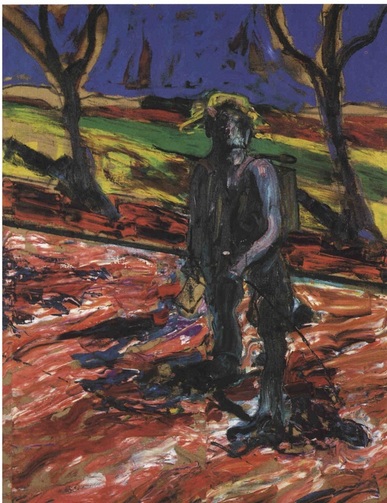 Francis Bacon, Study for a Portrait of Van Gogh IV (1957), Oil on canvas, 1524 x 1168 mm
Now, after more than one century since The Painter on the Road to Tarascon had been brought to life, O'Donoghue decided to repurpose it, translating its legacy once more.
In his painting, the central figure, instantly recognisable as the Dutch painter, keeps up with the original story behind the canvas. We see, in fact, Van Gogh with his characteristic ginger beard, his simple straw hat and his, even more distinguishing, gaze lost in the nothingness of his inner thoughts. A highly abstract landscape, made of large, dispersed brushstrokes with burning hues envelops the figure . The vivid yellows, bold oranges and bursting reddish tonalities float on the canvas reminiscing somehow the colour fields of Rothko. This violent, intense colours, that almost seem to evoke an erupting volcano, metaphorically attest to the equally erupting and productive energy of Van Gogh. O'Donoghue confessed to have always been enraptured by how the Dutch painter, an extremely solitary soul, managed to create such influencing masterpieces in the loneliness and brevity of his life.

Hughie O'Donoghue, Lavender Field, (2017-18), oil on prepared tarpaulin, 179×238 cms
A sense of nostalgia, therefore, surfaces on the canvas. It intermixes with the brutality of the all pervading blazing hues. This sentimentality is enhanced by the fact that O'Donoghue was not directly representing the streets of Arlem, but he was, instead, converting them into his more immediate environment. What we see, in fact, are the landscape he would be observing everyday from his studio.
The modern artist did not stop at The Painter on the Road to Tarascon but he explred a wide range of works from Van Gogh. One of these is the famous Wheatfield with Crows, which again O'Donoghue transforms into something extremely personal and innovative.

Vincent van Gogh, Wheatfield with Crows (July 1890), oil on canvas, 50.5 cm x 103 cm

Hughie O'Donoghue, Crows Above a Grainfield I – Aloft, (2017-18), oil on jute canvas. 85 x 107 cms
Peculiar to the British artist's ideas are also his "semi portraits" of Van Gogh. O'Donoghue never wanted to achieve a true similitude, as we would maybe expect from a portrait. This is because of the biases that inevitably get involved when trying to reconstruct the likeness of someone we can only know from other likeness created around him (or by him on the first place). O'Donoghue was trying, on the other hand, to develop a representation that, as for his landscape, could speak to himself and to his public in novel ways. His aim was, in fact, to conceive "a painting of Van Gogh", rather that a mere copy of his face.

Hughie O'Donoghue, The Painter Van Gogh V, (2017-18), oil on Jute Canvas, 46×43.5 cms
Hughie O'Donoghue: Scorched Earth, 14 March – 14 April, Marlborough Fine Art, London marlboroughlondon.com
Images: courtesy of the artist and Marlborough Fine Art
Categories
Tags