Damien Hirst stairwell Houghton Hall © Hannah Starkey
A series of new paintings by Damien Hirst, which have never been shown in public before, will be exhibited in the State Rooms at Houghton Hall for the exhibition Damien Hirst at Houghton Hall. The new paintings, which are titled Colour Space, are a development of the iconic Spot Paintings which are among the artist's most recognised works.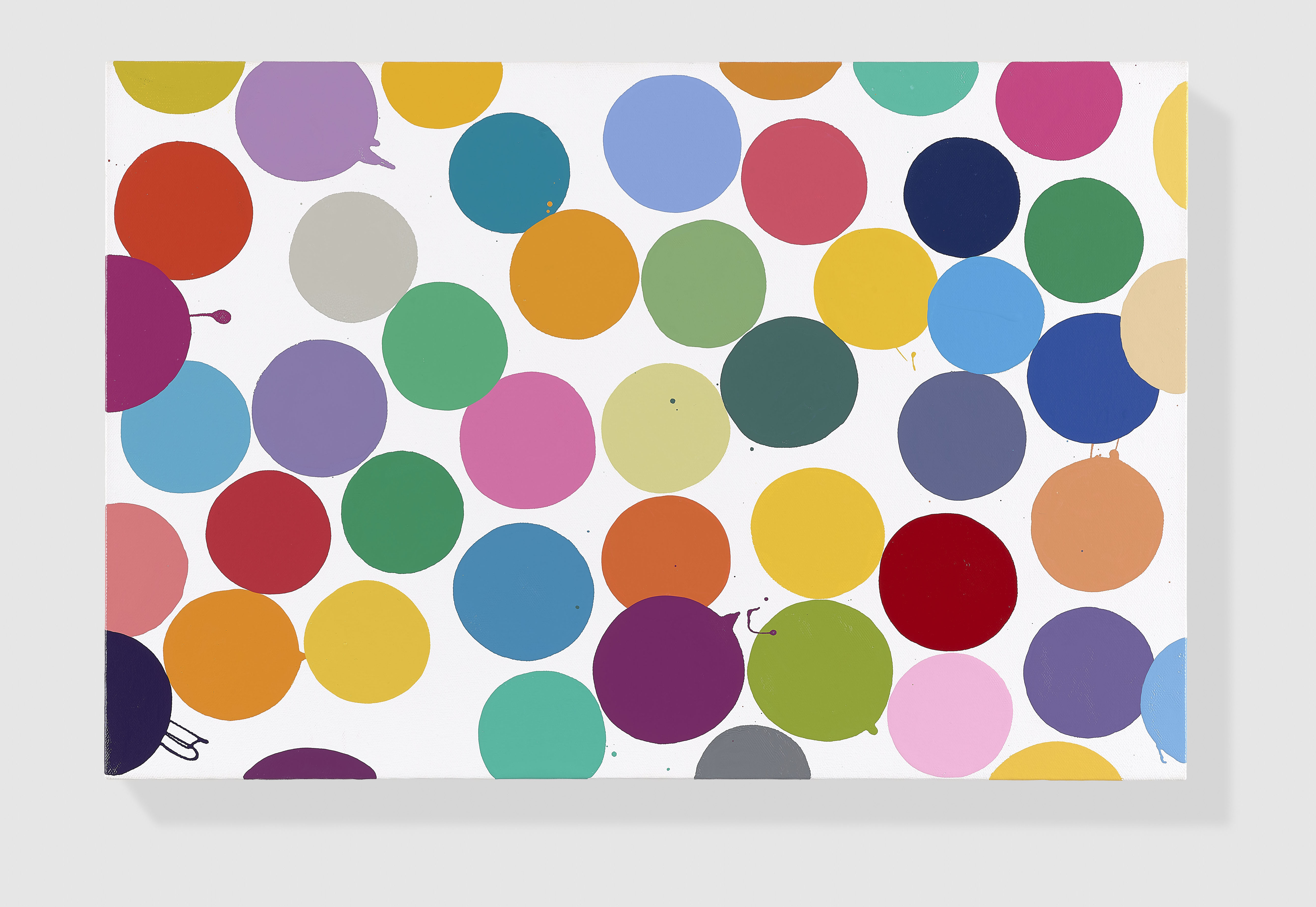 English Lilac (2016) Household gloss on canvas 406 x 610 mm © Damien Hirst and Science Ltd. All rights reserved, DACS 2017 Photographed by Prudence Cuming Associates Ltd

The exhibition also includes a number of the artist's best-known sculptures which will be installed throughout the 18th-century house and gardens. The sculptures in the house are: Saint Bartholomew, Exquisite Pain (2006) in the Entrance Hall and two smaller kinetic sculptures from the artist's "levitation" series, featuring air blowers and table tennis balls, in the celebrated Stone Hall. The six sculptures installed outdoors in the park include the Virgin Mother (2005–2006) and Charity (2002–2003).
The curator of the exhibition is Mario Codognato.
Lord Cholmondeley, owner of Houghton, said:
"We are delighted to have this opportunity to show Damien Hirst's new paintings in the State Rooms at Houghton, together with some of his best-known sculptures in the grounds. It is perhaps the first time that Hirst has shown a significant body of work in a classical country house setting"
Houghton Hall was built by Britain's first Prime Minister, Sir Robert Walpole, in around 1722. It is one of the country's best examples of Palladian architecture, designed by architects Colen Campell and James Gibbs, and executed by Thomas Ripley, Surveyor of the King's Works. Later, Sir Robert engaged the multi-talented William Kent to decorate the grand rooms on the state floor.
Recently, many of the rooms have been restored to how they would have looked in Sir Robert's day, and formal planting on the garden front has been reinstated. Visitors will also find an award-winning walled garden, a museum of model soldiers, a restaurant and a shop. A number of contemporary art works, including pieces by Stephen Cox, Jeppe Hein, Anya Gallaccio, Zhan Wang, James Turrell and Turner Prize winners Rachel Whiteread and Sir Richard Long, have been located in the landscape.
Viennese auction house, Dorotheum, the oldest in continental speaking Europe, is partnering for the exhibition which juxtaposes old and new. Established in 1707, the auction house continually belies its eighteenth century traditional heritage with innovative modern contemporary works including those of Damien Hirst.
Exhibition title: Damien Hirst at Houghton Hall: Colour Space Paintings and Outdoor Sculptures
Dates: 25 March – 15 July 2018 www.houghtonhall.com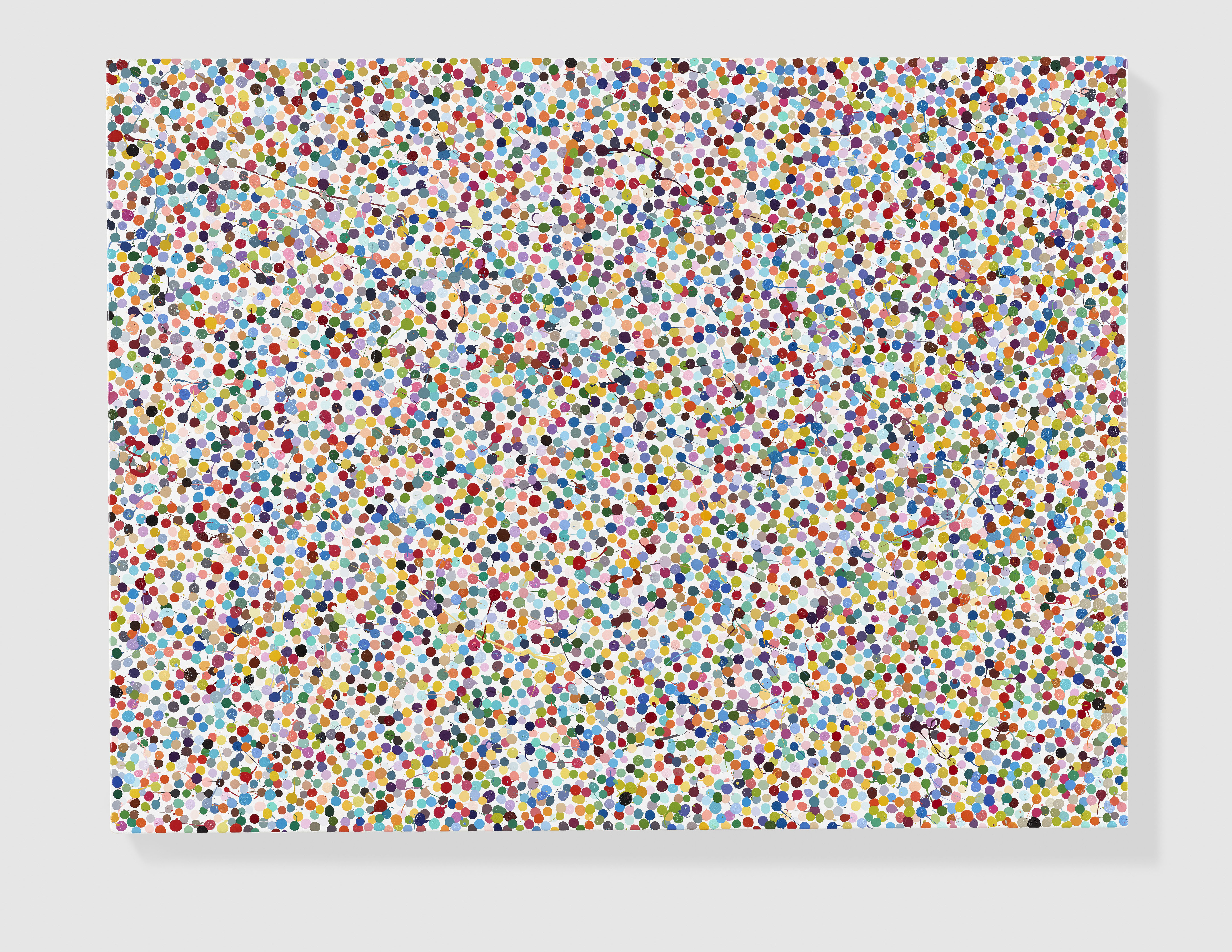 Flesh Tint (2016) Household gloss on canvas 610 x 813 mm © Damien Hirst and Science Ltd. All rights reserved, DACS 2017 Photographed by Prudence Cuming Associates Ltd
Categories
Tags