The installation, titled Particulates (2017), uses 16 high-intensity lasers to define a hyperbolic paraboloid to illuminate particles in the atmosphere that are otherwise invisible. Artist Rita McBride consulted with several physicists on the making of the work.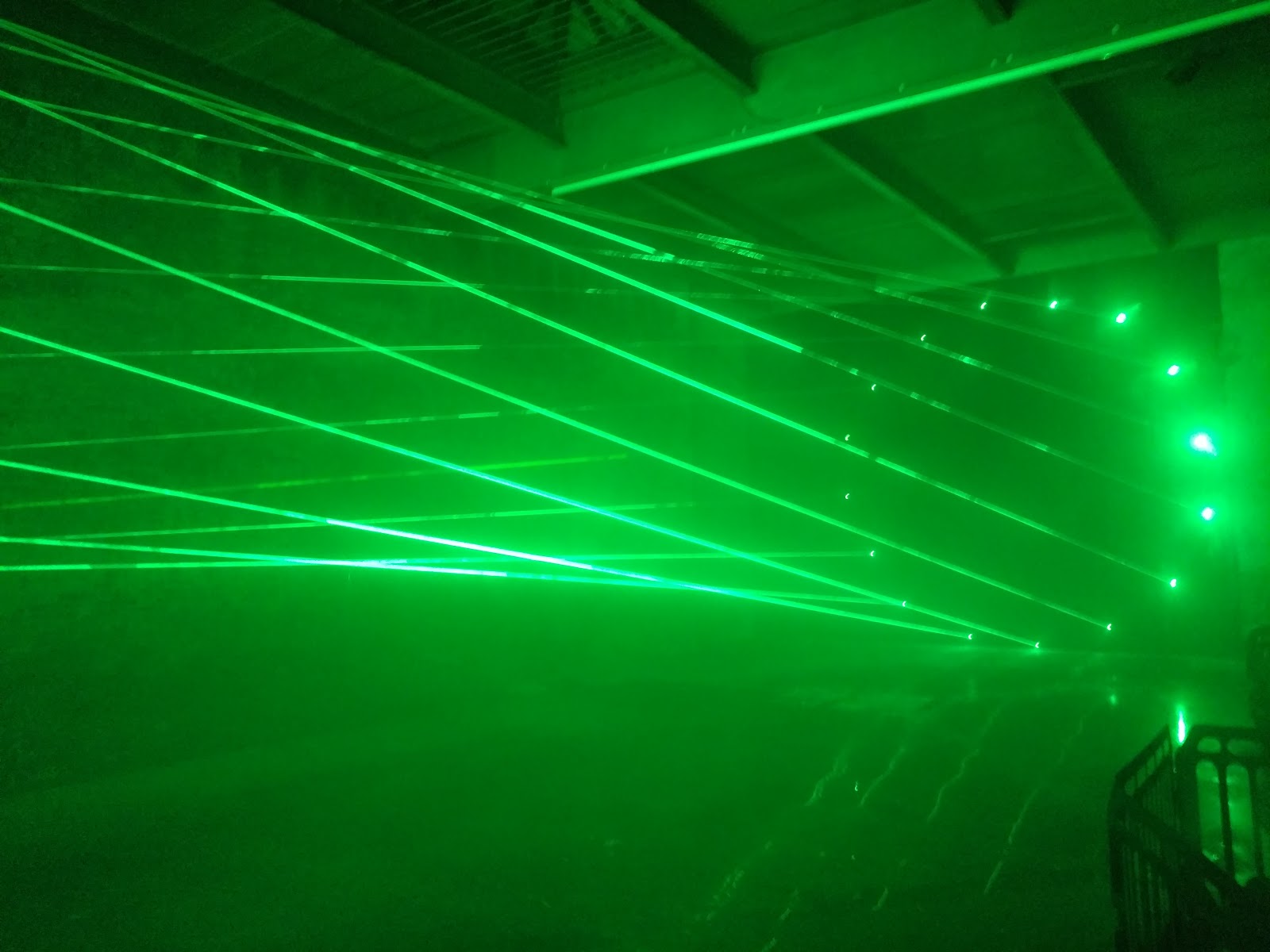 McBride's new commission brings together her interests in the principles of light and space, time travel, and quantum physics. The arrangement of lasers offers a visual manifestation of the kind of theoretical wormholes described in science fiction as vehicles for time travel. However, the contours of this shape are dispersed by the constant motion of particulate matter found in the air, such as ambient dust and molecules of water, which become visible when passing through the beams of light. In this particular building, she found a lot of marble dust in the air, as it used to be a marble company. This dust is highly reflective, creating a magical, mesmerizing sight when the lasers are turned on. Particulates exchanges gravity, a core element in sculpture, for the potential of infinitely traversable space, unfolding a wrinkle in time.
To accompany the exhibition, McBride is also creating a companion project – a book of original Science Fiction stories written by a group of writers in response to the artwork. This will launch in May 2018.
McBride (b. 1960 in Des Moines, Iowa) is based between LA and Dusseldorf where she is the Director of the Kunstakademie Düsseldorf, the Arts Academy of Düsseldorf.
Go see Particulates by Rita McBride at Dia:Chelsea 535, 541, and 545 West 22nd Street, New York City
About The Artist
Rita McBride was born in Des Moines in 1960. She currently lives and works in Düsseldorf, Germany, and Los Angeles. She received a BA from Bard College in Annandale-on-Hudson, New York, and an MFA from the California Institute of the Arts in Valencia. In 1988 she began to explore architectural and sculptural form in works ranging from small-scale objects to public commissions. Her major public commissions include Obelisk of Tutankhamun in Cologne, Germany (2017), Bells and Whistles at the New School in New York (2014), and Mae West in Munich, Germany (2011). Among recent solo exhibitions are Rita McBride: Explorer at Wiels Contemporary Art Centre, Brussels (2017–18), Rita McBride: Gesellschaft at kestnergesellschaft, Hanover, Germany, and Kunsthalle Düsseldorf (2015–16), and Rita McBride: Public Tilt at the Museum of Contemporary Art San Diego (2014–15). In 2001 she initiated a series of genre-bending publications that often use anonymous collective writing structures. The second volume of her Ways series, Futureways (2004), explored contemporary art and science fiction, a genre that is particularly relevant to Particulates. McBride's first project with Dia Art Foundation took place in the form of a performative lecture on the work of Rosemarie Trockel as part of the Artists on Artists Lecture Series in 2003. Particulates was commissioned in 2016 by Dia and completed in 2017.
Categories
Tags