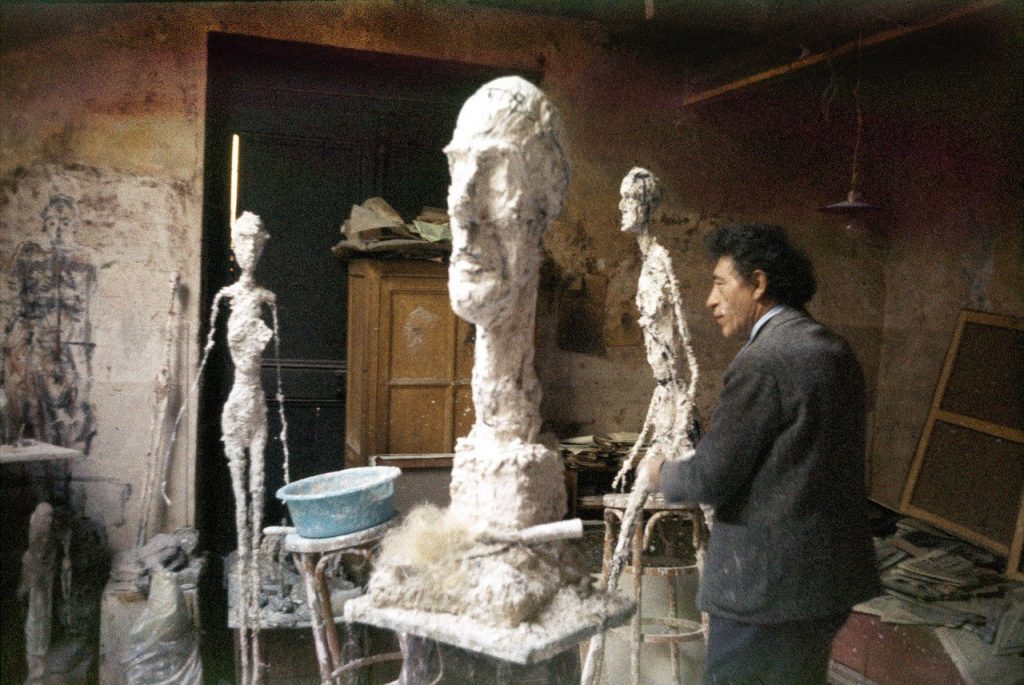 Alberto Giacometti dans son atelier [Alberto Giacometti in his Studio] – Photo Ernst Sheidegger Collection Giacometti Foundation, Paris © Giacometti Estate (Giacometti Foundation + ADAGP) Paris 2018
The Giacometti Foundation, Paris has just announced the upcoming opening of The Giacometti Institute, on 20 June 2018 in Paris. This will be a new space, dedicated to the work of Alberto Giacometti and to exhibitions, as well as to art historical research and pedagogy.
An innovative cultural establishment, the Giacometti Institute aims to provide new perspectives on the artist's work and the period of its creation. With a floor area of 350m2, the Institute will be located in the historic area of Montparnasse, where the artist lived and worked throughout his career. It will be directed by Catherine Grenier, head of the Giacometti Foundation since 2014.
Accessible to the public by appointment, the Giacometti Institute will permanently present a reconstruction of Giacometti's Studio, which was conserved in its entirety by his widow, Annette Giacometti. The studio will include very fragile artworks in plaster and clay, some of which have never been publicly exhibited, the artist's furniture, and his wall paintings.
The Institute will also present an ambitious programme of temporary exhibitions, each dedicated to certain aspects of Giacometti's work, his relationships with the artists and writers of his day, as well as his influence on subsequent generations, particularly contemporary artists.
A graphic art cabinet will enable visitors to discover an exceptional collection of nearly 5,000 drawings, lithographs, and notebooks, many of which have never been made public.
The Ecole des Modernités will provide a better understanding of the history of modern art by supporting new research on this period, in the form of conferences, a research scholarship, a collection of publications, and a reference library on the subject.
The Giacometti Institute is housed within the former studio of artist and interior designer Paul Follot, in a listed heritage building and private mansion in the Art Deco style, whose decor has been preserved and restored by architect Pierre-Antoine Gatier of the Monuments Historiques. Architect Pascal Grasso was commissioned to renovate the space and design the scenography.
www.fondation-giacometti.fr
About
The Giacometti Foundation, Paris, is a private institution of public interest recognised by the French state, created in December 2003. Its goal is to preserve, promote, and present the work of Alberto Giacometti.
With over 300 sculptures, 90 paintings, and thousands of works on paper, it possesses the richest collection of artworks by the artist in the world: a collection that it is responsible for conserving, restoring, and enriching. The Foundation also has a remarkable collection of photographs and archival materials. A large proportion of this heritage has remained inaccessible to the public since the artist's death in 1966.
In 2014, the Foundation launched a vast exhibition programme in France and abroad, designed to reach new audiences. In 2018, it will co-organise a number of major exhibitions of Giacometti's work: at the Musée National des Beaux-Arts de Québec (8 February 2018 to 13 May 2018), the Beyeler Foundation (Bacon-Giacometti) in Basel (29 April 2018 to 2 September 2018), the Guggenheim Museum in New York (8 June 2018 to 12 September 2018), the Musée Maillol in Paris (14 September 2018 to 20 January 2019), and the Guggenheim Museum in Bilbao (19 October 2018 to 24 February 2019.
Categories
Tags