The Fashion and Textile Museum, London to open a major new exhibition focused on probably the most important garment in the fashion industry the T-shirt.

Barbara Kruger's 'I Shop therefore I Am '89'. Photograph by Susan A. Barnett, from her book A Typology of T-Shirts. Copyright © 2015. All Rights Reserved.
T-shirt: Cult – Culture – Subversion presents this ubiquitous garment in its various forms, as an object
of cultural and historical significance. Focusing on the relationships between the t-shirt and politics, art, fashion and technology, the exhibition offers new ways of looking at this most basic and familiar item of clothing.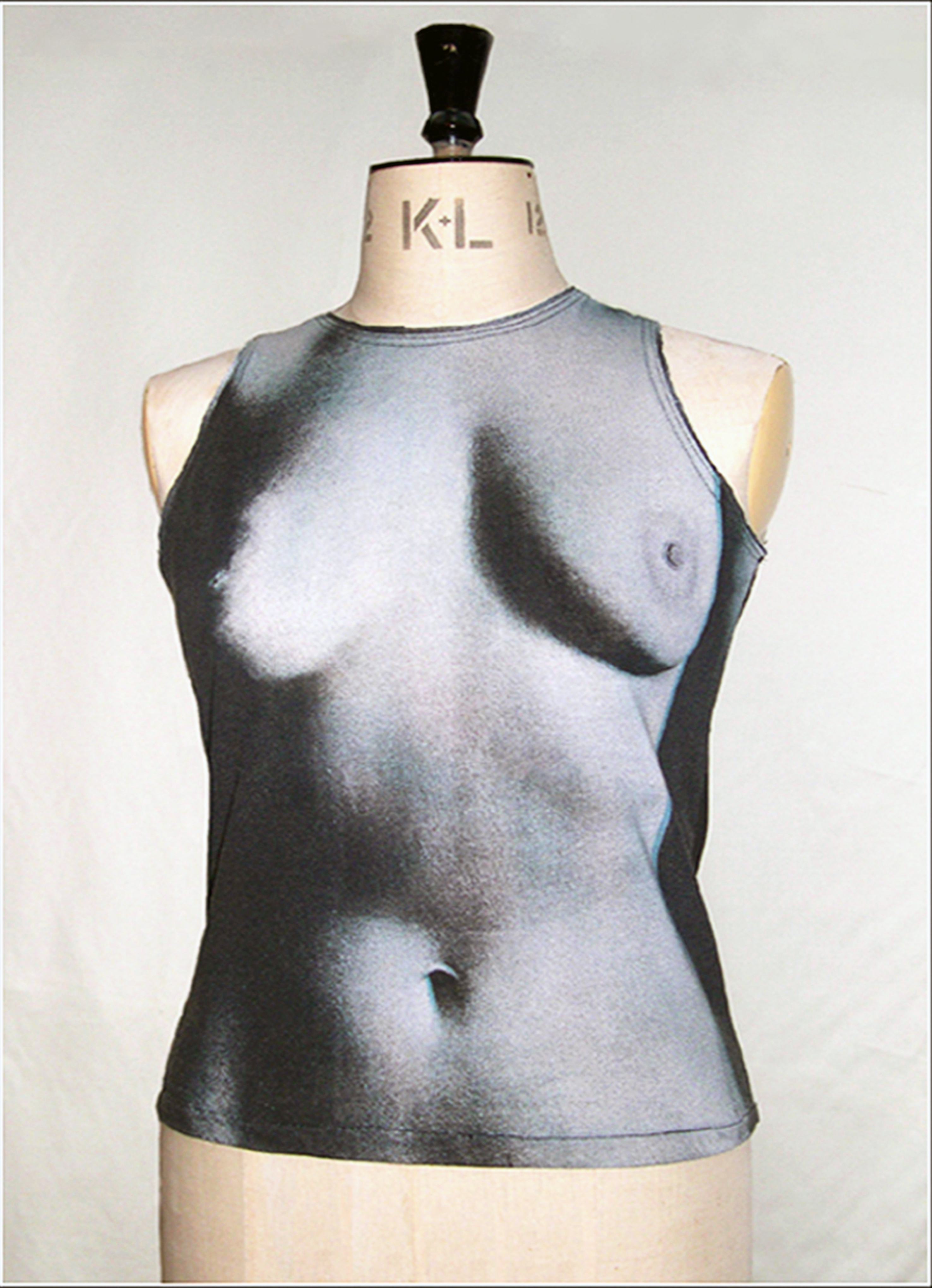 "BREASTS T-SHIRT. 1969". Pigment print on cotton/silk jersey T-shirt by Morley. Designed and screen printed by John Dove and Molly White. Original photography in collaboration with James Wedge. Model: Pat Booth. Dove/White. Courtesy of Paul Stolper Gallery.
This exhibition argues that the t-shirt is fashion's most accurate and expressive reflector of cultural shifts, and its most opinionated. From its origins as a men's undergarment, to its universal appearance in the wardrobes of billions, the t-shirt evolved from private to public. Simultaneoulsy a reflector of mass culture and singular messages, the t-shirt is anything but basic. With over 100 examples, drawn from private collections and the archives of participating artists and designers, the exhibition presents some of the rarest and most influential t-shirts of the 20th century, including originals by Vivienne Westwood
and Malcolm McLaren, alongside other early punk designs. Organised thematically, the exhibition
presents the work of designers and artists including Simon Barnzley Armitage, Katharine Hamnett, Pam Hogg, Jeremy Deller, Jamie Reid, Guerilla Girls, HOID, Cute Circuit and Experimental Jetset.
Creatively presented as a series of installations evocative of each theme, the exhibition invites visitors to immerse themselves in exploring the variety and multitude of ways t-shirts can be read.
T-Shirt: Cult | Culture | Subversion is at The Fashion and Textile Museum from 9 February 2018 – 6 May 2018
The Fashion and Textile Museum is at 83 Bermondsey Street, London SE1 3XF www.ftmlondon.org

Jeremy Deller, My Drug Shame, 2016, Limited Edition T-shirt. WhiteBlack. Credit Graham Pearson

Keith Haring's 'Act Against AIDS '93'. Photograph by Susan A. Barnett, from her book A Typology of T-Shirts. Copyright © 2015. All Rights Reserved.
Categories
Tags