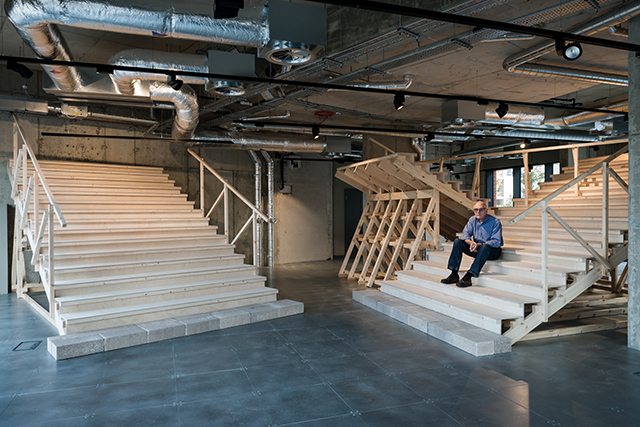 A landmark conversation between artist Richard Wentworth and social historian Ken Worpole will headline a curated programme of artistic workshops, community events, sound installations and performances at arebyte's brand new gallery in London City Island.
Programmed as the result of an open call, these mostly free events fulfil the aims of Richard Wentworth and APPARATA's installation Concertina: to bring together disparate groups, and transform the gallery into an environment for openness and communication.
Concertina – comprised of three interconnected pine stairways – explores the social potential of art spaces, and will become a theatre, platform, backdrop and starting point for the various artistic and communal experiences throughout its installation.
Highlights of the programme include:
'This is where we meet': Richard Wentworth and Ken Worpole in conversation at Concertina
Tuesday 21 November, 7pm | FREE
arebyte, London City Island, Canning Town, E14 0LG
For the first time, influential artist Richard Wentworth will be in discussion with social historian and writer Ken Worpole.
In a non-prescriptive way, Ken and Richard will consider London's changing landscape, reflecting on the recent centuries which has shaped the city into its unexpected topography. Ken's unique understanding of how this was administered will be met with Richard's fifty years of experience living in London, all within the context of Concertina being situated in the brand new development of London City Island (Canning Town), located in an 'out-of-the-way' – to many, undiscovered – part of the capital.
Richard will also take the opportunity to reflect on how the programme of events which have occupied and and interacted with Concertina, and how they might cause the participants and viewers to reexamine the world around us.
Tickets are free and can be registered here.
Mocumenta live streamed performance event
Curated by William Kherbek
Friday 17 November, 5-9pm | FREE
As a response to Concertina, the New Maker Ensemble presents Out Of Control, a programme of performances of new music and installation. Musicians, composers and artists come together under the motif 'Control', proposing a range of solo and small ensemble pieces for an evening that culminates in an en masse final performance.
Dance!: The Nelken Line Workshop at Concertina with PTAMKD
Saturday 18 November, 12-6pm | FREE
Performance on every hour (1:00 pm, 2:00 pm, 3:00 pm, 4:00 pm, 5:00 pm)
The Nelken Line is a movement of four seasons from the 1982 dance piece "Nelken (carnations)" by Pina Bausch, who established Dance Theatre. It is a sequence of movements with just a few distinct gestures that the dancers perform proceeding in a long line, telling the alternation of the four seasons.
This participatory dance project invites the public to learn and perform this simple dance sequence that will be filmed and contributed to the larger Nelken Line project, featuring hundreds and thousands of people around the world.
Sunday 19 November, 5-9pm | FREE
Addressing the current state of art commissioning, curatorial duo Scrapes (Issey Scott/Rosemary Jane Cronin) presents an evening of contemporary performance and video installations exploring rebellion, resistance and other-worldliness through a unique site-specificity within Wentworth's sculpture. Artists including Lana Locke, Lora Ghany, Ruby Wroe, Rosemary Jane Cronin, Georgia Hollands and Chrissie Stewart will explore these themes in this new and evocative space.
The arebyte Variations
Saturday 25 November, 6-9pm | FREE
The arebyte Variations will present a collaboration between artist Claire Nichols and musicians Nadav Brand and Luca Somigli. This performance will build on the artists' experiments in audio-visual improvisation, opening up a sort of theatre in which the creative process takes centre stage. Using Concertina as an architectural feature upon which to play, watch and build, Nichols, Brand and Somigli will create an evolving sculptural and musical composition.
The audience will be invited to meander through the gallery as a sort of open stage, influencing the flow of Nichols' shifting constellations with found objects, and in turn the music to be played by Brand and Somigli.
Be My Bosom Buddy Saturday 16 December
An interactive performance piece and artist talk that explores the connections between friendship and consumer culture, led by artists Grace Lambery and Noemi Gunea. Check www.arebyte.com for details soon.
QMUL Centre for Sound Cultures Think Tank Monday 13 November 2017, 6.30 – 8.00pm
Co-hosted by Dr. Ella Finer, Dr. Rhiannon Moss, Professor Martyn Ware and Robert Jack, this is an exploratory event, conceived as a "think tank", gathering together interested people in thinking through and defining the future scope of Queen Mary University of London's newly formed Centre for Sound Cultures.
Concertina runs until 22nd December. More events will be added, and can all be viewed at www.arebyte.com/concertina.
Touch Wood:
An interactive, playful soundscape installation
Saturday 3 December, 12-6pm | FREE
We often 'touch wood' to request good luck or distract spirits with evil intentions. Touch Wood is a playful, interactive soundscape installation that activates Concertina for a day. This performance incites audiences to 'play' the wooden staircases of the installation to create a spontaneous concert, while sound artists will experiment with rhythmic and sound potentials. There will also be a gig with small entry fee in the evening:
Touch Wood Soundscape at Concertina
Saturday 3 December, 6.30-8.30pm | £5 (with beer)
Artists Tom While, Rob Lye and Andrea Keaney will join cAt to experiment further with the rhythmic and sound potentials of Concertina's staircase structures in this a gig and performance. Expect experimental and poetic sound, moving images, and dance: all inspired and generated from Concertina.
www.arebyte.com/Concertina | #Concertina |
TW /@arebyte  FB /arebyte.london IN /@arebyte
About Mark Westall