There are lots of art events happening in London; talks, workshops, tours, discussions and many many more! To help you with the choice Jenny Judova from Art Map London has picked 'The Most Interesting Art Events' to see in London this week.
TUESDAY 7 NOVEMBER
Launch and Private View of Inaugural Exhibition for Fiumano Clase – Wassall & Lohe
6:30 PM – 8:30 PM @ Fiumano Clase Gallery, Unit 12, 21 Wren Street, London, WC1X 0HF
In recent years Andrés Clase and Francesca Fiumano have collaborated on numerous exhibitions and projects. The success of these collaborations, pooling over thirty years of combined knowledge and experience, resulted in the decision to form Fiumano Clase.
WEDNESDAY 8 NOVEMBER
Banner Repeater Fundraising Raffle
6:00 PM – 9:00 PM @ Somerset House studios, Somerset House studios, Snooker room, Strand, London, WC2R 1LA
Celebrate seven years of artistic experimentation! Live music performance with Benedict Drew and DJ Chooc Ly Tan. The raffle will be held at 9pm with artworks by artists Yuri Pattison, Jenna Sutela, Melanie Jackson, Zarina Muhammad, Anne de Boer, and more.
THURSDAY 9 NOVEMBER
Preview – Yoshinori Niwa: That Language Sounds Like a Language
6:00 PM – 8:00 PM @ Edel Assanti, 74A Newman St, Fitzrovia, London, W1T 3DB
Yoshinori Niwa's second solo exhibition at Edel Assanti converges four of Niwa's recent performance / film works in an examination of the boundaries of "publicness", nationhood and the mechanisms of group identity. That Language Sounds Like a Language focuses on the question of how we define our collective identity: is it by shared political views, or mutual identification with a nation? Is it the language we speak, or a shared understanding of historical events?
FRIDAY 10 NOVEMBER
Olafur Eliasson in conversation with Jennifer Sliwka
6:30 PM – 7:30 PM @ The National Gallery, Trafalgar Square, London, WC2N 5DN
Hear artist Olafur Eliasson, whose light installation 'Room for one colour' features in Monochrome: Painting in Black and White, in discussion with exhibition co-curator Jennifer Sliwka.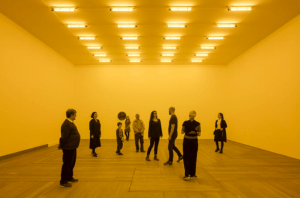 Categories
Tags