Art critic Tabish Khan brings you the top art exhibitions to visit this week. Each one comes with a concise review to help you decide whether it's for you. This week it's been expanded to nine as so many great shows are closing soon.
Jake & Dinos Chapman: The Disasters of Everyday Life @ Blain|Southern
The Chapman Brothers return with yet more controversial works — this time casting suicide vests in bronze. It feels like the artists are aware this could be deemed bad taste so these are not based on actual ones used by terrorists and one has even been cast from a prop for the film Rush Hour. On the wall the Chapman's obsessions with Goya continues as reproductions of etchings are transformed to be either cartoony, creepy or collaged in a work that's a little understated by the artist's standards, though can often be just as disturbing as the Goya originals. Until 11 November.
Geumhyung Jeong @ Delfina Foundation
The artist engages in simulated sex with machines, there's a drone with a penis and a collection of sex toys, creepy masks and video game controllers. It's a very intense exhibition covering the interaction of sexuality with technology, and one I'm not going to forget anytime soon. Until 11 November.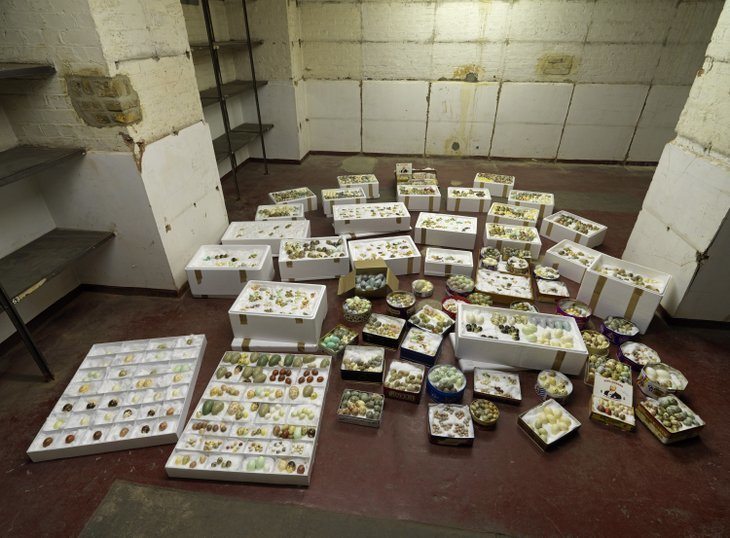 Andy Holden / Peter Holden: Natural Selection is an Artangel commission @ former Newington Library
There's a basement full of assorted eggs, a documentary on the nesting habits of British birds and a giant human sized bower bird nest. The aim here is to look at nest building from a human perspective — do we think they're attractive, do they feel homely and is it that dissimilar to how we decorate our own homes to look attractive to others? Plus it's in the fantastic setting of this old library. Until 26 November.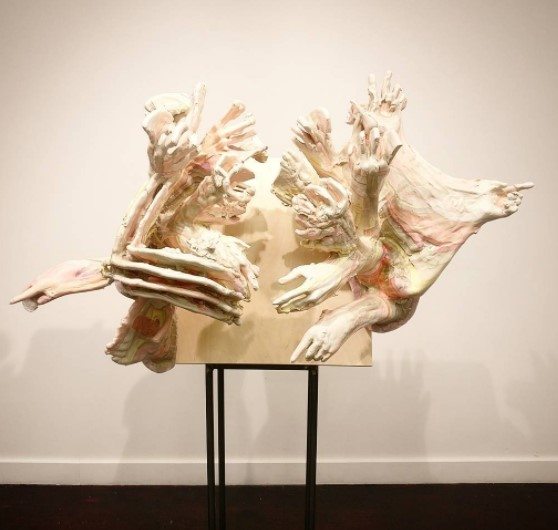 Bloom: Juliana Cerqueira Leite @ TJ Boulting
An exploration of hand gestures looks at them in isolation from the rest of our body language. It leads to some impressive sculptures that appear like some mutated many limbed beast. Until 7 November.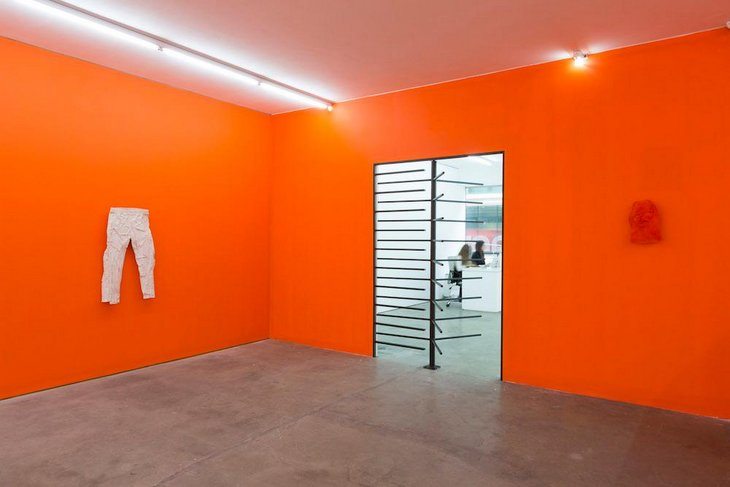 Marcin Dudek: Steps and Marches @ Edel Assanti
Marcin Dudek's work is inspired by visits to football stadiums, and it's easy to tell as we have to enter the show via a turnstile into a room of bright orange walls — the colour of Dudek's crews jackets turned inside out when they fought rival fans. The show explores the nature of how crowds act as one, and it's a great contrast to examine acts of violence in a serene gallery setting. Until 4 November.
Poem of the Pillow @ Frameless Gallery
Two female artists combine in this show to look at flowers and eroticism, with murals, large complex paintings and smaller pared down ones. It's credit to the artists and the curation that it comes together with a seamless narrative between the two. Until 4 November.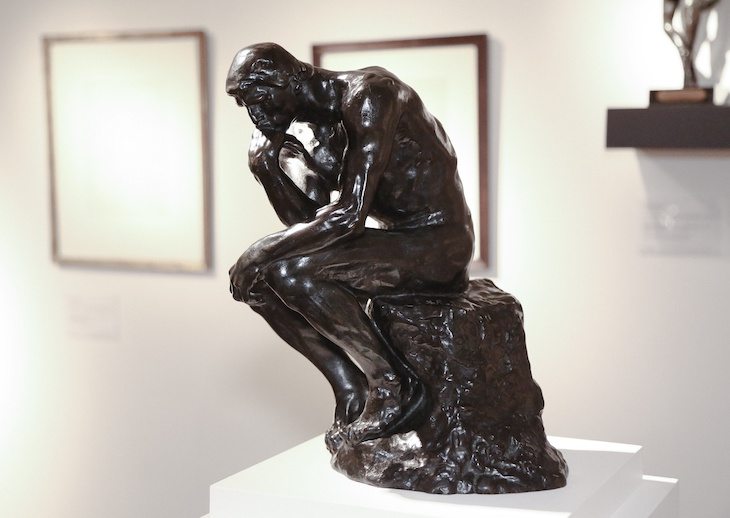 Auguste Rodin (1840-1917): An exhibition in celebration of 100 years @ One Canada Square
The masterpieces of sculptor Auguste Rodin have taken residence in One Canada Square. Thankfully it's in the publicly accessible area so anyone can gaze at the pensive Thinker and the passionate Kiss in an exhibition marking the centenary of Rodin's death. Until 10 November.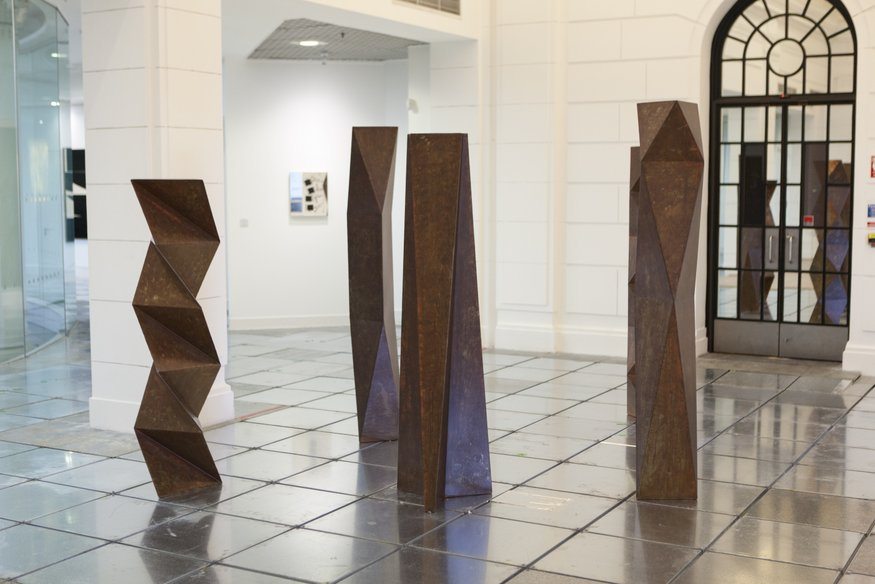 What's Up: The Americas @ Whiteleys shopping centre
The 4th floor of the soon to be demolished Whiteleys shopping centre in Bayswater has been taken over by a large selection of largely abstract artworks cureated by Lawrence van Hagen. It's a beautiful space to be showcasing a wide range of contemplative works. Until 5 November.
Chu Teh-Chun: Nature Lives with Me @ Waddington Custot
Chinese artist Chu Teh-Chun combines both Eastern and Western styles in his abstract landscape paintings, so we get calligraphic and Romantic elements blending seamlessly in his richly coloured imagined lands. The works may be small but the expressive style pulls you into his landscapes, which are the strongest of the 45 works in the show. Until 11 November.
Categories
Tags