Dorothy Circus Gallery are celebrating a decade of sellout exhibitions at their gallery in Rome, by opening a gallery in London this October. The inaugural exhibition at the new Notting Hill space is 'Pages from Mind Travellers Diaries', and features new work by artists Kazuki Takamatsu (Japan), Joe Sorren (USA), Marion Peck (USA), Ray Caesar (UK), Travis Louie (USA), Camille Rose Garcia (USA), and special guest artist Mark Ryden (USA). The exhibition opens to the public on October 13, and there will be a 10th anniversary celebration exhibition in Rome in November.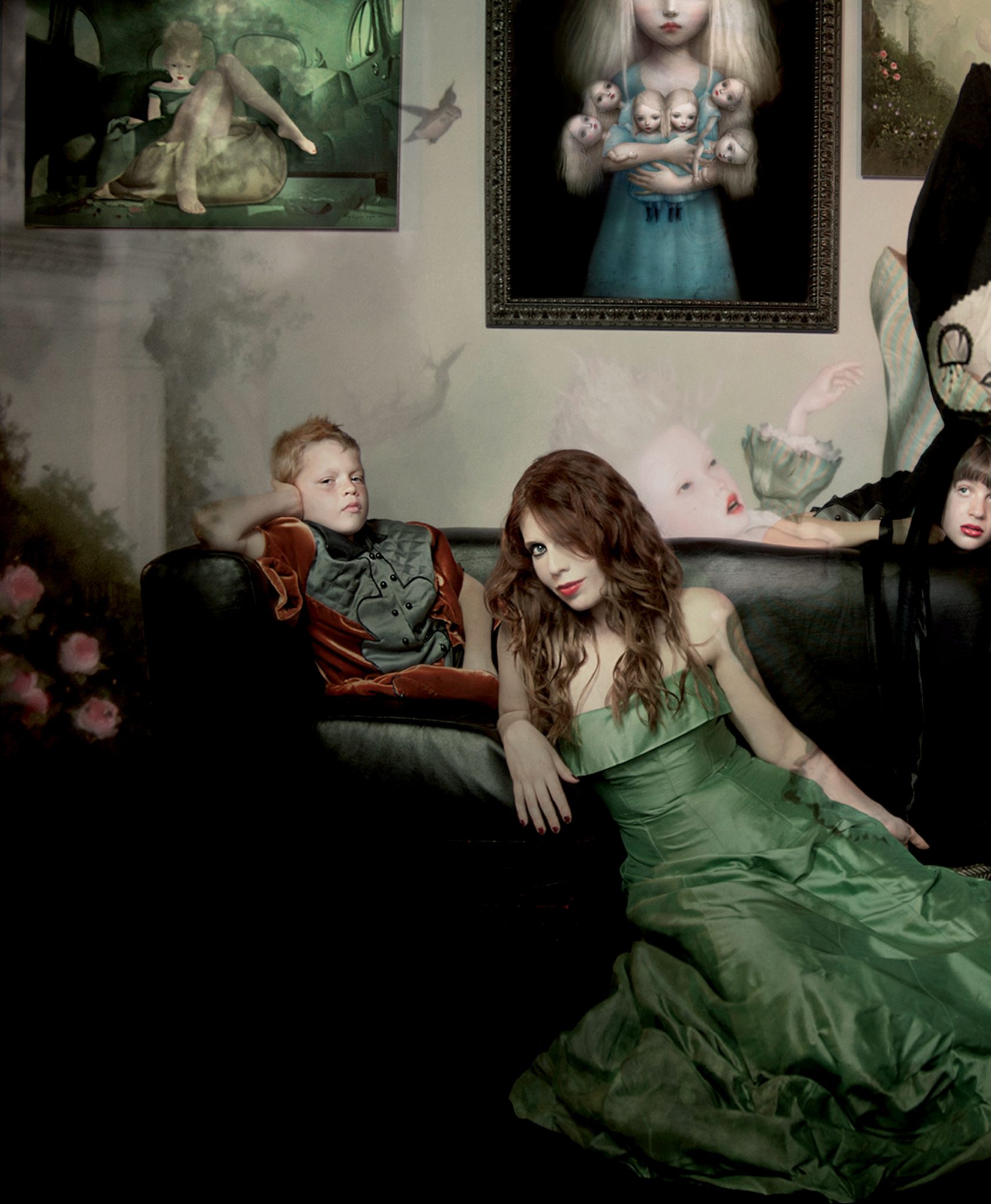 Alexandra Mozzanti portrait Barbara Oizmud Photography ©
Alexandra Mazzanti comes from a creative family, niece of the Princess Alexandra Hercolani of Bologna, she inherited an art collection from her grandmother, which planted the seed for her love of art. Alexandra graduated from the Liceo Classico in Rome, before attending the Accademia di Belle Arti in Venice, and going on to work with Venetian sculptors and painters. Inspired by a period living in New York and California when she met Pop Surrealist Mark Ryden, she founded Dorothy Circus Gallery in 2007 with her mother, Maddalena di Giacomo, as a space "in between New York and Wonderland". Dorothy Circus Gallery was the first contemporary Italian art gallery to focus on Pop and Neo-surrealism, and on the new expressions of figurative art.

Marion Peck 'Fuck Patriarchy', copyright the artist/ Courtesy Dorothy Circus Gallery
Lee Sharrock interviewed Alexandra Mazzanti as she prepared to open her new London gallery in Notting Hill.
Lee Sharrock: You were born into a family of collectors interested in 18th and 19th century paintings, and inherited an art collection from your grandmother. How did you go from that period of history to become a key figure in the international Pop surrealism scene?
Alexandra Mazzanti: As a child growing up in Italy I've been surrounded by figurative art, from the colourful Roman affreschi to the dark madonnas of Caravaggio. While listening to my mother plain Brahms, I experienced classical Art vibes from the darkest sides of Goya and the mysterious scenarios from Bosch, Velasquez, Vermeer and the melancholic portraits and romantic imagery with Rembrandt, Renoir, as well with Waterhouse, Klimt, Tamara de Lempicka. That's why I become a dreamer.
Through the centuries, I discover the link between Art and emotions is Fantasy, that power of imagination coming from your own inside world you can project on each art fragment that capture you: gazes, objects, hands, blood… All between real and unreal, whichever immortal.
What make me more curious about Art is the iconography and symbology, that surreal gathering of strange creatures living in the woods, or in the sky between the clouds: Angels, devils, cerberus, centaurs, nymphs, fauns, sirens, cyclops… I can say that Pop Surrealism could be seen as a summary of all these imaginary elements from Ancient Greece to the Renaissance to Pop Surrealism. The technical painting skill in this new Mythology is another Key element I'm attracted, as a fan of Watteau and Fragonard, Lancret and Bouguereau I got a crush on Ray Caesar's artwork, and I got lost in his modern tailored panneggio. As a lover of Renoir and Redon I could easily appreciate the deep feel of Joe Sorren's emotional brushes, as admirer of the meticulous wonder of Brueghel I got lost into Marion Peck's art, that drove me into another wonderful world, full of solitude and detachment that is simultaneously sweet and absurd, as well as the dusty, vintage imaginaries and their dramatic mood coming from Travis Louie otherworldly Victorian portraits.
Travis Louie, 'Firefly', Copyright the artist, Courtesy Dorothy Circus Gallery 
LS: How would you define the movement of 'Pop Surrealism', and how have you nurtured the artists you work with from that movement during 10 years of Dorothy Circus Gallery in Rome?
AM: Pop surrealism was born in California at the end of the 70s, with its roots in the odd creations by the cartoonist Robert Williams, Joe Coleman, Gary Baseman, Tim Biskup, as also in the "Big Eyes" by Margaret Keane and in the nymphs of Mark Ryden. It burst suddenly on the Contemporary Art scene, starting from the most concealed alleys of the underground, and then developing radically to become known as an artistic movement deeply affirmed and unique in its style. Its unicity is made by the drastic detachment from the current art language, that Pop surrealism substitutes with a deeply figurative vocabulary, caused by the rebirth of a collective sensitivity toward the most sincere of the visual messages.
Pop Surrealism mirrors perfectly the controversies of the cultural and historic context we live in. It mocks this reality through its idols, a sharp yet sophisticate irony, a wise sarcasm that suddenly reveals a new awareness, the presence of the surreal.
Pop Surrealism is about the projection of the unconscious and its meanders. It grows up as a movement, losing its first stylistic traits to assume a new fairy-tale presence, where childhood, personified through the same childlike figures, becomes metaphor of the pure and innocent soul, the one who can glimpse the oneiric universe of subconscious where nothing is absurd and the nowhere gets concrete.
At the same time, the grotesque in the paradoxical compositions makes the atmosphere ambiguous and no longer safe, because of the unknown that hides behind the trunks in enchanted woods, reflecting the same imperceptible quality of human's subconscious.
As happens for almost all the cultural Avant-guards that dares to oppose to what has become tradition, Pop Surrealism takes shape to restore a forgotten figurativism through new interpretative rules. Those recall the magic realism of the early 900s when the unlikely is placed in the middle of reality through sceneries that pop surreal artists reinterpret to create an artistic movement on its own.
I played a small part in this but I guess I offered and I'm still offering the Artists the opportunity to show on new stages, to go deep into their own concepts and to emerge as original as they are. I proudly saw the expansion of the surreal language, reaching the Asiatic coasts to merge with the oriental surrealism of key artists such as Yoshitomo Nara, and at the same time, the codes of Street Art of second generation, giving birth to a new new contemporary figurative that I'm watching spread to the field of photography, design and fashion, the new surrealism has become integrated part of the Art World.
LS: Why did you decided to open a gallery in London, and what was the reason for choosing Notting Hill for your inaugural exhibition?
AM: I love London but I have to admit I'm new to its inner life. I've been living in Oxford since october 2016 due to my children's high school.
I visit London every weekend and I keep on wondering. I felt Notthing Hill is the area that reflects my personality, I would like to live there and I like to spend my free time a little far from the chaotic areas of massive shopping or night life. The Dorothy Circus Gallery premises aim to offer an intimate ambient and due to this introspective mood it might be properly located in this romantic, evergreen and charming part of the City.
LS: Many of the artists you represent at Dorothy Circus Gallery are featured in museum shows and collections. What recent or upcoming museum exhibitions are DCG gallery artists exhibiting in?
AM: All of them have been exhibited in many museums and galleries worldwide, including: "Art from the New World" show at the City Museum of Bristol, along with the "Pop Surrealism" show at the Museo Carandente of Spoleto, "Hey! Modern art and Pop Culture" at the Musée de la Halle St Pierre in Paris, "Turn the Page" at The Virginia Museum of Contemporary Art (MOCA) and they are currently on show in the exhibition "Cross The Streets" held at MACRO Museum of Contemporary Art in Rome.

Kazuki Takamatsu, Copyright the artist, Courtesy Dorothy Circus Gallery
LS: Mark Ryden is the star guest artist at the launch of your London gallery space. Can you tell me a bit about his work, and the different genres he works in, such as his recent creations for the sets of an Opera in New York?
AM: Mark Ryden is the star guest artist at the launch of your London gallery space. Can you tell me a bit about his work, and the different genres he works in, such as his recent creations for the sets of an Opera in New York?
Mark Ryden is the absolute father of the New Surrealist movement and is at my opinion the greatest artist alive. He played a fundamental role in the Pop Surrealism scene, defining the boundaries of a visionary revolution. That's the reason why we are honoured to show one artwork from private collection while proudly presenting in London the most original selected prime movers of the new surrealistic art field.
His creations are terrific, enormous canvases painted with the most refined oil painting technique I've ever seen, depicting cryptic and fantastic scenarios coming directly from some enchanted dimensions he only knows about. Sophisticated elegance and precious detailing add gravity to Ryden's enigmatic themes. Among the subject of his artworks, there are cultural symbols and religious icons, alchemical elements, food and items of western. The Artist melts all this together to create idealised, magical figures inhabiting diverse ambiguous landscapes, in order to give life to new fables with both a fairytale and satirical macabre touch from real life. The meaning in Ryden's works lies within the image itself, and that is what makes mystery the most distinctive quality of his paintings, the door on the essence of dreamland. His paintings do not reflect a dream, but they mark the boundary between conscious and subconscious, where all souls are connected with each other and with other perceptions only through the ways of imagination.
Looking back at the History of Art we can find references of his masterpieces in the mystical sets of dark details of the 16th and 17th-century art, as the masterpieces of Bosch and Brueghel, the Aertsen's "Macellaio," the De Ries's "The Tree of Life" and the Provost's allegories, we could clearly see classical roots of the Mark Ryden's "pop and pink" body of work. The "Creatrix" sprouts from Van Eyck e Schongauer madonnas, as "The Magic Circus" is a personal rendition of Miro's "il Carnevale di Arlecchino."
Ryden is the main reason I found it extremely spontaneous to appreciate the beloved and familiar pattern of the modern spirituality and the otherworldly vision of Pop Surrealism. Among his top achievements there is a career-spanning retrospective "Cámara de las Maravillas" at The Centro de Arte Contemporáneo of Málaga, as well as an earlier retrospective "Wondertoonel" at the Frye Museum of Art in Seattle and Pasadena Museum of California Art. He created numerous album covers including Michael Jackson's "Dangerous", the 4 Non Blondes' "Bigger, Better, Faster, More!", the Red Hot Chili Peppers' "One Hot Minute". Last but not least, incredibly beautiful scenery and costumes Ryden was recently commissioned to create for a new production of the ballet "Whipped Cream", put on by the American Ballet Theatre with choreography by Alexei Ratmansky and based on Schlagobers, a two-act ballet by Richard Strauss, first performed at the Vienna State Opera in 1924. The artwork we will have on show, not for sale, is part of the exhibition "Whipped Cream" he recently held at New York based Paul Kasmin Gallery who represent him.

Mark Ryden, 'Snow Yak Structure', 2016, Copyright the artist, Courtesy Dorothy Circus Gallery

Joe Sorren, "Three to get ready", Copyright the artist, Courtesy of Dorothy Circus Gallery
Pages from Mind Travellers Diaries is at Dorothy Circus Gallery, 79-81 Ledbury Rd. London W11 2AG,from 13 October to 15 December.
Dorothy Circus Gallery Rome 10 year anniversary exhibition: November 11th to January 2017
http://www.dorothycircusgallery.com
Categories
Tags