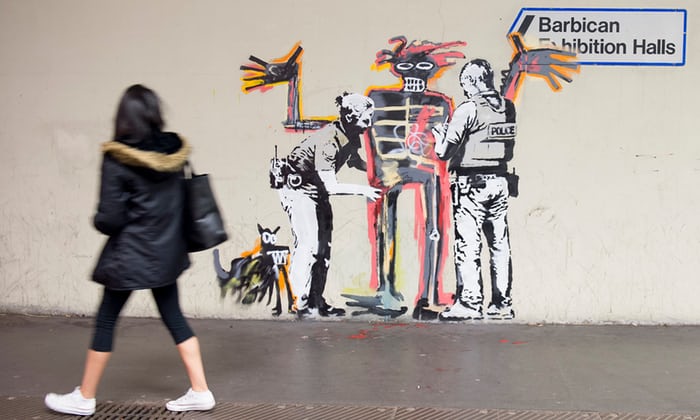 Banksy has produced two murals at the Barbican centre seemingly inspired by the upcoming Basquiat exhibition  #BoomForReal. Announcing the new artworks on Instagram:
The first image is of a ferris wheel with people queueing up at a ticket booth underneath. Crown motifs, common in some of Basquiat's art, replace the wheel's passenger cars. The second post is captioned: "Portrait of Basquiat being welcomed by the Metropolitan police – an (unofficial) collaboration with the new Basquiat show."
In the second mural, which is clearly inspired by Basquiat's Boy and Dog in a Johnnypump – one of his most famous artworks Banksy has portrayed police officers searching and questioning the boy figure as the dog looks on.
The exhibition, which is the first large-scale UK show of Basquiat's pioneering neo-expressionism, opens on Wednesday at the arts centre. It will feature more than 100 works alongside rare photography, film and archive material.
It comes nearly 30 years after the artist, DJ, poet and musician, who was also Madonna's former boyfriend, died from a heroin overdose.
Basquiat: Boom for Real Barbican Art Gallery, London, UK 21 September 2017 — 28 January 2018 #BoomForReal
www.barbican.org.uk/BasquiatNews
Categories
Tags