This Saturday a large sculpture by Anish Kapoor will be unveiled in front of De Pont Museum in the presence of Her Royal Highness Princess Beatrix. Sky Mirror (for Hendrik) is a gift commemorating the museum's twenty­fifth anniversary. Tilburg will be the first Dutch city to have a Kapoor sculpture in its public space.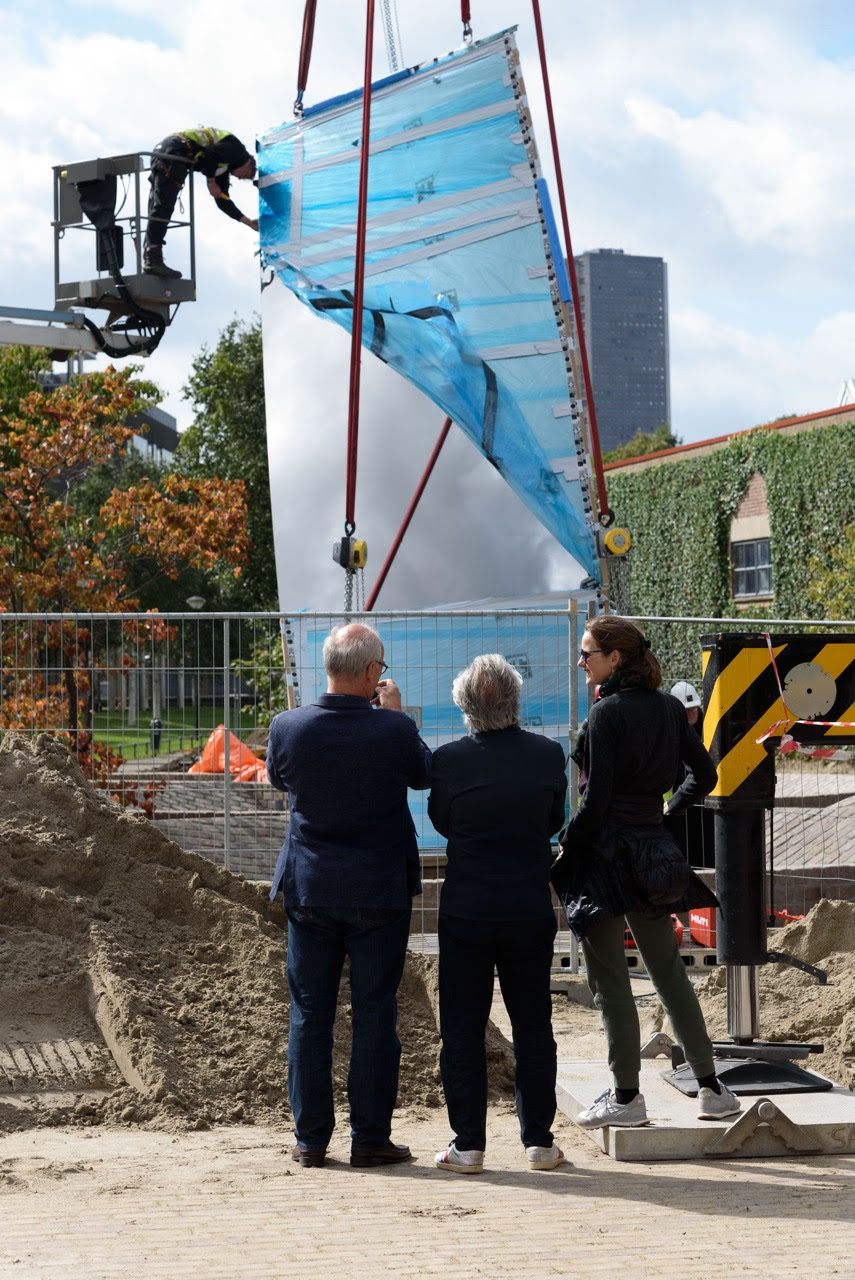 Installation of 'Sky Mirror (for Hendrik)' in front of the entrance to De Pont.
Kapoor has a long­standing relationship with the museum and has created a sculpture of stainless steel, six meters in height called Sky Mirror. The work will be placed in a water garden specially designed for it by the landscape architect Sophie Walker.
After the unveiling the museum will open the exhibition ReView, for which special works of art that have been included in De Pont's past exhibitions will return to the collection as 'guests'. The unveiling of Sky Mirror and the opening of ReView will start off the cultural season in Tilburg. Admission to the museum is free throughout the entire weekend.
Anish Kapoor says of the museum,
"De Pont has allowed me, over many years, to show my practice as it really is. For an artist, it is not just a question of making a display of the work: great museums allow artists to use their work to explore new ideas. De Pont maintains a balance between the experimental private world of the artist and the public world of exhibitions."
About The Museum
The museum has been named after the attorney and businessman Jan de Pont (1915­1987), whose estate provided for the establishment of a foundation to stimulate contemporary visual art. De Pont is housed in a former wool­spinning mill that has been transformed by Benthem Crouwel Architects into a space where contemporary art can be seen at its best. The vast, light main area of the monumental former factory and the intimate 'wool­storage rooms' constitute a beautiful environment for the many works of art that De Pont has collected since its opening to the public in September 1992. From the start, an aim of the museum has been to build a collection that concentrates not on breadth, but on depth, and thus provides a view of key artists from our time. In addition to Anish Kapoor, major artists represented in the museum's collection include Marlene Dumas, Roni Horn, Richard Long, Tacita Dean, Ai Weiwei, Mark Wallinger, Rosemarie Trockel, Thomas Schütte and Bill Viola.
Categories
Tags