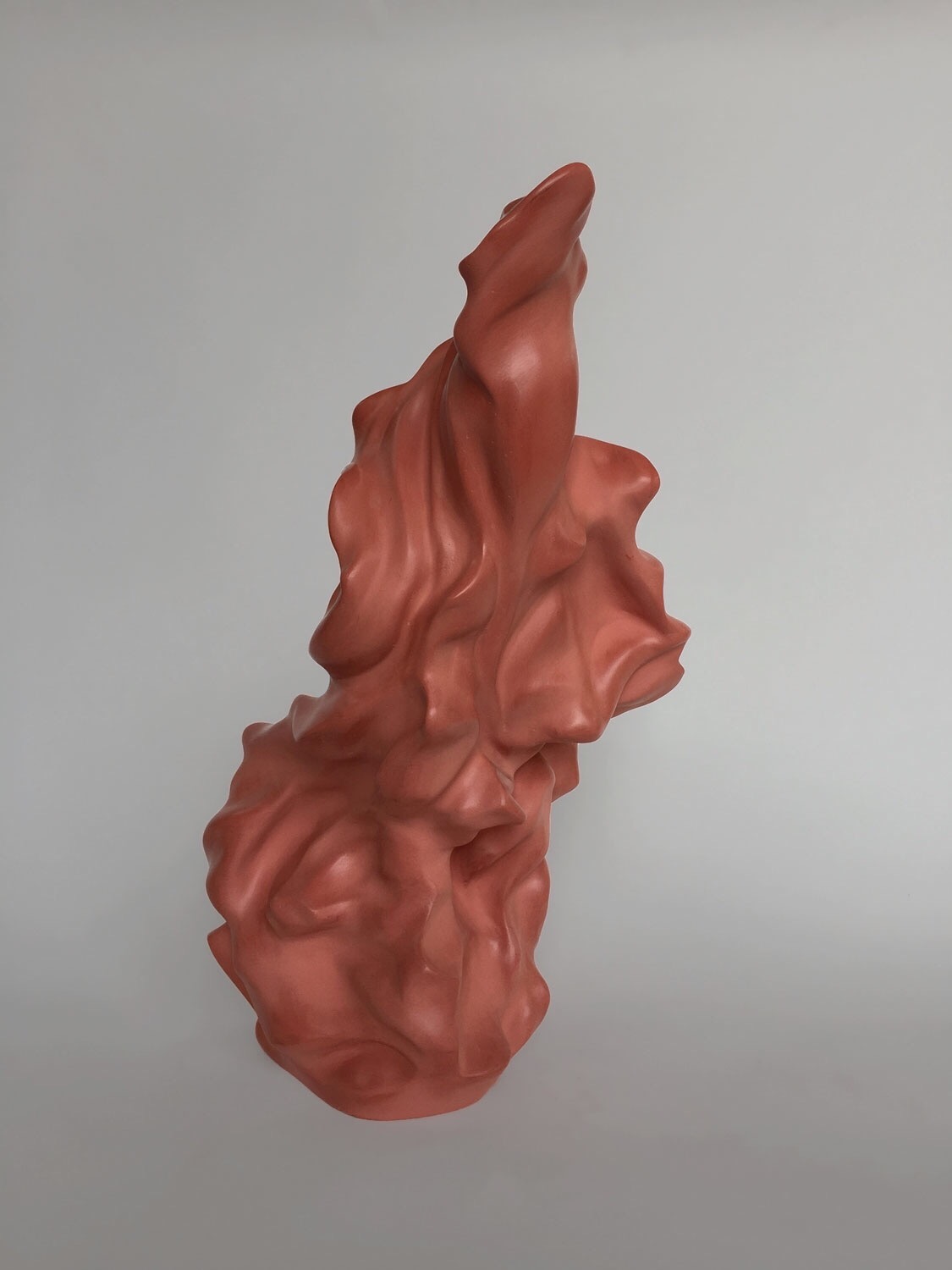 fenix terracotta jesmonite composite Image courtesy of the Artist
Mysterious figures in cascading robes and bird-like forms appear as if they are swirling around, caught in dance, in the background there is a recurrent, repetitive beat, a call to movement. There is life to them, or rather, a life force, an impression that they are breathing. They generate energy; sculptures positioned, but circling, promising the dance of the Sufi. As thick swathes of marble and stone whip and wrap around them we feel a sense of being caught up in a maelstrom, of being in that perfect moment of stillness within movement that is the eye of a raging storm. These sculptures – for that is what they are – stand throughout the gallery like sentinels, with a mind to breaking out.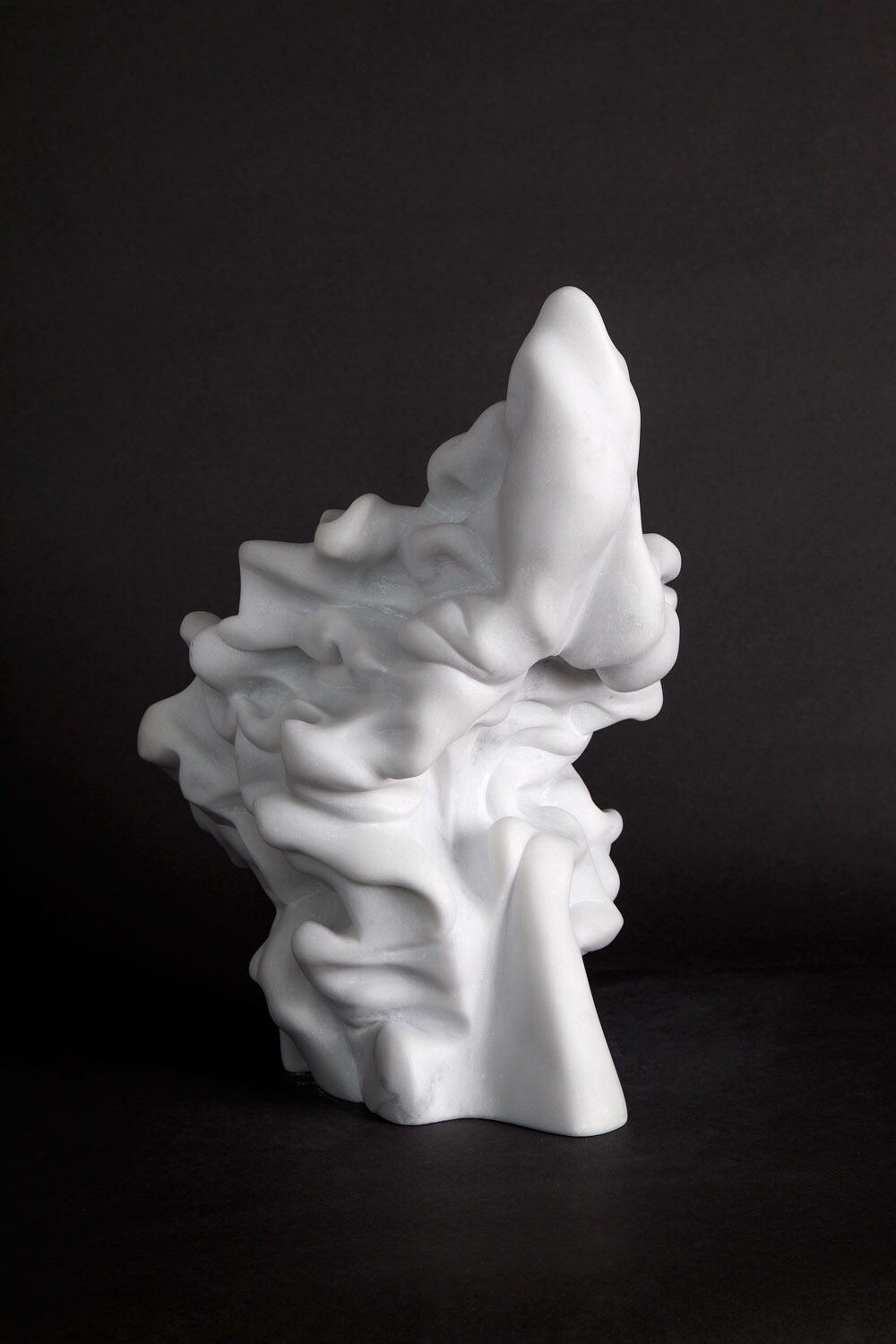 looking for a place to land carrara marble Image courtesy of the Artist
'everywhen' combines classical materials and ideas in contemporary form as personal and cultural reference points crash and collide. Sculptures stand throughout the gallery like sentinels, caught up in the eye of an imagined storm, with a mind to breaking out. Together with the accompanying paintings, a life force, the force of history, a land in flux is explored whilst the exhibition itself evokes sensations of stillness and movement, surrender and resistance.
Featuring works in Statuario and Carrara marble, Stone describes the rationale for his choice of material as "wanting to combine an elegance and strength that only Italian Marble can, it produces work that are beautiful and demand attention". Stone worked with Italian artisans, and suggests that "combining modern thinking with a traditional, artisan ethic, results in works that are impressive in their bold forms, yet are so refined they almost glow with vitality".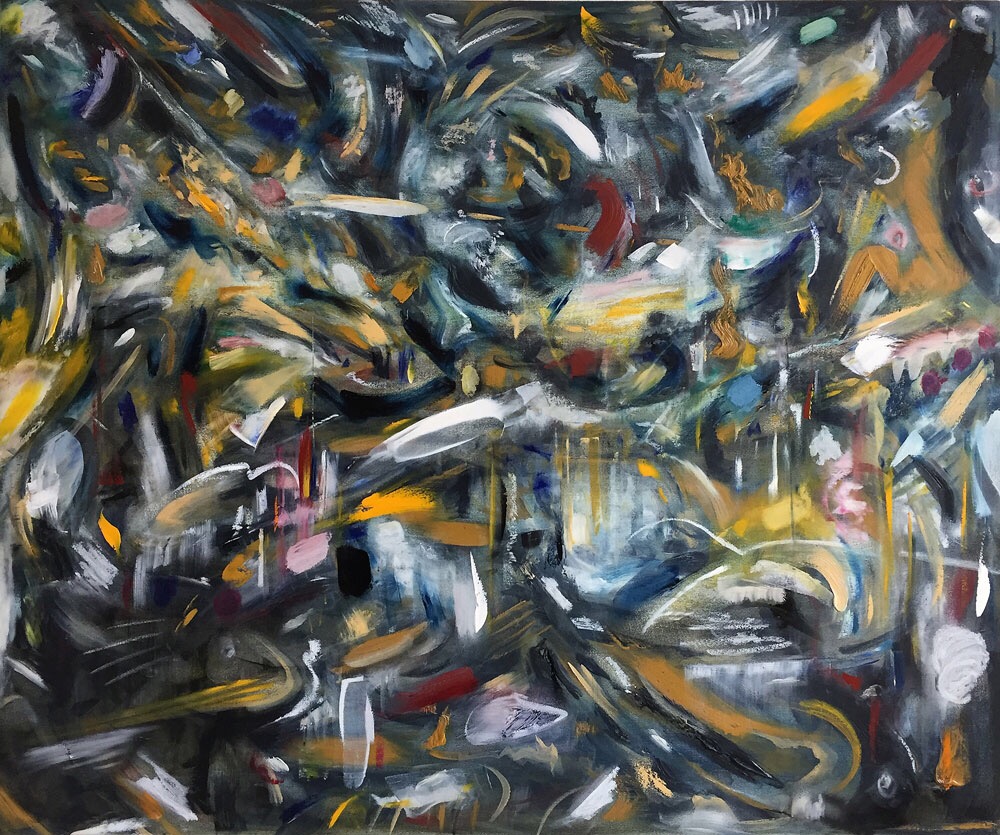 we have made a new world (after Paul Nash), oil, oil stick on plywood panel, tulip wood moulding, black finish Image courtesy of the Artist

new english fire i, oil on plywood panel, tulip wood moulding, lime white finish Image courtesy of the Artist
A new-found language in sculpture and painting has emerged, continuing to draw on the rich tapestry of art history, inspired by the colour palettes of the great masters as well as a plethora of diverse art historical, literary and pop cultural references, from the impact of the sublime in Caspar David Friedrich to the poignancy of narratives such as Tristan and Isolde to the songs of the artist's soundtrack that drive his making. These new works are significant not only for a complete letting go of the found object and a more personal archaeology, but also for a far bolder colour palette, as Stone moves away from the dreamier hues of Turner to flashes of Kandinsky.






This new body of work reflects both a political awareness of its time and an aesthetic that is unique. Utilising premium Italian marble and craftsmanship alongside contemporary colour, Richard's work reflects the state of the current world order and a desire for transcendence.
As Richard says:
'Attempting to stand still in the chaos and maelstrom of political discord, I have been exploring this position, looking to beauty in art as a consolation in increasingly uncertain times. From my own modern British art history to Europe and it's modern twentieth century art history, it has represented a significant shift in my practice where I have embraced my pan-european identity and desire for a new, bold, beautiful future that resets energies that have become distorted.'

bird gerhl bronze jesmonite composite Image courtesy of the Artist
"everywhen" runs from 8 September – 8 October 2017 at Kristin Hjellegjerde
Kristin Hjellegjerde Gallery Ltd. 533 Old York Road London SW18 1TG
kristinhjellegjerde.com
About Richard Stone
Stone is a London and Italy based artist who received an MA from Central Saint Martins and is a recent Fellow and Trustee of the Royal British Society of Sculptors. He is included in the museum exhibition Nature Morte following the book of the same name by Michael Petry, published by Thames & Hudson, Hirmer and Ludion (2013). The exhibition returns to the Guildhall, London, (September 2017 – April 2018) having already toured to The Four Domes Pavillions | National Museum of Wroc?aw, (2017), Konsthallen- Bohusläns, Sweden, (2016) and Ha gamle prestegard, Norway (2015). Recent works have been showcased at Volta, Basel, (2016, 2017) and the London Art Fair (2016) whilst recent solo exhibitions include in the shape of centuries at James Freeman London (2015) and gleam at Kristin Hjellegjerde, London (2014). Stone is the recipient of numerous awards and prizes includingfrom Arts Council England (2013) and from the Royal British Society of Sculptors | Brian Mercer Charitable Trust for a scholarship in bronze at Fonderia Mariani, Italy (2014) where he was mentored by Helaine Blumenfeld OBE. In 2012 he was a finalist for Anthology at CHARLIE SMITH London and shortlisted for the Beers Contemporary Art Award. In 2011 he was included in The Threadneedle Prize for Painting and Sculpture. Recent media coverage includes Time Out, The Londonist, Contemporary British Painting and State Media. His works are in collections in the UK, Europe and United States.



Categories
Tags