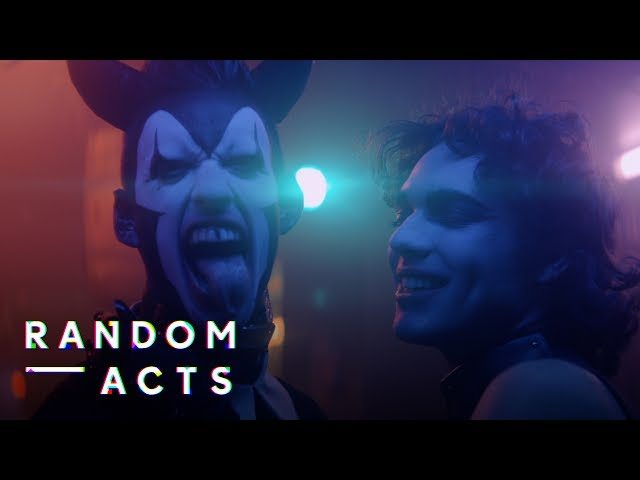 Channel 4's Random Acts has partnered with Tate to present six films in response to their new exhibition, "Queer British Art 1861-1967". These captivating short films provide glimpses into LGBTQ lives through intimate portraits of six individuals. The films use differing styles of storytelling, with each queer filmmaker bringing their own creative approach.
Commissioned in partnership with Tate by Channel 4's Random Acts and produced by Prettybird UK the third instalment in the series is directed by Matt Lambert and features avant-garde performance artist David Hoyle. (Watch Below)
The short film shows David recounting his first time attending a gay club – transcending boundaries as he enters a 'forbidden world' denied to him through his religious upbringing. He revels in this safe space, shrouded in hues of purples and pinks: a hedonistic escape.
"I knew that I was going to meet people, hopefully similar to myself, and not feel so alone…"
– David Hoyle
Directing videos for Declan McKenna, Gucci and Years & Years, Lambert expertly captures the intimacy and freedom found within LGBTQ+ communities. When discussing God Is Watching, Lambert says
"David has been someone that I've been fascinated with for years since I first saw his tour in London as Divine David. We first met through James Jeanette when I asked him to make a cameo in a music video I made for Declan McKenna. Our connection grew when I recently made a video for his husband, Christeene, in collaboration with Rick Owens. David has also been a muse for Rick and even wears a custom piece by him in the video. It was an honour to pay tribute to one of our queer prophets whom the community holds in such high regard, but has gone relatively unsung to the masses."
Featuring works from 1861–1967 relating to lesbian, gay, bisexual, trans and queer (LGBTQ) identities, Tate Britain's latest exhibition 'Queer British Art 1861–1967' marks the 50th anniversary of the partial decriminalisation of male homosexuality in the UK. The show explores how artists expressed themselves in a time when established assumptions about gender and sexuality were being questioned and transformed.
"Queer British Art 1861-1967" is on at Tate Britain until 1st October.
www.tate.org.uk/
About Mark Westall