Art collections in hotels used to be a miscellany of prints of ships, cows, seascapes, landscapes and buildings, depending on whether it was by the coast, or an urban or rural site. And that was it. Hopefully, things have changed and today they are presented as a cohesive series of artworks; some of them with an activist element.
The just launched Ned Hotel in the City, after a £200 million revamp, focuses on women artists inverting the CEOs FTSE gender ratio of 93 men / 7 women. The project is masterminded by Kate Bryan, Arts presenter, curator and, now, Head of Collections at Soho House. Bryan worked before at the Michelangelo's Drawings exhibition at the British Museum, the Cat Street Gallery in Hong Kong and the Fine Art Society in Bond Street.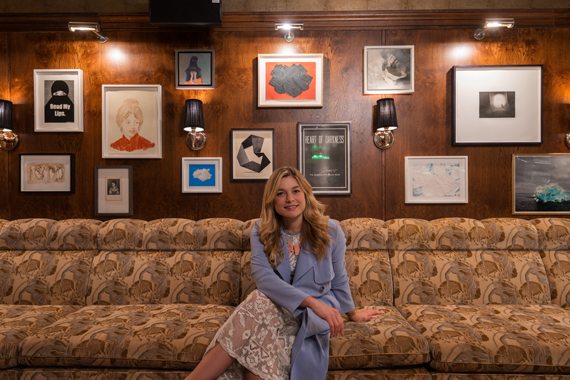 Kate Bryan in The Vault. Photograph by Gina Soden.
The 100 mainly small size works are all displayed in one of the rooms within The Vault, as the building functioned as a bank, and instantly, make a clear statement that talent and not gender should be the selection process in all professional fields. The pieces are shown in extremely well-studied and semi-chaotic wall art installations. Unbalanced, balanced; constantly upping the game. At some point, a 3D work by the taxidermist artist Polly Morgan displays a hedgehog skin on a rectangle base which at first glance can be disguised as the black lamp next to it. A reminder that nothing is what it seems. Word based artist Jenny Holzer tells us in a to-the-point way: "I see you". As the confident matriarch of a dynasty that will make sure you behave.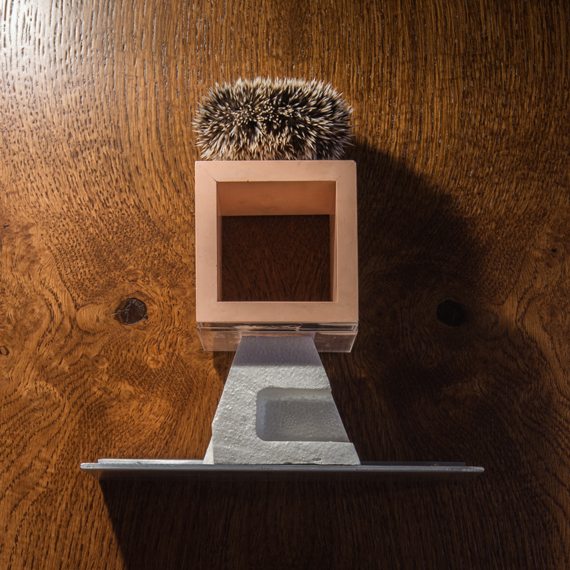 Artwork by Polly Morgan. Courtesy the artist, the photographer Gina Soden and Soho House Co.
Exquisitely beautiful nude drawings by Tracey Emin and Rachel Howard hang on both sides of the bar, who happen to be friends. It reminds us a bit of the Picasso/Braque correspondence when each other's paintings could be easily interchanged. History repeats itself. As Bryan comments: "artists were recommending other fellow artists and a sense of camaraderie developed". It invites the viewer on a journey of discovery of the artmaking of today.
LB – When you were asked to curate, and acquire, the art collection for the Ned hotel as a part of a £200 million renovation project, how did you feel about such an enormous challenge?
KB – When I first heard about The Ned I knew it would be unique opportunity to create an art collection that could speak to a different London audience, namely the finance sector, on their territory. The Lutyens building that The Ned now occupies, its neighbours the Stock Exchange and the Bank of England and the whole area has a patriarchal history and that's what I wanted to subvert. The FTSE 100 is the language of the City and the gender ratio (93 men and 7 women CEOs of FTSE 100 companies) says volumes about gender disparity generally. So, by inverting that ratio and presenting 93 women and 7 men artists I was able to make a statement about the under representation of women in the artworld. They are all installed in one room in the former bank vaults and they really command your attention when you walk in, a nice noisy statement! What's great about The Ned owners is that by backing the 'Vault 100' they are actually do something to help correct the imbalance by putting their money where their mouth is and acquiring work by the best women artists working today. (The 7 male artists were all included on the basis that they work in partnership with women, like Langlands and Bell.) The whole project was a thrill from beginning to end, all the artists bought into the concept and I was so blown away by their support and encouragement. I nearly fell off my chair when Rachel Whiteread emailed me, she is a hero of mine and I had never met her before.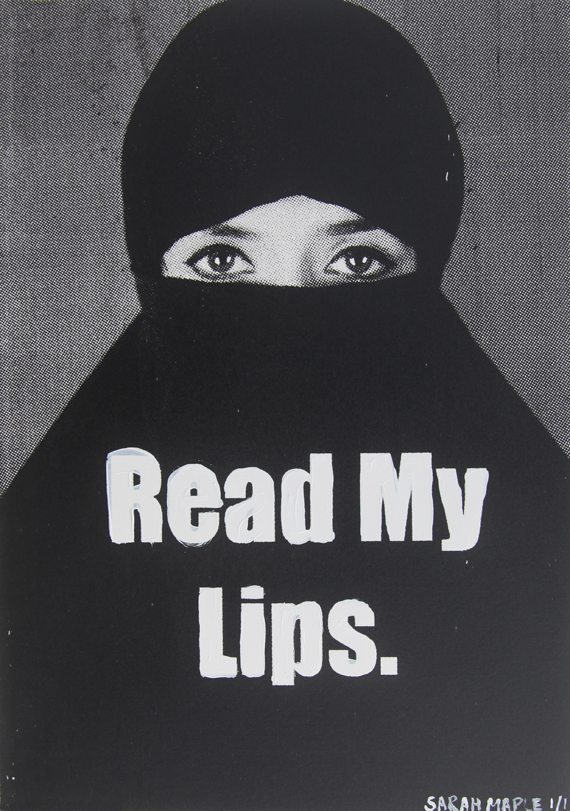 Artwork by Sarah Maple. Courtesy the artist, the photographer Gina Soden and Soho House Co.
LB – Can you mention two works that are special for you and why?
It's truly hard to pick just two when I have what I feel is a damn near perfect collection of 100 strong artworks. A work I often point out to people is Celia Hempton's painting, something you see immediately on the right as you enter the vault. It's a semi abstract figure, close up like Courbet's L'Origine du Monde but here the art historical tradition is reversed and we have a young woman painter depicting and objectifying a male nude. His flacid penis is a pretty direct message as you enter the room, but you need to point it out, it's an elegantly reduced description. The other work that I love is Jenny Holzer's piece, she was particular about what work went in and it reads I See You which I thought was a succinct and confident message from one of the greatest living women artists.
LB – How was the idea of an art collection focusing on women's artists developed?
I was blissfully living in Rome when I accepted the role as Head of Collections for Soho House and Co. Nick Jones, my boss and the founder of Soho House had told me about The Ned which is a partnership between Soho House and the Sydell Group. I found it hard to imagine building an art collection for the city and on my last night in Rome before I flew back to start work I had one of the most productive glasses of prosecco of my life – the FTSE 100 inversion popped into my mind and took hold so quickly that I knew there was no other way to do it!
The art collection can be viewed by appointment, or if you have friends who are members of the Ned, be nice to them. More information on the website: www.thened.com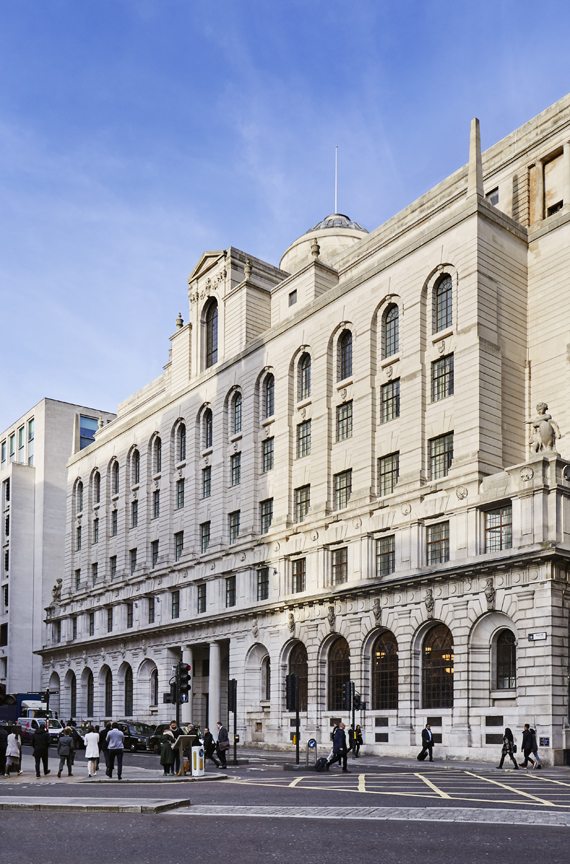 Exterior The Ned. Courtesy Soho House Co.
Categories
Tags