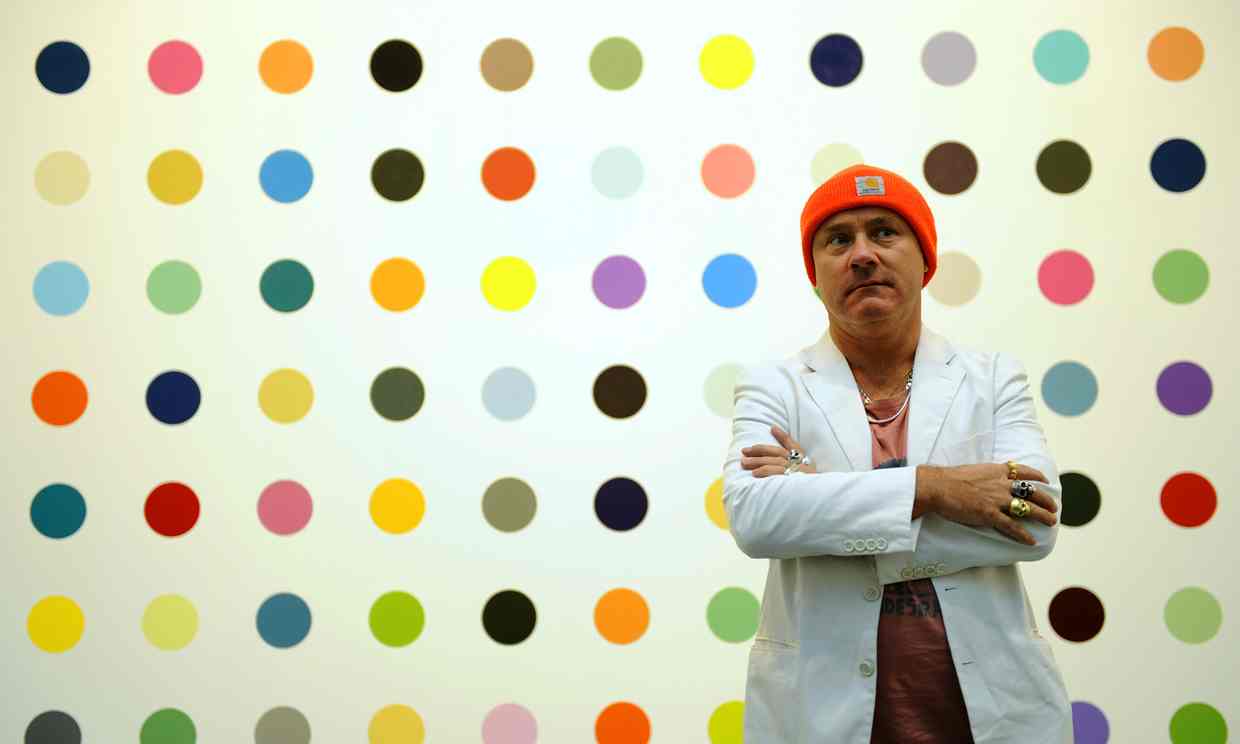 ---
This article titled "Three men charged over Damien Hirst counterfeits that sold for $400,000" was written by Amanda Holpuch in New York, for The Guardian on Monday 19th June 2017 22.16 UTC
Three men were charged in New York on Monday with making counterfeit Damien Hirst prints which they sold on for more than $400,000.
The fake "limited-edition" Hirst prints were sold online to dozens of art buyers around the world, according to Manhattan district attorney Cyrus Vance. The group included a man who had been released from prison only 15 days earlier for a similar scheme.
"The art market's demand for limited editions can lead to fake pieces with little value," Vance said in a statement. "In this case, the alleged fraud went beyond plain imitation, and the defendants are charged with deceiving a multitude of buyers into purchasing counterfeit art that was falsely passed off as genuine."
It is not clear which works were forged, but at least one of the counterfeit prints was the work Esculetin from Hirst's series of spot paintings.
The case marked at least the third time Vincent Lopreto, 52, has been charged with selling counterfeit Hirst works. He pleaded guilty to similar charges in January 2014 and February 2008.
His most recent scheme ran from October 2015 to February 2017, according to court papers. Buyers of the fake Hirst prints were based in the US, UK, Canada, Germany, Italy, Macedonia, South Africa, Taiwan and South Korea.
Lopreto worked with two other men, Marco Saverino and Paul Motta, to sell the counterfeit prints online, providing buyers with fake documentation to deceive them, the district attorney's office said.
All three men were charged on multiple counts of theft, or grand larceny, and scheme to defraud.
Joseph K Levene, an art dealer in New York, said counterfeit Hirst prints are rampant online. "On sites like eBay, you have people who are attracted to the art of deception because people love to be fooled with low prices," Levene told the Guardian.
Levene, president of Joseph K Levene Fine Art, has written extensively about how to safely buy art online. He said people will sell a forgery on one website, get caught, shut down their seller page and start a new one on another site, all the while evading prosecution.
But the problem with forgeries is not exclusive to the internet, Levene said. "You can get screwed anywhere – it doesn't have to just be online.".
Hirst unveiled his first new work since 2014 in April at the Venice Biennale. His company, Science Ltd, did not immediately respond to a request for comment on the forgery case.
Lopreto was arrested and jailed last week in New Orleans before being extradited to New York.
He was sentenced to two to four years in prison in May 2014 after pleading guilty to identity theft and scheme to defraud.
That case also resulted in the conviction of a Florida pastor, who the district attorney said tried to sell five fake Hirst paintings after purchasing them from Lopreto. The pastor, Kevin Sutherland, attempted to sell the works to an undercover detective after an art specialist at the auction house Sotheby's raised questions about the painting's authenticity.
And in February 2008, Lopreto was booked in a California jail for selling forged copies of Hirst's Valium, LSD and Opium on eBay. He plead guilty to charges of creating fraudulent certificates of authenticity for the works and was sentenced to prison.
guardian.co.uk © Guardian News & Media Limited 2010
Published via the Guardian News Feed plugin for WordPress.
Categories
Tags