Caen Amour, 2016 Choregraphy by Trajal Harrell Photograph by Orpheas Emirzas
This summer, Barbican Art Gallery presents the first ever performance exhibition of the New York- based choreographer and dancer Trajal Harrell. Following a two year residency at The Museum of Modern Art, New York (2014 – 2016), this ambitious project stages over 14 of Harrell's performances including one of the earliest works he created in 1999, right through to now in a changing, daily programme of live performances. The Art Gallery will be transformed into a space where performances, featuring a selection of different dancers, some including Harrell himself, are scheduled to activate at certain points with film projections elsewhere. Visitors can explore the immersive space, choosing their own route between performances and stage installations.
The selection of works for the exhibition reflect Harrell's experiments with dance and exploration of diverse dance forms from Japanese butoh dancing to hoochie koochie, postmodern and modern dance, Classical Greek dancing, erotic dancing, voguing and entertainment, alongside his signature use of fashion runway movement, to create performances that are an exquisite blend of fact and fiction. Rather than historical re-enactments, Harrell rethinks how we process and interpret our pasts by creating dialogues between ideas and movements from across the globe spanning many cultures and centuries. He imagines how historical scenarios could have happened differently and in doing so is able to explore ideas around emotion, the body, gender, femininity and culture.
Harrell's best known for the series, Twenty Looks or Paris is Burning at The Judson Church (2009- 2013) which created a lively dialogue between postmodern dance and New York's voguing scene by posing the question:
What would have happened in 1963 if someone from the voguing ballroom scene in Harlem had come to downtown to Greenwich Village to perform alongside the early postmoderns at Judson Church? Included in the exhibition is Harrell's earliest work, It is Thus from a Strange New Perspective That We Look Back on the Modernist Origins and Watching It Splintering into Endless Replication (1999) which was his first exploration of the fashion runway and voguing, and set the foundation for future performances such as Twenty Looks …
Trajal Harrell said;
"One of the really exciting aspects of a performance exhibition of this scope is that the work born in the past comes alive in the future. Performance is, in fact, only of the now. So in this incredible context of Barbican Art Gallery, this is, truly, something only of this moment. "
At the heart of the exhibition is Harrell's most recent piece entitled, Caen Amour (2016) which draws inspiration from 'hoochie koochie' shows. These exotic and seductive belly dance-like spectacles originated in the late 19th century and evolved to become part of travelling fairs across America. Harrell's father would visit the shows in rural Georgia, U.S. throughout the 70s and 80s and the artist draws on this later form of the dance. Crossing cultural, geographic and chronological boundaries, Harrell creates a fictional encounter between the pioneer of early modern dance, Loie Fuller, founder of butoh, Tatsumi Hijikata and the Comme des Garçons founder, Rei Kawakubo. The performance takes place in an installation which initially has a clearly During the hour-long performance, colourful clothing is held up to dancers' sometimes naked bodies and their shapes manipulated as they transform into Harrell's contemporary reimagining of the hoochie koochie show. Music plays an important role in Harrell's work, evident during this performance, and he is inspired by a range of musical genres from classical to pop and contemporary.
The body is a recurring theme in Harrell's work. Bathing Suit, an extract from The Quartet of the End of Time (2008), explores the idea of nudity and the nude in performance and was Harrell's experiment with hoochie koochie dancing. These exotic dances where seen as the precursors to vaudeville and striptease.
In this survey of work, Harrell will present Untitled Still Life Collection (2011) which was commissioned by ICA Boston with visual artist, Sarah Sze. Sze strips her material practice to a thin line of blue string and with this, Harrell generates movement. Sculptural and choreographic elements interact and transform one another, generating a performance of playful tension.
Elsewhere in the exhibition, The Return of La Argentina (2015), originally commissioned by MoMA and a solo performance by Harrell, presents butoh dancing through the theoretical lens of voguing. Drawing upon memory and invention, The Return of La Argentina invites the audience into a fictional archiving of Japanese butoh co-founder Kazuo Ohno's renowned solo, Admiring La Argentina (1977), directed by the other co-founder of butoh, Tatsumi Hijikata and dedicated to the famed Spanish dancer, Antonia Mercé. Harrell came to Ohno's solo through his archival research on Hijikata, whose life and work was the subject of his two-year residency at MoMA. Throughout the performance, Harrell taps into butoh's obsessive returning, moving back and forth in time and between life and death.
In the Mood for Frankie (2016) also created during his two-year residency at MoMA, looks in particular at the figure of the muse. Harrell draws upon a diverse set of inspirations, ranging from Hijikata's muse Yoko Ashikawa, modern dancer-choreographer Katherine Dunham, filmmaker Wong Kar Wai, fashion designer Rei Kawakubo, singer Sade, dancers Thibault Lac and Ondrej Vidlar who work very closely with Harrell, and dancer and choreographer Kazuo Ohno to create a performance that according to Harrell 'spills out like a park of muses settled and unsettled between history and the imagination.' Three dancers perform within an installation of low square platforms, a small fish pond and rugs, interspersed with piano stools and low seating designed to encourage an intimate environment. As in Caen Amour, clothing is often passed amongst the performers or pressed up against the body.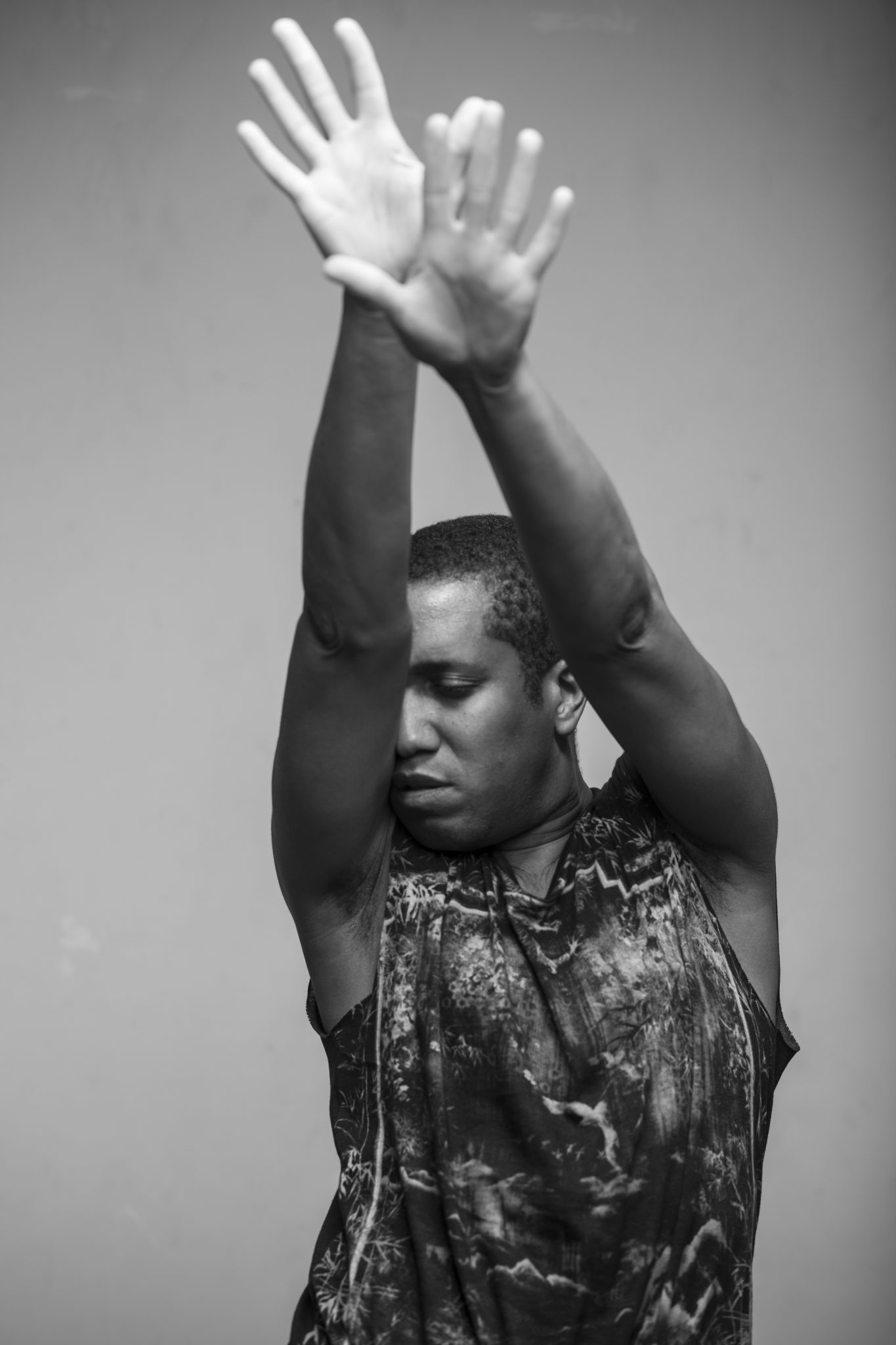 Trajan Harrell Photograph by Orpheas Emirzas
About The Artist
Born in 1973 in Georgia, USA, Harrell lives and works between New York and Athens. Harrell graduated from Yale University in 1990 with a BA in American Studies, going on to study at The Trisha Brown School New York; Centre National de la Danse in Paris with Yvonne Rainer; and the Martha Graham School of Contemporary of Dance in New York, amongst others. His work has been seen at spaces and organizations in New York such as The Museum of Modern Art, The New Museum, New York Live Arts, Performa Biennial, and The Bronx Museum of Art as well as internationally at The Margulies Art Warehouse (Miami), Leopold Museum (Vienna), Stedelijk Museum (Amsterdam), Serralves Museum (Porto), Fondation Cartier (Paris), Centre Pompidou-Paris, Centre Pompidou Metz, The Museum of Modern Art (Warsaw), ICA Boston, Liste Art Fair/Art Basel and Art Basel-Miami Beach. His work has been performed at festivals including Impulstanz Vienna, Festival d'Automne (Paris), Festival Avignon, and Panorama Festival (Rio de Janeiro) and toured in France, Germany, Switzerland, Portugal, Japan, Holland, Belgium, Austria, Norway, Sweden, Germany, Poland, Croatia, Brazil and Mexico, amongst others. His performance Judson Church is Ringing in Harlem (Made-to-Measure)/Twenty Looks or Paris is Burning at The Judson Church (M2M), was the first dance commission by MoMA PS1. He has been awarded the Guggenheim Fellowship; The Doris Duke Impact Award; a Bessie Award for Antigone Sr./Twenty Looks or Paris is Burning at The Judson Church (L); as well as fellowships from The Foundation for Contemporary Art, Art Matters, and the Saison Foundation.
Trajal Harrell: Hooch Koochie A performance exhibition Barbican Art Gallery www.barbican.org.uk/artgallery
Every Thursday to Sunday; 20 – 23 July; 27 – 30 July; 3 – 6 Aug; 10 – 13 Aug 2017
Thurs & Fri: 2pm – 9pm; Sat & Sun: 12pm – 6pm #trajalharrell
Categories
Tags