One of Europe's most inventive artists James Thierrée returned to Sadler's Wells last May with his latest production The Toad Knew, a seamless mix of mechanical marvels, music, surreal humour and acrobatic finesse. A performance that simultaneously infuriated and enthralled the audience, because it did not offer the traditional narrative. No place for storytelling. There was no need. Utter beauty ravishes independently without any extra support. Thierrée and his company embarked us on a journey with constant references to: Samuel Beckett and Theatre of the Absurd, Michael Jackson, Mad Max meets Delicatessen; anything goes, and went. One of the most original and stimulating productions I have ever seen.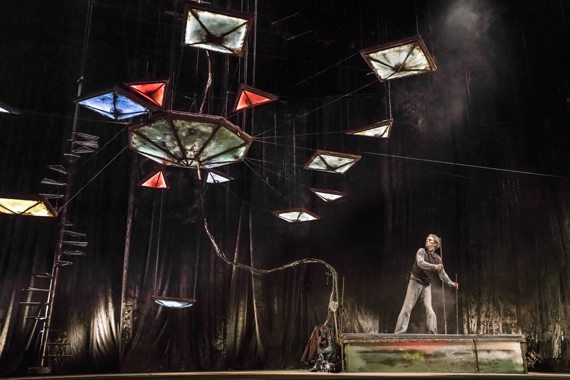 James Thierrée / Compagnie du Hanneton / Sadler's Wells @Richard Haughton
The Toad Knew features six characters who emerge into a strange netherworld of steaming water, animalistic machines and sinister objects. A woman transforms into a lizard, a piano plays itself and plates miraculously appear and disappear. In the middle of it all, Thierrée works his magic with the aid of a servant, only to have it undone by a man beast. It all happens underneath a huge, glowing structure connected to the stage with a thick cord of knotted wires. The Toad Knew emanates from a dream world of buried fears and encapsulates Thierrée's creative process.
Thierrée is renowned for conjuring worlds of endless invention and fantasy and inviting imaginations to soar. The creation of The Toad Knew began with the construction of the set, which took six months as the technical team experimented with each of Thierrée's ideas. Thierrée's original and only vision was to have an ominous structure floating above the stage which would have a talismanic quality. Only after the construction period was complete could the three month rehearsal period with the performers begin, with each of them exploring the space and, in turn, influencing the stage design further.
An acrobat, magician, actor, clown and musician Thierrée is acknowledged as one of the world's greatest and most creative contemporary circus performers. Perhaps this is inevitable coming from an impressive linage of artists that includes his great-grandfather Eugene O'Neill and his parents French circus creators Jean-Baptiste Thierrée and Victoria Chaplin – part of the Chaplin dynasty.
For more information about future productions, please visit Sadler's Wells website http://www.sadlerswells.com
Categories
Tags