In Amsterdam on 23 and 24 May, 'What Design Can Do' (WDCD) will announce a 'Worldwide Climate Action Challenge', inviting designers and creative thinkers to develop ideas with the potential of combatting global warming.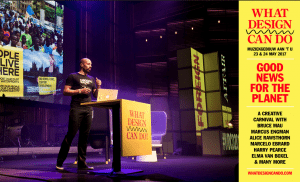 In a bid to develop innovative design that could potentially aid the fight against global warming, 'What Design Can Do', in cooperation with the IKEA Foundation and Autodesk Foundation, developed the 'Worldwide Climate Action Challenge', which invites artists and the creative industry worldwide to address one of the most urgent problems of our time. Now that the consequences of climate change are becoming ever clearer, the call for powerful, inspirational solutions is louder than ever.
A leading international jury will select the winners, who will have the opportunity to realise their ideas with support from WDCD. The winners will share an award package worth €900,000, and will be announced on 23 October during Dutch Design Week in Eindhoven (21-29 October 2017):

WDCD are partnering with the Autodesk Foundation and IKEA Foundation on the Climate Action Challenge, and IKEA head of design Marcus Engman has first hand experience of joining the fight against climate change through design, after deciding that IKEA's water bottles should be fitted with a cap made of cork. Cue the brand's take on Democratic Design.
During Amsterdam's 2-day conference, What Design Can Do, Engman, along with climate influencers, journalists, designers, and architects, will explore the role global (and local) businesses play in influencing consumers to make smart choices when it comes to climate responsibility. A series of talks, Q&As, and hands-on workshops, will culminate in the launch of the 2017 Climate Change Challenge, which addresses the urgency of the matter, and invites designers to put their heads together and come up with the creative solutions they are known for.
The Climate Action Challenge is the successor to last year's successful WDCD Refugee Challenge, which had more than 600 submissions from 70 countries. The five award-winning concepts from 2016 have now been realised – the results include the self-sufficient, sustainable refugee units AGRIshelter and Makers Unite, a co- creation lab made up of locals and refugees.
The Climate Action Challenge seeks design ideas that have the potential to combat the impact of global warming. The best designs are innovative, practical, scaleable, affordable, and easily communicated.
During the WDCD conference leading speakers and experts across a wide range of disciplines will investigate with the audience what role they can play in tackling the causes and consequences of climate change.
Alongside the programme, a manifesto will be written that makes an appeal to the government to take action on climate change. Journalists, authors, activists, designers, engineers, artists, politicians and CEOs will all contribute to this manifesto. In this way, the creative industry is giving a clear signal that we can no longer continue to wait for the development of constructive policy and practical solutions for the big issues surrounding the climate.
Registration for the Climate Action Challenge is open from 23 May HERE
Challenge participants have until 21 August to submit their ideas. There are separate categories and awards for students, creative professionals and start-ups.
The €900,000 award package shared by the winners will include; a production budget, travel and accommodation expenses, plus a tailor-made acceleration program to facilitate their ideas, prototypes or startups, and make them ready for investment and marketing. There will be a programme including mentoring, office space and access to a network of investors.
About Lee Sharrock