Tarek Sebastian Al-shammaa is London born and raised so the Fitzrovia Gallery Different is a more than fitting setting for his first solo exhibition entitled Fall of Europe II, opening Friday 19 May with a private view from 6:30-9:30pm.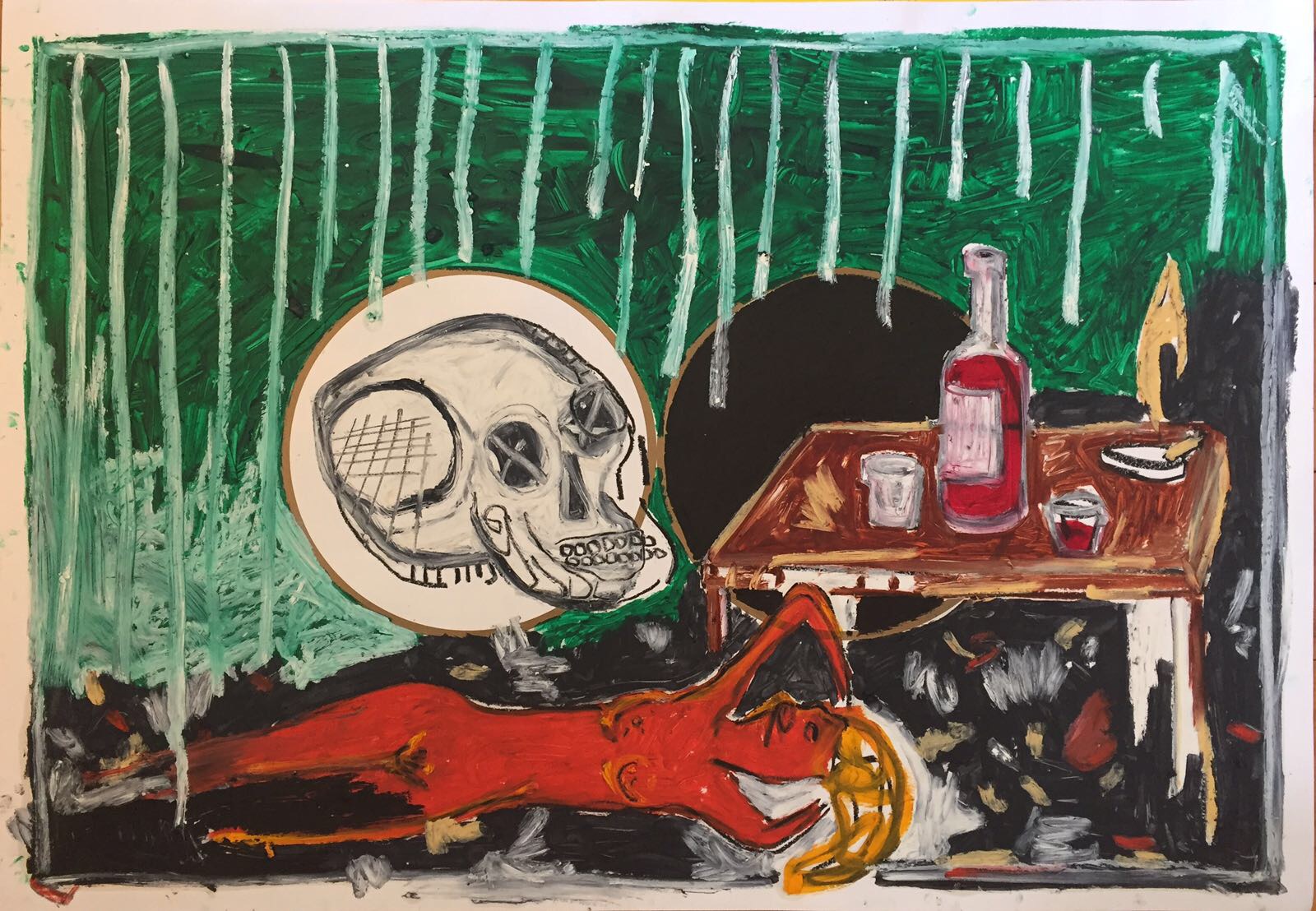 Man's Ruin, 2017, Oil on paper mounted to canvas
Al-shammaa's history painting juxtaposes mythology with commentary on the contemporary world, creating abstract images depicting modern iconography of capitalism and human figures. FAD caught up with him before the upcoming opening.
Your work often appears to be heavily influenced by mythological iconography: what is it about these tales that inspire you to include them in your art – the Tower of Babel for example?
I consider myths and iconography as statements of intent, just like the major religions of today. The era of Babylon is often mocked by others for being frivolous regardless of fact, almost turning history into myth itself. This juxtaposition is clear in my work.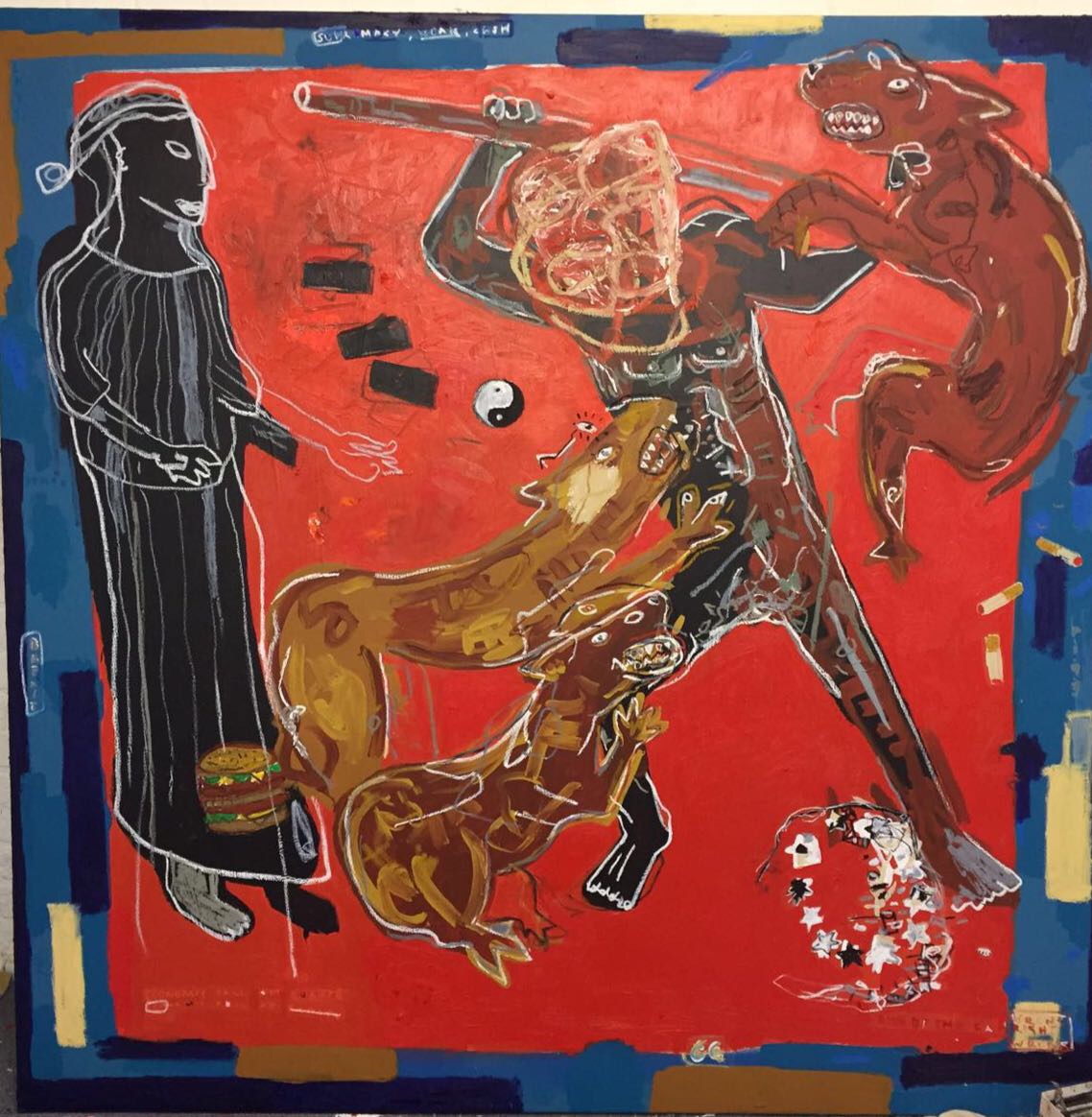 The Fall of Europe Part II, 2017, Acrylic and oil on canvas
With paintings Fall of Europe Parts I & II created last year, it is clear that your most recent work has been influenced by EU Referendum; Hhow do you as an artist see this affecting your future practice and politics?
I'm not sure about the wider effect this has had on the artistic community, yet. What I really was taken by was the open hatred that ensued in the aftermath…
Of course. Even London is changing now, but you grew up here, in the wake of the YBA "shock art" and a new look on contemporary art. Do you feel that working in this vibrant city has affected your artistic practice? Do you enjoy working in London?
I make my work myself and I like to see an artist hand in the work, plus shock art didn't shock me. I liked the references – Goya, bacon, bourgeois – but my work is my own. I was born in London and stayed even when people began to move away; working here is bloody expensive though!
Who are your biggest influences?
French comics I got as a kid. I also listen to endless amounts of music, for more than 10 hours a day I would say so that's my biggest inspiration. The British museum collection of artefacts is another.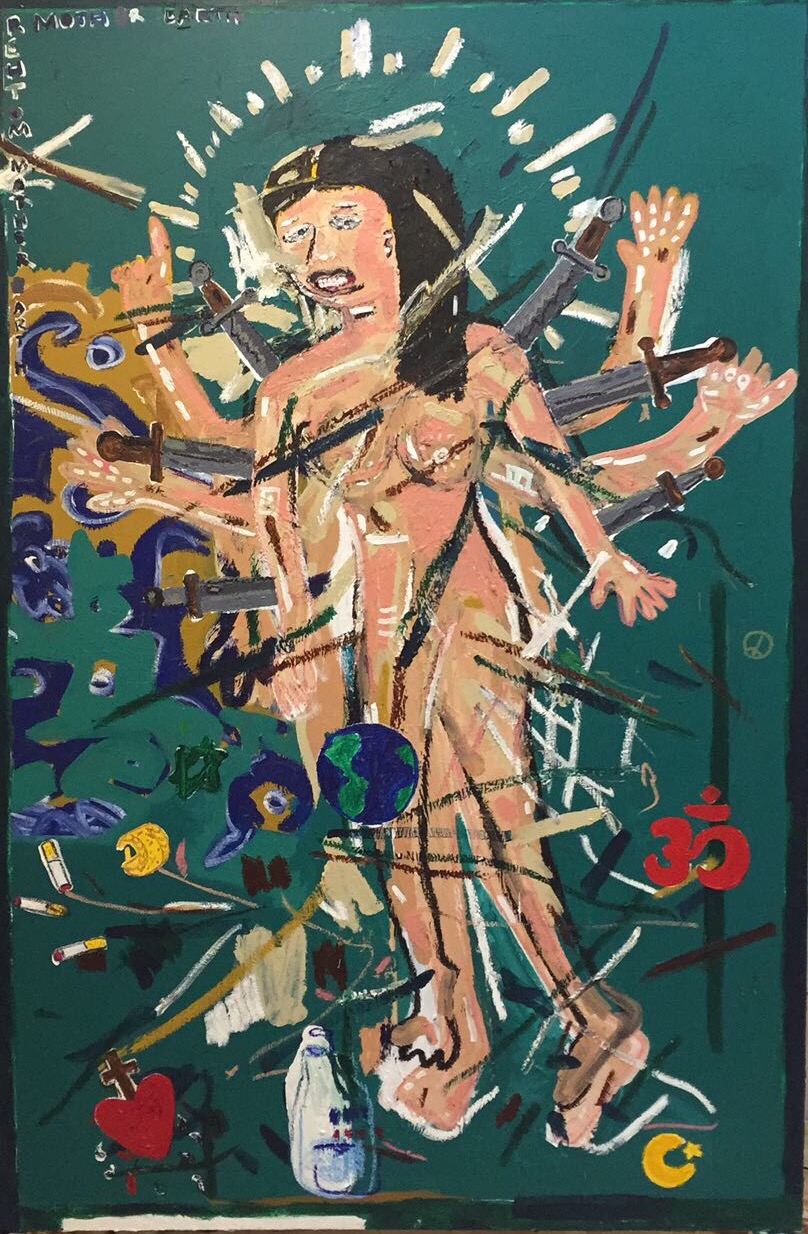 Mother Earth, 2016, Oil and acrylic on canvas.
My favourite of your images is definitely Mother Earth where you depict an abstract female form surrounding by a multitude of symbols ranging from "Om" to the earth, bottles and conspicuously religious images. Can you talk me through the process of creating this piece?
Thank you; I have always been fascinated by old religious imagery. I remember a lot of this in the south west of France where I went to see my mother's family in the summer. It always felt dark and oppressive; it made me feel uncomfortable. It is a very layered painting, as I initially wanted it to be a pregnant woman. She had many bodies and faces till I could see her properly in the work.
Images such as Cardinal Fascination with Red Apple and Salary Man nod towards consumerism and today's society and the juxtaposition of consumption and religion. Where do you position yourself as an artist within capitalism? Considering the commodification of capitalist symbols frequently in contemporary art, how do you think art can move forward within late capitalism?
Artists like Jeff Koons and Damien Hirst are smart cats. Shiny things sell. Modern portrait painters of our times to the kings and queens of capitalism. I don't really think art can move anything forward with backslapping and innuendos. And I just make work from material around me.
Finally, where do you see your work going from here?
I just finished a motorcycle painting. It might start more motorcycle paintings.
Fall of Europe opens Friday 19 May, Gallery Different, 6.30pm and will be on view until Monday 22 May.
Gallery Hours: 11am – 7pm for duration of exhibition
About Mark Westall