There are lots of art events happening in London; talks, workshops, tours, discussions and many many more! To help you with the choice Jenny Judova from Art Map London has picked 'The Most Interesting Art Events' to see in London this week.
---
TUESDAY 16 MAY
Preview: Maisie Cousins – 'grass, peonie, bum' solo show
6:30 PM – 8:30 PM @ TJ Boulting, 59 Riding House Street, London, W1W 7EG
TJ Boulting is delighted to present the first solo show of photographic artist Maisie Cousins. Her approach to making images is hedonistic and performative as she explores topics such as sensuality, indulgence and body image. Maisie's work comes from a desire to see femininity and sexuality in a positive and open way.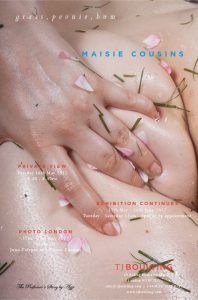 WEDNESDAY 17 MAY
6:00 PM – 8:30 PM @ Drawing Room, Unit 8 Rich Estate, 46 Willow Walk, London, SE1 5SF
Graphic Witness demonstrates the power of drawing to challenge and question, its capacity to record and reflect protest, and to produce images that bear witness to social injustice and even the horrors of war. The drawings move beyond documentation of man's inhumanity to man, and become active agents in understanding how political ideals are corrupted, and a reminder not to stand by, but to act.
THURSDAY 18 MAY
Preview: PANORAMA, Mónica de Miranda
6:00 PM – 8:00 PM @ Tyburn Gallery, 26 Barrett Street, London, W1U 1BG
Based in Lisbon, Portugal, de Miranda is an artist of Angolan descent whose photography and mixed media based work deals with themes of geography and identity, expressing meditative visions of personal history and exploring the poetics of belonging.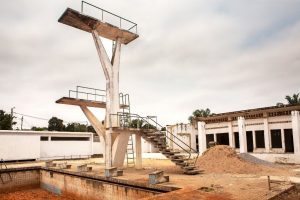 FRIDAY 19 MAY
6:00 PM – 9:00 PM @ Slade School of Fine Art, Gower Street, London, WC1E 6BT
Slade School of Fine Art Degree Show 2017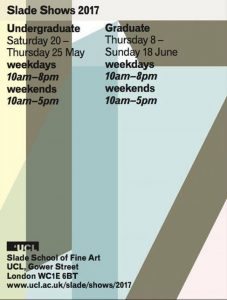 SATURDAY 20 MAY
Private View: Carolee Schneemann "More Wrong Things"
6:00 PM – 8:30 PM @ Hales Gallery, 7 Bethnal Green Road, London, E1 6
For over five decades – from her groundbreaking anti-Vietnam war film Viet-Flakes (1965), featured in the 1967 performance Snows, to her current work on the ongoing conflict in Syria – Carolee Schneemann's art has unwaveringly borne witness to the realities of war and suffering.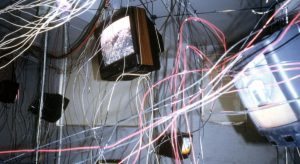 Categories
Tags