Calder mastered the colour; George Rickey, the form. They both consolidated the notion of kinetic sculpture in the 50's. Sculpture could not stay still any longer. The world was rapidly changing and Art was moving along. The solo show, which just open at the Marlborough Art Gallery in Mayfair until the 20th of May, is a rare opportunity to familiarise oneself with the works of a lesser known pioneer. It is a selection from the artist's Estate, never for sale, kept as a reference for future constructions. A once in a lifetime chance before they end up in private collections.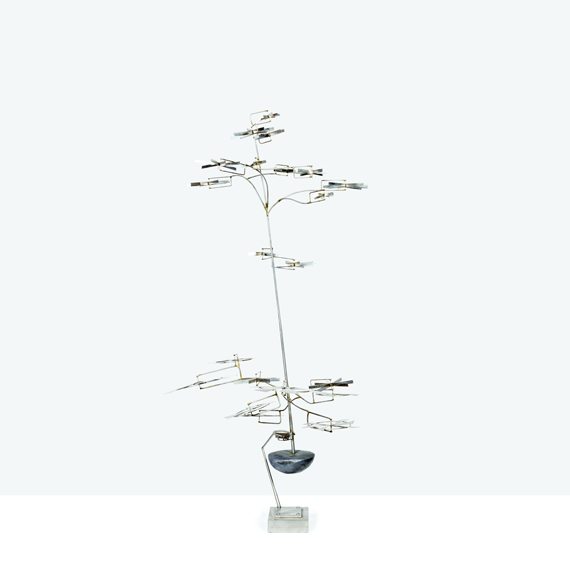 George Rickey, Wild Carrot II, 1987, stainless steel and lead, unique, 31 1-2 x 15 1-2 x 15 1-2 in, courtesy of Marlborough Gallery Inc. and the Estate of George Rickey
Rickey's stainless steel sculptures allow us to concentrate on the flow of energy that sparks the movement. A constant return to cubes and rectangles confirms his admiration for Constructivism, as he once said:
"I do not claim to be a Constructivist. Yet I respect the humility, rigour, self-effacement and regard for object-rather-than-process which characterised early Constructivist work".
Qualities always present in his works. For example, Seascape III, a series of elongated triangular stainless steel sticks positioned on the wall on two sets moving along against each other, succeeds in evoking the sea, the seascape and the waves. It displays spirituality in the same way Minimalism does.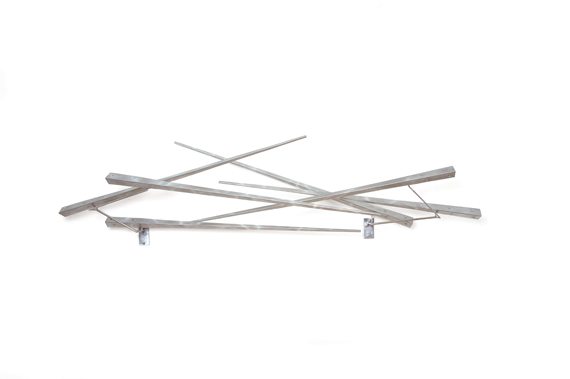 George Rickey, Seascape III, 1993, stainless steel, ed of 3, 15 x 77 x 20 in, photo by Eric Nisly, courtesy of Marlborough Gallery Inc. and the Estate of George Rickey
Philip Rickey, George Rickey's son, comments on the following:
LB – How was your relationship with your father and why did you decide to curate an exhibition by him now?
PR – I had a good relationship with my father – I worked for him as an adolescent, then at various times through the years helping with exhibition large sculpture installations. Starting in 1993, I worked for him in a more focused way helping to run his business.
The gallery and I wanted to re-introduce my father's work to the UK after a long absence, since he hadn't had a one person show there since the Glasgow and Yorkshire Sculpture Park retrospective in 1982 and hadn't ever had a one person gallery exhibition. The show's curation was a collaboration between Dale Lanzone, the New York Marlborough director and myself. We chose works spanning his whole career which show the breadth and vitality of his artistic vision.
LB – All of the pieces exhibited come from Rickey's personal collection used mainly as a reference and never meant for sale. Artworks that you grew up with. Do you find poignant to see them depart?
PR – My father liked to keep works from different periods of his development for interest and enjoyment. In certain circumstances, if a client wanted to, he would trade an older work for a newer work from his mature style. This is how he acquired some of the special archival works in the exhibition. It is poignant that they are now beginning a new journey, touching other lives after them having enriched my father's and my family's lives.
LB – How was the process of selecting the sculptures for the show?
PR – As noted above, Dale and I selected an exhibition that we felt would show my father's artistic voice off in the best and broadest light and also entice the London and United Kingdom audience with the poetic depth and whimsy of his artistic voice. This group of works shows almost all of the themes and images that he worked with from the 'so many elements you can't count' Nebula and Wild Carrot to the simple and more austere Squeezed Squares and Four Open Rectangles Diagonal Jointed, which become a surprise when activated by the breeze. Other works exemplify his broad curiosity and love of motion in a language he kept developing and exploring throughout his 50 year career as a kinetic sculptor.
LB – Why do you think people should come to see exhibition?
PR – I think one of the gifts of my father's work is that it connects in a simple and beautiful way with any viewer. It is filled with fun and causes one to slow down in order to see what the sculpture is going to do next. You can't give a work a quick see and immediately move on, having 'gotten it'. His works requests/entices you to stop and contemplate what is happening. The nice thing is that though the order is fixed, they are never the same – the movement is random and gives the viewer a constantly changing experience which brings a smile. It is nice when art communicates directly and causes joy and respite from our busy lives.
George Rickey: Sculpture from the Estate, Marlborough Fine Art, 21 April – 20 May 2017, marlboroughlondon.com
George Rickey, Four Open Squares Horizontal Gyratory Tapered, 1984, stainless steel 17 x 5'5 in, courtesy Trinity House Hospice.
Categories
Tags