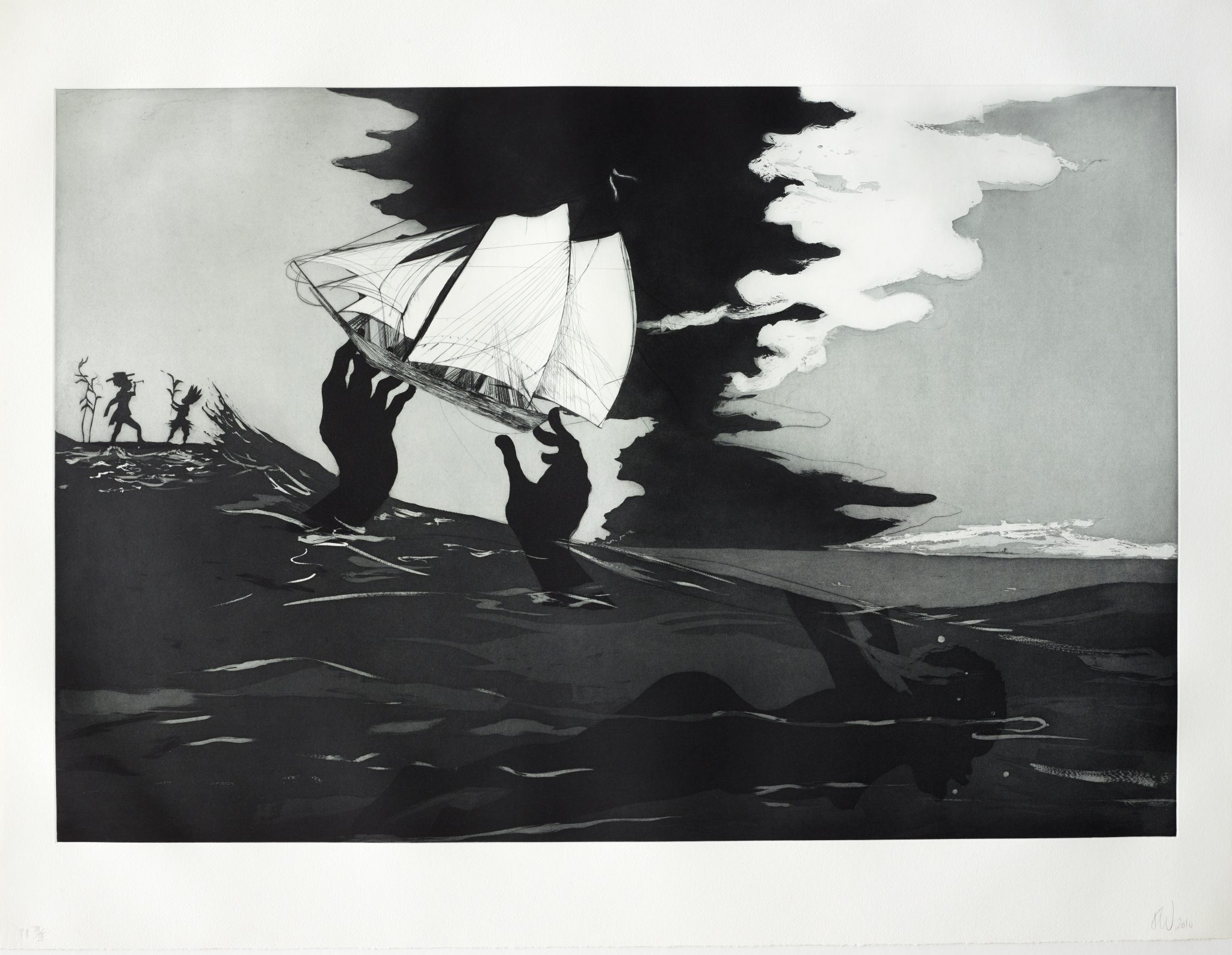 no world from An Unopened Land in Uncharted Waters by Kara Walker (2010), New York, Museum of Modern Art (MoMA) aquatint etching, 60.6 x 90.5cm; image © British Museum
A pair of silhouetted hands clasp an escaping boat as a drowned black female body lies still beneath the waves, taken violently by the current of the Atlantic. These hands uplifted in prayer from Kara Walker's no world from An Unpeopled Land in Uncharted Waters (2010) are the lasting image that I took from The American Dream: pop to present. In an act of solidarity the hands offer themselves up to support the ship they hold and emerge triumphant from the sea below. The monochrome of the penultimate room in which her two prints hang clumsily depict "Race and Identity" in recent America, contrasting heavily to the bright Californian colours that adorn the walls from exhibition entrance to exit. The subjugation of the black, female body resonates loudly with current American politics: the curatorial focus on Walker's prints in contemporary racially divided America cannot be ignored.
And such is the climax of the British Museum's new exhibition. However dark the contemporary world may seem, 2017 has never been a more apt time for this exhibition. Following America's tumultuous electoral year, American Dream offers us a chance to examine American culture from the past 50 years in print form and an opportunity to work out just how we ended up with America of today.
Decorating the exhibition's entrance shamelessly are Lucy Lippard's five "hard-core Pop artists" (Lichtenstein, Oldenburg, Rosenquist, Warhol and Wesselman). Rosenquist's smaller, less-impressive-than-the-painting print of F-111 is one of few nods to Kennedy and the Space Race. Opposite hangs Warhol's Death and Disaster (1971) series showing replicated electric chairs hanging opposite an ever-smiling, omnipresent Marilyn (1962); predictable, to say the least. Despite the Tate Modern's blockbuster Rauschenberg show the British Museum has also managed to display some of his lesser known cardboard works, breaking up the monotony of print. This unsurprising collection is, however, intensely visual and welcomes us warmly into the Coca Cola America we know from popular culture. This unoriginality unfortunately continues throughout the show, reigning triumphant over any criticality the exhibition may hold. Much like the abundance of billboards on the side of a highway, the senses are assaulted with colour, media and political apathy.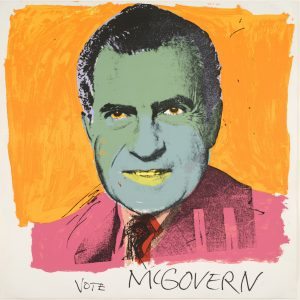 Vote McGovern by Andy Warhol (1972), New York, Museum of Modern Art (MoMA) Screenprint, printed in color (105 x 104.4cm); image © British Museum
Alluding once again to the neon signs adorning the American cities during this period, Bruce Nauman's Malice (1980) complements Ed Ruscha's prints of Californian petrol stations and Every Building on the Sunset Strip (1966) in the latter rooms. A smattering of unchallenging, observational prints move from pop to minimalism to photorealism in a non-descript blur offering us no space for contemplation; politics are eschewed and aesthetics reign.
The banality of pop is shunned, eventually, for a glance at heavier themes of race, AIDS and gender politics but not before overshadowing these crucial ideas. In an awkward attempt to reconcile this, the final divisions of the exhibition include nods towards more interesting, less canonical artists such as David Wojnarowicz, Eric Avery, Glenn Ligon and Mel Bochner, amongst others. Artist collectives General Idea and ACT UP also get a mention but to an unknown end; just meters away Warhol takes up even more space, his bland prints offering us very little.
However, the British Museum brings a contemporary interpretation to printmaking and this cannot be denied. Through moving from Pop to contemporary artists from today we have thrust in our faces the relevance of this medium in an art world frequently overthrown by new media. The medium is celebrated and this show plays to its strength; this alone is worth applause.
What American Dream does not consider however are the harsh realities of late 20th century USA; here it becomes lost in its own unreality. Any comment passed is lost in the sickly nostalgia for a brighter, seemingly more colourful time. Whilst the collection is undoubtedly impressive and the exhibition expansive, America's past seems lost. In what would be an opportune time to emphasise the importance of art in times of political division, we are given Marilyns, brands and McGovern that leave us with a sour taste of apathy in the face of a time for uprising.
About Catrin Podgorski