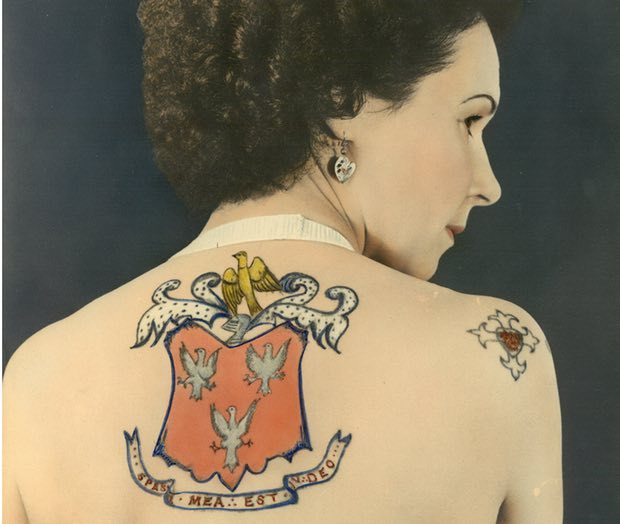 Jessie Knight with her family crest on her back. Photograph: Courtesy Jessie Knight Archive and National Maritime Museum Cornwall
---
This article titled "Life at the sharp end: Jessie Knight, Britain's first female tattoo artist" was written by Nosheen Iqbal, for The Guardian on Tuesday 14th March 2017 07.00 UTC
Family legend has it that Jessie Knight stood no taller than 1.2m (4ft), wore delicate size two shoes and had her hair wrapped in her trademark bun held together by two chopsticks when she shot her abusive husband. He didn't die – Knight, Britain's first female tattoo artist, was also a former circus sharp shooter – because she hadn't aimed for murder but revenge, for kicking her beloved dog down the stairs.
"And that," says her nephew Neil Hopkins-Thomas, "was the end of that marriage."
Knight's story is one of dozens spotlighted in the National Maritime Museum Cornwall's exhibition on the social history of tattoos in Britain. Backroom tattooists, professional tattoo collectors and sailor culture have all been scrutinised in one of the most extensive reappraisals of body art put on in the UK. The emphasis here is on the artistry of tattoos and few designers make more of a convincing case for the form than Knight, whose personal trove of designs is on show here for the first time ever.
Born in 1904, the eldest of eight children, Knight was a radical pioneer: the daughter of a sailor who became a circus star and one of the most renowned – and subsequently forgotten – tattoo artists of the early 20th century. Knight came from a lineage of countercultural artists, poets and performers, her mother was "mad according to Jessie, and a long-term alcoholic", and her father "liked adventure so they did a bit of everything", explains Hopkins-Thomas. And so the family all, quite literally, ran away with the circus, moving along the coastal towns and cities of the south-east.
Knight graduated from being her father's sharpshooter dummy (he allegedly shot her twice when they were performing) to a circus stuntwoman, bareback horse-rider and pistol-spinning markswoman. By the time she was 18, she was tattooing for a living and drawing in clients – sailors, initially – from across the world.
"She was especially popular when she first started, but gave it up for her husband when she got married at 27 – he didn't approve. That only lasted eight years, then she went back to it and became hugely popular in the 1940s."
Tattoos, of course, had a questionable reputation at the time. According to the show's curators, Dr Matt Lodder and Derryth Ridge, the period after the second world war was the most stigmatising: "At best tattoos were looked down on as a disfiguring low art; at worst they were a mark of criminality." That Knight even existed and triumphed in such a macho world, and through these moral panics, is a particular point of pride for her family.
"It was shocking to people," says Hopkins-Thomas, who has loaned Knight's extraordinary body of work to the museum to archive. "She was very forward-thinking and ahead of her time. She used to read saucy books to the kids in the family to wind the parents up. She came back to settle in Barry, Wales, when she was in her 60s and turned up with a 30-year-old toyboy on her arm. She was a character, full of stories and adventures. Totally hilarious, too. Well into her 80s, she would watch the telly with us and come out with something like, 'Here, I think I've got that Aids … I haven't been with no men but I've got this nasty spot here!'"
But Knight's rivals slandered her, calling her a whore and claiming she didn't sterilise her equipment. As her talent became more renowned, her shops were broken into and her work stolen. "She was robbed a few times, which is why she always sat on the chest with all her designs in and wouldn't let anyone peep in. At one point she had a bodyguard who would take her to the bank to deposit her takings."
In 1955, Knight won second place in the Champion Tattoo Artist of All England competition for a depiction of a highland fling on a sailor's back. "I think she only came second because she was a woman and they didn't want to give first place to her," says Hopkins-Thomas. By the mid-60s, Knight officially retired but kept tattooing for friends and family in her front room.
When she died in 1994, Hopkins-Thomas and his mother – Jessie's niece – were gifted the masses of drawings and poems Knight had collected over the years. "We found letters of marriage proposals from men all over the world," he says. "Her house was like a studio, bits of art everywhere, big class cabinet of curios and treasured possessions, a chaise longue – the works." Her life was quieter later on and her neighbours didn't necessarily know who Knight was or what she had achieved. "She never used to shout about her career from the rooftops. I think people looked at her and thought: 'There's that strange woman,' not knowing what she had done in her life," says Hopkins-Thomas. "They were always absolutely gobsmacked when they found out."
•Tattoo: British Tattoo Art Revealed is at the National Maritime Museum Cornwall from 17 March 2017 to 7 January 2018.
guardian.co.uk © Guardian News & Media Limited 2010
Published via the Guardian News Feed plugin for WordPress.
Categories
Tags