With everything happening in the world it's always fantastic to meet curators who are not shying away from politics but are embracing the current situation as a subject matter. Kosha Hussain is an Iraqi-Kurdish exhibition maker and curator based in London I caught up with him to talk about his recently opened CONFLICT – RESISTANCE – DISPLACEMENT.
You can see what he is up to by following him on his Instagram and Twitter.
In your own words, what is the exhibition about?
Conflict Resistance Displacement is a photojournalism exhibition with a dual purpose. Firstly, to raise money for the charity Re-Build towards their goal of rebuilding a school in the destroyed city of Kobane, in the Rojava region of northern Syria. Photographs are for sale and I encourage people interested in buying to get in touch with me. There will be sales sheets available in the exhibition with further details. Secondly, the exhibition brings forward some of the lesser known stories of Kurdish resistance in the Syrian civil war as well as the influx of refugees in Europe.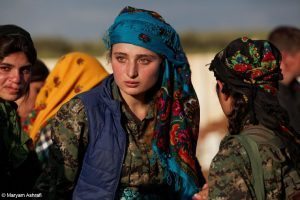 Women fighters, Al-Raqqa province, Syria. March 2015. © Maryam Ashrafi.
Have the political events of the past (especially in the West) changed the way you think about the exhibition?
Recent political events here in the West, as sweeping and extreme as they appear, are a result of decades of policy. What we're seeing in the West is a reaction to a climate that has been prevalent in the Middle East since 2003. So in a way, when thinking about the climate in the region the inspiration behind the exhibition has been a long-lived reality. Of course with Trump, Brexit and other right-wing populist movements gaining influence around the world, exhibitions like this serve as a stark reminder of some of the people stuck in the middle of warring super powers.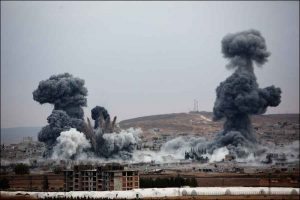 Kobane, Syria, 2014. Smoke columns from a coalition airstrike on an ISIS target over the besieged city. © Frédéric Lafargue.
How did the exhibition come about? Was there an open call or a selection process?
So actually I work as an independent exhibition maker and curator. I was called on by Re-Build to help them make this exhibition. I then managed to secure The Guardian as a venue who loved the idea and were very supportive. By the time I was brought on board Re-Build had already had two photojournalists confirmed, Frédéric Lafargue and Maryam Ashrafi. The final photojournalist, Antonio Olmos, was recommended shortly after. I'm very lucky because these three are leading and award-winning photojournalists, widely celebrated for their incredible work reporting on some of the biggest stories from all over the world.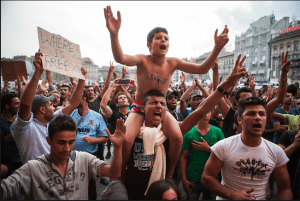 Refugees demonstrate outside Keleti Train Station, Budapest against the cancellation of international trains to Austria and Germany, 2015. © Antonio Olmos.
Are there any events that will happen as part of the exhibition?
We had two events programmed in support of the exhibition. First was a presentation followed by a panel discussion at the LCC in London. We had two of the three photojournalists from the exhibition, Antonio Olmos and Frédéric Lafargue presenting their work, as well as photographer and author Alixandra Fazzina. We've had a little private view with some select guests at The Guardian also. We wouldn't mind arranging a little documentary/film screening somewhere, if any readers would like to host us!
[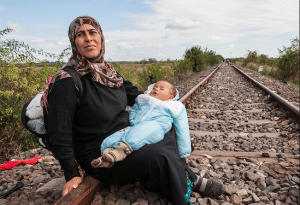 Syrian refugees, Roszke, Hungary, 2015. Refugees entering Hungary at the Serbian-Hungarian border near Roszke, enroute to Budapest. © Antonio Olmos.
How can one view/visit the exhibition?
You can simply go visit the exhibition at The Guardian in Kings Cross, the address is below. It's open 7 days a week 09:00 – 18:00 through to 28 February 2017. You can also go to the Re-Build website.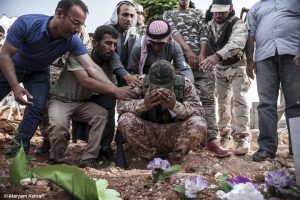 Mourners, Kobane, 2015 and 2016. Kobane was liberated in January 2015 but the conflict carried on in the surrounding areas. The Kurdish fighters bring their dead back to Kobane for burial. © Maryam Ashrafi.
A lot of your projects are socially engaging what are you working on next?
I am right now working with Iraqi-Kurdish artist Jamal Penjweny, who was contributing artist at the Iraq Pavilion at the 2015 Venice Biennale. We're working on an incredible project that brings together Arab and Jewish identities and culture stretching as far back as Assyrian and Babylonian times through to today. It will be an epic journey and I can't wait to reveal more of it.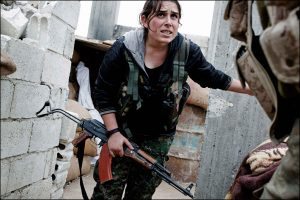 Kobane, Syria, 2014 and 2015. This series of pictures document various aspects of the siege of Kobane including Women's Protection Unit (YPJ) and the People's Protection Unit (YPG) engaged in battle. © Frédéric Lafargue.
About Art Map London