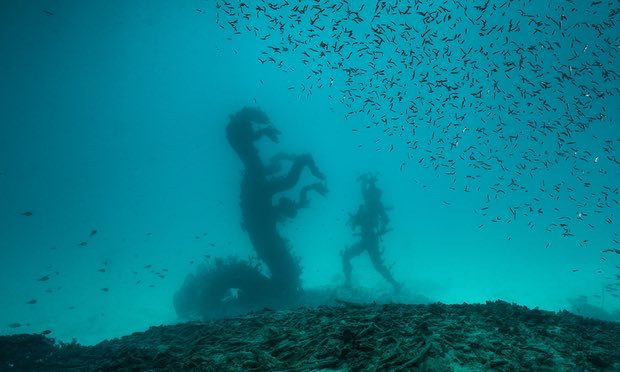 Into the deep… a new image of a Damien Hirst work, Treasures from the Wreck of the Unbelievable. Photograph: Christoph Gerigk/© Damien Hirst and Science Ltd
---
This article titled "Damien Hirst gives first glimpse of new Venice art – but can he win back critics?" was written by Jonathan Jones, for theguardian.com on Thursday 23rd February 2017 16.27 UTC
The old sensation is coming back. Blood pumping, heart pounding. Like swimming underwater and seeing the silhouette of a shark. In April Damien Hirst, who in recent years has seemed mostly occupied with curating his own art collection and building an award-winning gallery for it, will unveil a big exhibition of new works in two grand spaces in Venice called Treasures from the Wreck of the Unbelievable. So is he about to rekindle the passion that turned me into an art critic?
Very little information has leaked out, but new teaser images show divers working on the seabed, one of them apparently confronting a sea monster. The New York Times reports that the exhibition "includes some 250 pieces in various sizes ranging in price from about $400,000 for small jade objects to $4m for a malachite head of Medusa" – Medusa being a previous muse to Hirst.
Hirst has, in recent years, been pumping out substandard product with a blatant failure of creative spark; when he suddenly started showing "proper" figurative paintings, their lack of technical talent was staggering. Some would say there never was a spark, or that he deals with such hackneyed themes that he ends up saying nothing.
I disagree. At his best, Hirst has the clarity of a medieval artist carving skulls on a tomb. The feelings he awakens are universal and timeless. Who can deny the horror and desolation, the grim comedy and tragic sense of generations passing, in his greatest work, A Thousand Years? It is blind and stupid to imagine he is incapable of ever again astonishing us. I am ready to believe again.
guardian.co.uk © Guardian News & Media Limited 2010
Published via the Guardian News Feed plugin for WordPress.
Categories
Tags